Introduction To Day Tour of Annapurna Base Camp in Helicopter In Nepal.
The Annapurna Base Camp Helicopter Tour may be just the thing for you if you don't have the time or energy to hike or if you want to experience the thrill of accomplishing something that only a few people have done before!
It takes 20 minutes to fly from Pokhara to the Annapurna base camp. From Pokhara, the Annapurna Base Camp Helicopter Tour takes one hour round trip. At Annapurna Base Camp, Mount Annapurna, Fishtail, and Hiunchuli, their ranges are all extremely close.
Mount Fishtail, Mount Annapurna I (8,091m), Mount Dhaulagiri (8,167m), and other Himalayan peaks may be seen from the helicopter window at 360 degrees. Stay in ABC (4,200 meters) for half an hour and explore the area. You will be dropped off in Pokhara by the same helicopter.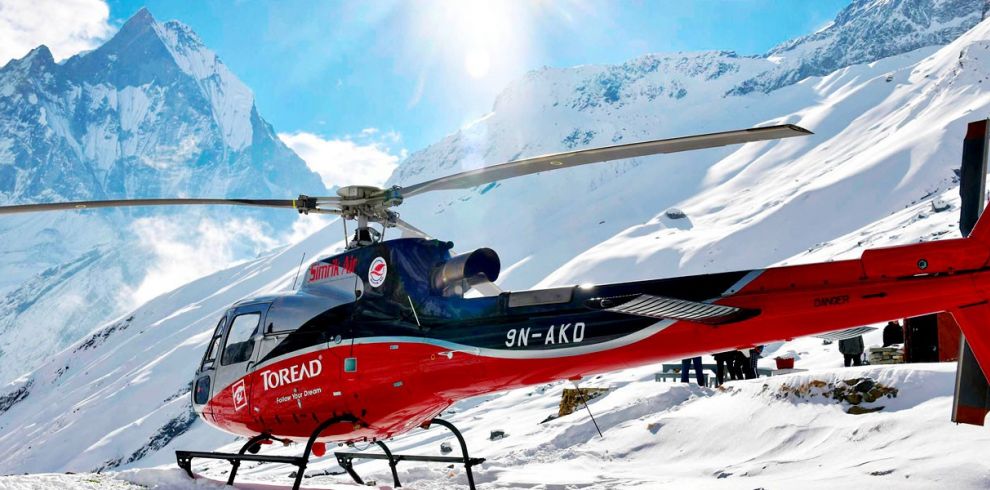 Highlights Of Day Tour of Annapurna Base Camp in Helicopter In Nepal.
It is a breeze getting to ABC.
A trip that is both safe and efficient.
Majestic vistas of the Himalayan Range's center region.
The Annapurna Massif, Dhaulagiri Massif, Manaslu Range, and Langtang Range are all mountain ranges in Nepal.
Views of verdant forests, streams, lakes, rivers, waterfalls, pasture fields, villages, ridges, hill stations, and hilly ranges, among other things, are breathtaking.
At ABC, you'll have plenty of time to explore and create an unforgettable experience.
The first rays of the sun reach the mountain peaks.
You may also visit Annapurna Base Camp Trek- Mountain Range – 15 Days
Overview Of Annapurna Base Camp Helicopter Tour
The greatest way to see the entire range of the spectacular Annapurna Himalaya Range is to take an Annapurna Base Camp Helicopter Tour.
Some of the world's most famous mountains are found in the Annapurna Range, including Mt. Dhaulagiri, Annapurna, Lamjung, Pumori, Fishtail, and many others.
You can get a close-up look of those lovely mountains, almost like a bird's eye perspective from Annapurna Base Camp Helicopter Tour. This fantastic excursion is simple, quick, and luxurious, and it is suitable for people of all physical abilities.