Introduction To Day Tour of Everest Base Camp in Helicopter
Everest Base Camp Helicopter Tour with Kalapattar Landing is a four-hour trip that offers overhead views of practically every treasure in the Everest region.
Kalapattar provides 360-degree views of the world's tallest mountains, including Everest (8848m), Pumori Lhotse (8516m), Nuptse (7855m), Changtse (7553m), and then the many other snow-capped peaks.
Apart from the Everest Base Camp hike, the Everest Base Camp helicopter trip with Kalapattar Landing allows you to see the magnificent mountain panoramas up close and dive into the deep ocean of these wonders, which is undoubtedly one of the most memorable experiences of anyone's life.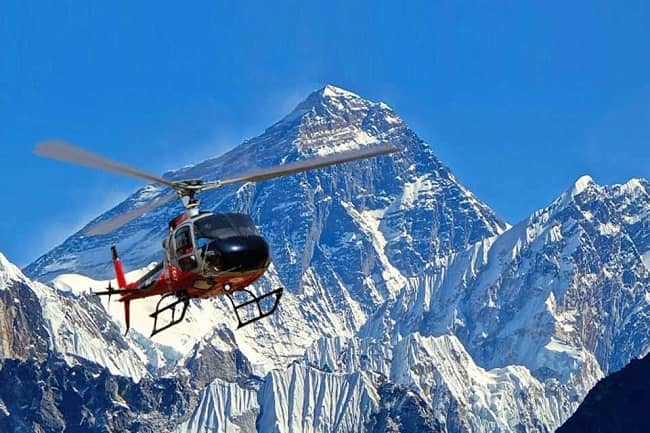 This journey takes you to the Everest Base Camp and Kalapattar, where hikers and trekkers camp before attempting to climb Mount Everest, the world's highest peak. The Everest helicopter trip in Nepal is created for adventure seekers who are unable to trek Everest due to physical or time constraints.
The Everest Base Camp Helicopter Tour is the most convenient and luxurious way to enter the heart of Mt Everest, allowing you to have your life's best tour with your family. With this 4-hour Mount Everest helicopter tour, you may fly like a bird toward the world's highest peak, Mt. Everest.
Highlights Of Day Tour of Everest Base Camp in Helicopter
Aerial image of the lush alpine woodland flowering with rhododendron and pine trees, with pristine ice lakes and glaciers.
Exploration of year-old monasteries and antique structures that are culturally and historically significant to the Himalayan people.
Khumbu is home to a spectacular Himalayan glacier range.
Breakfast/meal at Everest View Hotel, the world's highest hotel.
From the air, a birds-eye perspective of the vivid landscape and farmland fields.
You may also visit Joy of Rafting over the Trisuli River-Cost, Distance, Itinerary, In Nepal – 1 Day
Overview Of Everest Base Camp Helicopter Tour
One of the most popular and well-known Heli tours in Nepal is the Everest Base Camp Helicopter Tour.
 If you take an Everest base camp Helicopter Tour you will be able to see Mount Everest (8,848 m), the world's highest mountain, up close and personal in a short period of time. EBC Heli Tour is becoming increasingly popular with vacationers these days.
Hundreds of people are taking the Everest Base Camp Helicopter Tour to see the incredible Himalayan views.