Introduction To Everest Base Camp Helicopter In Nepal
Everest Base Camp Helicopter Tour with Kalapattar Landing is a fantastic trip that offers overhead views of practically every treasure in the Everest region.
Mt Everest is the world's highest mountain, and everyone wants to see it. Everest Base Camp Trek is on many people's bucket lists, including trekkers, explorers, and environment enthusiasts.
Thousands of people travel to Nepal to hike to Everest Base Camp for this purpose. We recognize that each person is unique and that each person's trek preferences are likewise unique. As a result, we developed the Everest Base Camp – Helicopter trek.
The biggest benefit of this trek package is that you won't have to return the same way you came to Everest Base Camp. Instead, as you return from Gorakshep in a helicopter, you'll be flying over other intriguing areas nearby.
This package gives the splendor of the great Himalayas with a little bit of work to reach the peak and a little luxury on the downhill trail. We go by thrilling bridges, moraines, stupas draped with vivid prayer flags, and the enchanting air of Sherpa communities as we enjoy the blanket of mountains encircling the mysterious valley.
You'll begin your journey with a picturesque flight from Kathmandu to Lukla (2,850m). We take a short climb to Phakding after getting off at Lukla, allowing our bodies to acclimate to the thinner air. We begin our walk from Phakding to Namche Bazaar (3,440m), the Everest gateway, the next morning.
We will spend a day at Namche to acclimate. We shall not, however, be idle. Hike to Sagarmatha National Park, Hillary School in Khumjung Village, Syangboche Airport, and other old monasteries. Khumjung Monastery is said to be home to a yeti scalp.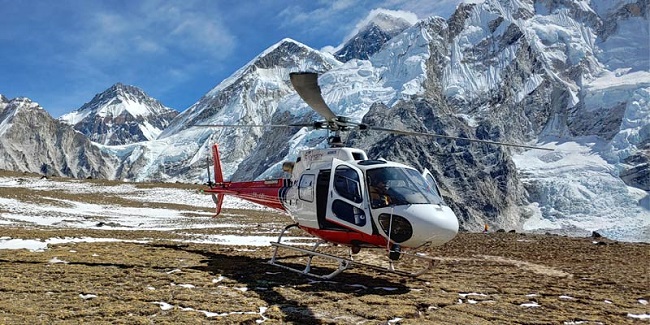 We climb to Tengboche (3,820m) after an acclimatization day in Namche, with panoramic views of Everest (8,848m), Ama Dablam (6,812m), Lhotse (8,516), Nuptse (7,861m), and Thamserku (7,861m) (6,623m).
We'll go from Tangboche to Dingboche (4,360m) across beautiful alpine woodland, bushes, and a desert-like environment. The fields at Dingboche are surrounded by a one-kilometer-long wall that protects the crops from the frigid wind.
At Dingboche, you'll spend one more day acclimating. We shall not, however, remain idle. We'll visit sites to take in the breathtaking views of mountains including Lhotse (8,516m), Ama Dablam (6,812m), and Island Peak (6,189m).
The next day, after a rest day in Dingboche, we hike from Dingboche to Lobuche (4,930m). The hikes will reward you with spectacular close-up views of big mountains.
We trek from Lobuche to Everest Base Camp on your eighth day (5,364m). We shall, however, leave our luggage at Gorakshep and ascend to Everest Base Camp before leaving our stuff at Gorakshep.
Unless you decide to climb Everest, this is the closest you'll ever get to it. You will descend to Gorakshep, where you will spend the night, after spending valuable time at Everest Base Camp.
We'll get up early the next morning and climb to the Kala Patthar (5,555m) viewpoint (the highest point on the walk) to watch the sunrise over Mt. Everest and other adjacent peaks. After taking in the vistas from Kala Patthar, you'll descend to Gorakshep, from where we'll fly back to Lukla via helicopter, skipping the downhill hike.
You'll spend one more night in Lukla, in the Everest region, most likely reflecting on your trek and cherishing your memories. The next morning, you will fly from Lukla to Kathmandu, bringing your journey to a close.
To attend an official briefing, we recommend that our valued clients arrive by 3 p.m. at least one day before to the journey departure. During the briefing, we'll go over important details regarding the hike and double-check your luggage to make sure you have everything you need for the adventure. In addition, we recommend that you extend your journey by one or two days. Due to inclement weather, the flight from Kathmandu to Lukla or Lukla to Kathmandu may be canceled or delayed.
Highlights Of Everest Base Camp Helicopter In Nepal
From Kathmandu to Lukla, you'll be flying above the Himalayas.
From Gorakshep to Lukla, have an exhilarating yet scenic helicopter ride.
Syangboche is one of the world's highest airports.
Learn about Sherpa customs and lifestyles.
In the Khumbu region, visit world-famous monasteries and museums.
Mt. Everest (8,848m), Mt. Lhotse (8,516m), Cho Oyu (8,201m), and Mt. Makalu (8,416m) are among the world's tallest peaks.
Explore Khumjung Monastery, a UNESCO world heritage site where a yeti scalp is supposed to be kept.
Meet musk deer, multicolored pheasants, snow leopards, and Himalayan tahr, among other animals.
Travel through the world's tallest glacier (Khumbu Glacier)
Take in the breathtaking spectacle of the Khumbu Icefall (5,486m)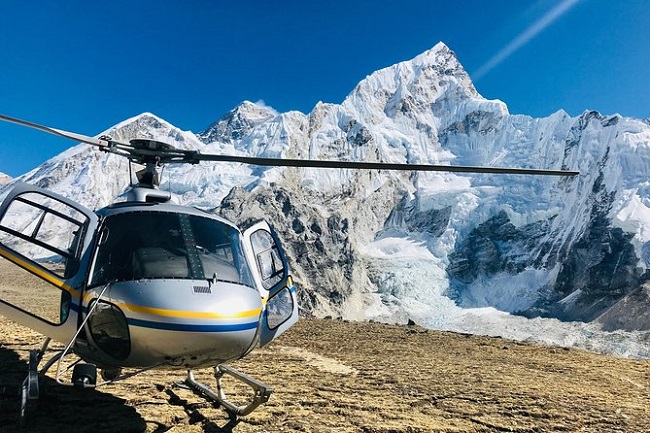 Benefits Of Everest Base Camp Helicopter In Nepal
Free pick-up and drop-off in a private vehicle from the airport to the hotel and vice versa.
Oximeters are used to detect early signs of altitude sickness by detecting blood oxygen saturation levels at high altitudes.
Medical kits that come in helpful on a regular basis
If you don't have your own, sleeping bags and down jackets can be rented.
During the walk, we will store any additional luggage for free in our store.
Equipment Checklist
Equipment list for Everest Base Camp Trek
We recommend that you simply bring the essential clothing and equipment for the walk. Despite the fact that everyone's preferences are different, we've put together this general packing list. Your primary luggage will be carried by porters, but your luggage restriction is 9 kilos.
Head
Scarf or hat for the sun
Winter hat, insulating hat, or a hat with a wide brim
Extra batteries for the headlight
Face
Sunscreen
Sunglasses that block UV rays
Wipes for the face and body
Hands
Lightweight gloves

Heavyweight winter gloves
Body
Shirts for hiking
Shirt with a long sleeve made of synthetic fiber.
Rain jacket with hood
Jacket made of fleece
Cotton pants that are light and airy.
T-shirt (bring lightweight wool)
Underwear made of polypropylene
Jacket with down feathers (available for rent in Kathmandu)
Sweater
Jacket and pants that are waterproof
Footwear
Boots for Hiking
Socks made of thick wool (Take an extra pair of thick light socks)
Essential gear
A daypack or a backpack (Size depends on whether you take a porter or not)
Bottle with a heating element
Purification of water
Pole for hiking
Bag for sleeping (-15 degree bag is best for high altitude trekking)
Toiletries
a drying towel of medium size
Toothbrush
Toothpaste
Deodorant/floss/toilet paper
Biodegradable soap in a bar
a pair of nail clippers
Mirror, little
Personal accessories
Money

Watch

Cell phone

Camera
Extra items
Kit for first aid
Extra passport pictures and passport photocopies
Pencil and notebook
Binoculars
Trip Information
Journey Start
From Kathmandu, a 10-day Everest Base Camp trek begins, which involves a helicopter ride from Gorakshep to Lukla. To ensure that you do not miss the trip briefing, you must be at Tribhuvan International Airport by 3 p.m. at least one day prior to the trek departure date. A minimum of one day in a hotel in Kathmandu is required, although this is not included in the package. You'll take a domestic aircraft to Lukla on the trip's departure date, which takes around 40 minutes.
Flights from Kathmandu to Lukla and back to Kathmandu are included in this trek package.
Free Airport Pick Up
For clients who have bought the trek package, we provide free airport arrival and departure transfers on any airline. A leaflet with your name and our firm name will be held by our agent.
They will greet you with a khada or marigold garland before transporting you to your accommodation in a private vehicle.
Accommodation During The Trek
Everest Base Camp for 10 Days Four nights at a luxury lodge in Lukla, Phakding, and Namche (2N) and five nights in a standard lodging in Tengboche, Dingboche, Lobuche, and Gorakshep are included in the heli trek.
This package does not include hotel accommodations in Kathmandu for two nights before and after the trek. There are hotels in Kathmandu to suit all preferences and budgets.
All personal bills (alcoholic, hot (tea/coffee), and cold drinks) in tea houses, lodges, or cafés are excluded from the package, save for the standard meals mentioned (including breakfast, lunch, and dinner with seasonal fruits).
Meals
In trekking regions, the Everest Base Camp Helicopter package includes three nutritious and delicious meals every day, totaling 10 breakfasts, ten lunches, and nine dinners. Buffet breakfasts, lunches, and dinners are available at this premium hotel.
Here are the food options available to you.
Ten breakfast options include local Tsampa porridge, eggs, pancakes, Muesli Breads, Oatmeal, Corn Flakes, French toast with jam, butter, cheese, honey, Tibetan bread or Chapati, fruits and vegetables, and Tibetan bread or Chapati. Drinks that are heated (varieties of teas and coffees, hot chocolates, etc.)
Dhal, Bhat, and Tarkari, Tenduk Spaghetti Noodles, Thukpa, Pasta, Vegetable curry, Potatoes, Tibetan Bread, Various Soups, Sherpa Stew, Steaks, Sandwiches, Momo (dumplings), Macaroni dishes, Vegetables, Salad Pizza (Tomato, Mushroom, Mixed), Snacks (Papad, Prawn), Desserts, (Rice Pu
Tenduk Spaghetti, Noodles Thukpa, Pasta, Vegetable Curry, Dhal, Bhat & Tarkari, Tibetan Bread, Various Soups, Sherpa Stew, Steaks, Sandwiches, Momo (dumplings), Macaroni, Potatoes items, Vegetable and Salad Pizza (Tomato, Mushroom, Mixed), Snacks (Papad, Prawn), Korean Ramen, Desserts (R
Traditional local, Asian, and western cuisines are on the menu, although the menu gets shorter as you go up. In trek regions, we recommend drinking enough of liquids like green, lemon, ginger tea, garlic soup (a must), and fresh veggies.
Despite the fact that non-vegetarian options are available in the trek regions, we do not advocate them due to meat quality concerns. We also recommend avoiding alcoholic beverages, caffeinated beverages, dairy, and hot chocolates.
Best Time for Everest Base Camp Trek
When planning your climb to Everest Base Camp, keep the weather in mind (EBC). Despite the fact that people travel to Everest Base Camp all year, some seasons are better than others.
Most trekkers visit EBC in the spring and autumn, when the weather is pleasant, the skies are bright, and the temperature is just ideal. Clear skies allow you to take in spectacular vistas while avoiding wet and slick walkways in the summer and snow in the winter. Here's a quick rundown of the weather in the high trek areas.
January to February
The coldest months are early January and early February. In many locations, there is a lot of snow, and the temperatures are very cold.
Even if the daytime is warm and beautiful with bright skies, midnight is bitterly chilly. Some trekkers, on the other hand, like hard winter hikes. As a result, Discovery World Trekking also offers winter Everest Base Camp trips.
Temperatures range from 15°C to -15°C.
March to April
This is one of the greatest seasons to hike at Everest Base Camp due to the pleasant weather. Temperatures begin to rise in mid-March, and the bright sky provides for a spectacular view of the Himalayas and related glaciers. The month of March symbolizes the start of the spring season. The weather begins to warm, and the plants and animals that have been dormant for the winter return to life, feeding, and breeding in the sun.
Temperatures range from 18°C to -12°C.
May to June
These months are also ideal for trekking, especially before the monsoon season begins. The monsoon season in Nepal begins at the end of June and lasts until mid-August. The walk is particularly enjoyable during these months because of the blend of spring and summer seasons.
Temperatures range from 25°C to -5°C.
July to August
Flights to Lukla may be canceled due to strong monsoon rains, mostly in areas below 3,500 meters, disrupting your journey. It is not impossible to trek to Everest Base Camp in June and July, however, it is difficult. You can contact us for safe and secure hikes if you wish to trek during these months. During the rainy season, uncrowded paths offer amazing waterfall vistas.
Temperatures range from 27°C to 5°C.
September to October
This is also one of the best seasons for EBC hikes, with a large number of people flocking to the trails. As the rainy season draws to a close, the ideal trekking season approaches. The temperature reaches 20 degrees during the day and 5 degrees at night. The majority of trekkers prefer their EBC hikes during this season, as the skies clear up and provide spectacular mountain views. Most trekkers are advised to visit EBC during this period.
Dashain and Tihar, two major Nepali festivals, fall during these months, allowing you to partake in the festivities.
Temperatures range from 20°C to 5°C.
November to December
Snowfalls begin to fall in the Himalayas region as winter approaches, making trekking difficult. The nights are bitterly cold. Treks in November are comparably easier and offer spectacular vistas of the upper ranges. The temperature begins to drop in December, and snow begins to fall.
Temperatures range from 10°C to -17°C.
The weather in the Himalayas is changeable and unpredictable.
Acclimatization During Everest Base Camp Trek
Altitude sickness is frequent among trekkers attempting to reach Everest Base Camp in a hurry. To circumvent this, we'll acclimate at two different locations: Namche Bazaar and Dingboche. Trekkers can visit Namche, a well-known Sherpa town while acclimating to the thin air.
We'll also do some second-day acclimatization in Dingboche, where we'll hike the ridge beyond the village for spectacular views of the Himalayan peaks.
Our trek leaders/guides are accustomed to working at high elevations and have received rigorous first-aid training. We sincerely care about your health and safety, and we promise that it will always come first.
If you are suffering from severe altitude sickness, the only option is to descend promptly. Your trek leader has the authority to decide whether the hike should continue or if you should descend immediately away.
Trip Grade: Fitness level, Medical, and Health
The Everest Base Camp Trek is as demanding as it is rewarding. You'll be hiking for 5 to 7 hours per day on average, depending on your destination. With steep and stone-paved walkways, the trail is largely uphill.
This hike may be completed by an averagely fit person, however, the fitter you are, the more enjoyable your hike will be. It's a plus if you've done a previous journey or exercise regularly, but it's not essential.
This walk, on the other hand, is not suggested for anyone with certain medical issues, such as heart or lung disease. If you have any of these conditions, please let us know before you book your trip.
Trekking group/single
This is a private tour with only members of your group. We can, however, accommodate any size group.
A typical day on the trek
Every day brings a new trekking adventure, including climbing, admiring the scenery, snapping photos, and touring the surrounding villages. Our knowledgeable and courteous Sherpa/guide will give information and historical tidbits about the areas you visit during the hike. Porters will transport your belongings. However, each trekker's luggage is limited to 9 kilos. You will also be carrying a small backpack with you to store your valuables and crucial documents.
The day begins with a nice cup of tea or coffee in the morning. Following breakfast, your hike will begin between 7 and 8 a.m., depending on the length and character of that day's trip. We will feed you lunch after three to four hours of walking, usually midway to your next destination. After a one-hour break for lunch, we resume our journey.
Afternoon walks are usually shorter, lasting two to three hours. You can snack on the extra dietary food once we arrive at our overnight lodge/tea house/tent. Then you can spend your free time exploring the area.
Dinner is served between 6 and 7 p.m. You can spend some valuable time in friendly chats before going to bed, recounting the events of the day. Your guide will give you an overview of the excursion for the next day. Following the briefing, you will have time to read books, play board games like monopoly or cards, or watch climbing films. Our crew also teaches most foreigners basic Nepalese words.
Communication
During your stay at a hotel in Lukla, Phakding, or Namche, you will have access to free Wi-Fi. Wi-Fi is available at other locations for an additional fee. At high elevations, however, contact will be by mobile. You can get a local sim card in Kathmandu if you desire, however, the signals might not be strong enough. Our office will communicate with all of its trek teams via the trek lead at least once a day to check that the trip is proceeding as planned.
Travel insurance
This Everest Base Camp expedition requires travel insurance. Before beginning the hike, all trekkers must produce a copy of their comprehensive travel insurance policy certificate to us. Medical and emergency repatriation must be covered, as well as helicopter rescue and evacuation costs at high altitudes (up to 6000m).
Based on the experiences of our former clients, we may recommend insurance firms to you. We do not, however, sell insurance coverage. Within a week of booking the trek, we ask that all trek participants provide us with their comprehensive insurance information. In an emergency, we'll prepare a speedy, successful rescue using your insurance policy and other documentation you supplied us.
Before you acquire travel insurance, call your provider and double-check that it covers helicopter rescue and evacuation up to 6000 meters. Do not rely solely on the material of the insurance company's website.
Passport and visa
Except for Indian nationals, all foreigners must have a valid visa to enter Nepal. At Tribhuvan International Airport and Nepal's borders with India and Tibet, you can obtain an on-arrival visa. Visit www.immigration.gov.np. for additional details.
You'll need a passport that's valid for at least six months, a passport-size photo, and visa fees to apply for a visa. A 30-day visa costs $50 at the moment (to be paid in cash).
A free visa will be given to children under the age of ten. It is strongly recommended that you examine the current regulations. Visa regulations are subject to change at any time. Citizens of China and members of the South Asian Association for Regional Cooperation (SAARC) (Bangladesh, Bhutan, India, Maldives, Pakistan, and Sri Lanka) are exempt from visa fees.
Certain countries' citizens may be denied a visa upon arrival. On-arrival visas are not available for citizens of Nigeria, Ghana, Zimbabwe, Swaziland, Cameroon, Somalia, Liberia, Ethiopia, Iraq, Palestine, and Afghanistan. If you are a citizen of one of these countries, please contact the Nepalese Embassy in your country.
Before we embark on our journey, we'll double-check everything (luggage, equipment, etc.) during our briefing.
Money exchange
Nepali Rupees (NPR/Rs) are the local currency.
(1 USD = ~ Rs.124 NPR).
You can exchange major foreign currencies through local banks and legitimate money exchanges in Kathmandu and all over Thamel. Legitimate money exchanges display their ongoing exchange rates visibly to the public.
Please note – only 100 INR (Indian Rupees) and 2000 INR notes are legal in Nepal.
Despite having the security advantage of traveler's cheques, we prefer cash exchange. It helps avoid lengthy processes and high bank commissions. 
You can withdraw cash (in Rupees)from ATMs all over Kathmandu and Thamel itself. Many of these ATMs are open around the clock. The maximum withdrawal amount is 35,000 Rupees for a 500 Rupees processing fee for foreign cards.
If you use the money exchange facilities at banks and financial institutions, they impose a service charge fee of about 4% or more.
During the trek, there are no banks and money exchange services so you should exchange your money in Kathmandu, depending on how much personal expense you require. Only Nepali Rupee is accepted in trekking regions.
Most established banks in Asia will only accept foreign currency notes that are not old, torn, or faded. Please ensure that you have new, clean notes.
How much luggage can I bring to Everest Base Camp Trek?
For every two trekkers, we allocate one porter. Each trekker's luggage weight limit is 9kg. As a result, porters will only carry a total of 18kg of luggage.
You'll also get a compact backpack with all of your important paperwork and belongings. We recommend that you only bring the bare minimum to the trek paths. Excess baggage can be stored for free at your accommodation or at our store.
During the trip briefing, we double-check your bags, equipment, and gear before embarking on the adventure.
Everest Base Camp Trek Safety
Our clients' safety, security, and happiness are guaranteed. We'll be carrying all of the required gear, equipment, and first-aid kits to guarantee a safe hike. We'll go on a journey together. Our guides and leaders have undergone extensive first-aid training. The trek leader has the authority to continue the trek or to descend quickly if a trekker becomes altitude ill. A rescue helicopter will transport you to safety in an emergency. We'll go on a journey together.
Tipping
Tipping is accepted in Nepali culture. Tipping is a wonderful way to express gratitude for the service you've received. Tipping, on the other hand, is up to the trekker's discretion and should be commensurate with the level of service received. We invite you to go on a vacation together and at the finish.
Our Crew
Our knowledgeable guide/Sherpa will accompany us on the trek to ensure your safety and comfort. Your stuff will be carried by porters.
Our members are locals from high Himalayan remote places, and they have exceptional physical endurance at high altitudes.
We value all of our employees, so we pay them well and take care of their insurance, clothing, food, and lodging throughout the trip. When our guides and porters become unwell or injured, they receive medical attention.
Only happy people can make others happy, thus we always make sure that our team members are happy. Members of our trek/expedition team have the following qualifications:
Authorized Trekking Guide Training Certificate
Intensive Wilderness First Aid Training
Fluency in English and another major language
Conservation and Biodiversity Training
Experience with rock climbing
Responsible travel
We are firm believers in environmental stewardship and make every effort to leave just our footprints in the trek areas. No trekkers will visit these locations tomorrow if we do not preserve them today. As a result, we only organize eco-tours. We collaborate with the Kathmandu Environmental Education Project (KEEP) to plan environmentally sustainable itineraries that fulfill the needs of both tourists and locals.
Booking and payment process
We are a government-approved and bonded trek and tour company in Nepal. We are also members of the Nepal Mountaineering Association (NMA) and the Trekking Agency Association of Nepal (TAAN) (NMA). As a result, you may book your trek/expedition with complete trust.
As a deposit, we require 10% of the total trip cost. Within a week of booking, please send your documentation, including a copy of your passport, passport-size pictures, travel insurance policy, and arrival and departure flight information.
You can make a 10% deposit via bank transfer, western union, or online payment on our website, and the full balance when you arrive in Nepal. Cash, bank transfer, and credit cards are all acceptable methods of payment. In addition, you will receive payment choices in your email.
Last-minute booking
Even though it is always a good idea to plan ahead for your excursions. However, for those who are unable to do so, we provide a special last-minute booking option. To take advantage of this benefit, you must pay the entire trip cost 24 hours before the trek's departure.
Even while we do our best to plan treks at any time, there is a small potential of a trek delay due to events beyond our control, such as the inability to obtain air tickets or unfavorable weather.
Trip Extensions
We can arrange activities for you if you wish to stay in Nepal for a few days after finishing this trek. There are a variety of activities available, including sightseeing in and around Kathmandu, jungle safaris in Chitwan, paragliding, rafting, and canoeing.
Feedback
We offer a farewell meal at the end of the trek, and we will also award you with a trek completion certificate after dinner (hard copy). It's also a great opportunity to tell us about your experience and provide us feedback.
You may also visit Gokyo Lakes Trek and Gokyo Ri Trek-Cost, Distance, Itinerary, In Nepal – 14 Days
Overview Of Everest Base Camp Helicopter
One of the most popular and well-known Heli tours in Nepal is the Everest Base Camp Helicopter Tour.
 If you take an Everest base camp Helicopter Tour you will be able to see Mount Everest (8,848 m), the world's highest mountain, up close and personal in a short period of time. EBC Heli Tour is becoming increasingly popular with vacationers these days.
Hundreds of people are taking the Everest Base Camp Helicopter Tour to see the incredible Himalayan views.