Introduction To Everest Base Camp Trek via Gokyo Lakes In Nepal
Everest Base Camp via Gokyo Lakes is an interesting and adventurous journey that deviates from the traditional Everest Base Camp routes.
The hike is moderately difficult and circular, so you won't have to repeat the same route.
Because this journey does not take the traditional route to Everest Base Camp, it is quiet and serene, allowing you to experience nature without interruption.
Though the journey begins in Lukla and ends in Namche Bazaar, much like the classic Everest Base Camp trek, the road diverges after Namche Bazaar. Instead of continuing to Syangboche, it detours through two tiny villages, Dole and Machhermo, on its way to the northwest's Gokyo Lakes.
However, before arriving in Dole, you will hike to Mong La Pass (3957m / 12982ft), which offers excellent views of Mt. Ama Dablam and Mt. Khumbila. The trail winds through pine and rhododendron groves.
We'll spend the night in Dole Town before traveling to Machhermo the next day. The path is very easy, and we get to see magnificent vistas of Mt. Cho Oyu, the world's fifth tallest mountain, along the route. Macchermo is a Sherpa pasture and summer settlement surrounded by snow-capped mountains.
We'll leave Machhermo the next day and continue on our journey to Gokyo Lake. There are five lakes in total, and even in March or April, they are partially frozen. Gokyo Lakes also has golden Brahminy ducks, which add to the splendor of an already beautiful location.
In Gokyo Valley, there is also a settlement, and as you ascend, you will come across Gokyo Ri, one of the region's most famous vistas. Get to the Gokyo Ri early in the morning to see the sunrise for the greatest views.
We've designated the seventh day as an acclimatization day because we'll have ascended to a significant altitude. Furthermore, the Gokyo Valley is breathtaking, and you'll need more than one day to take in the sights and explore this tranquil place.
On our eighth day, we'll travel to Thangnak, a distance of 3.7 kilometers. The path is rocky and uneven, with various ups and downs along the way. You'll cross through the Ngozumpa Glacier and various yak farms as you continue on. We'll ultimately make our way to Thangnak, where we'll spend the night.
We'll depart Thangnak early the next morning and travel to Cho La Pass. The Gokyo region is connected to the Everest Base Camp route by this pass. You'll have to walk on the glacier itself for part of this trek! You will have gained more than 2000 feet of elevation by reaching Cho La Pass, but the route to our day's target, Dzongla, is downwards and hence easy.
The next trip begins in Dzongla and ends in Lobuche for the day. The journey is straightforward, and it bypasses some of the most difficult sections of the trek before rejoining the main Everest Base Camp path. For a while, the Khumbu Glacier follows us along the undulating routes.
Our trails will also lead us to a memorial built to remember people who died as a result of the difficult terrain. The eleventh day will be memorable since it will be the first time you step foot on Everest Base Camp; nevertheless, in order to get to EBC, you must climb from Lobuche to Gorak Shep across the Khumbu Glacier lateral moraine.
We'll leave our luggage at a lodge in Gorak Shep and hike to the Everest Base Camp. If you don't climb the Everest Peak, this is probably the closest you'll come to the world's highest peak, Mt. Everest.
Reaching Everest Base Camp is a spectacular accomplishment that necessitates a tremendous amount of physical and mental work. As you grow more driven and ambitious, the entire experience you've gained thus far will most likely transform you.
We'll spend some unforgettable moments at Everest Base Camp before descending to Gorak Shep for the night. The following morning, though, you will have another opportunity to glimpse the magnificent Mt. Everest. You'll get up early in the morning in Gorak Shep and travel to Kala Patthar viewpoint to see the sunrise over Mt. Everest and other Himalayan peaks.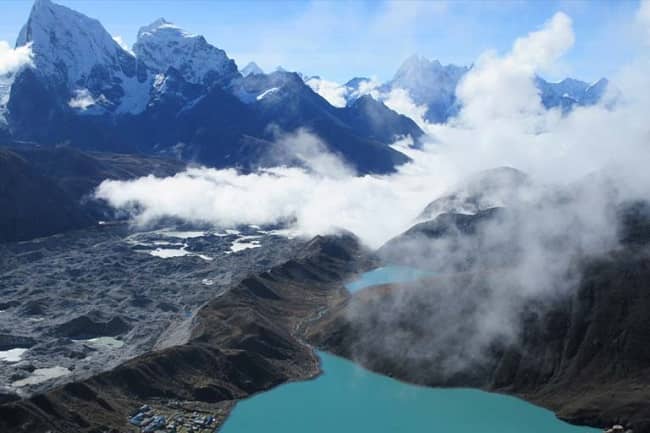 The scenery is extraordinary and transports you to a completely different universe. It's the ideal location for taking as many photos as you desire.
We descend to Gorak Shep, eat breakfast, and then travel to Pheriche after spending time on Kala Patthar. The path is relatively straightforward because you will be lowering elevation, and the walk should take about five hours. We'll stay in Pheriche proper for the night.
The following morning, we depart Pheriche for Namche Bazaar. Despite the fact that Namche Bazaar is at a lower elevation, the trail is not straight and requires multiple ups and downs. This is the trek's second-to-last day, and you'll get to see the last vistas of Mt Everest. At Namche Bazaar, we'll spend the night.
We wake up at Namche Bazaar on our fourteenth day and hike to Lukla. The path is over 14 kilometers long and covers a lot of ground. You'll spend the majority of your time walking through the Dudh Koshi River Valley, crossing multiple suspension bridges, and passing through high-altitude woods. We'll be spending the night in Lukla. It'll very likely be your last night in the Khumbu.
If everything goes according to plan, we will fly to Kathmandu on the fifteenth day after breakfast. We hope you have a pleasant journey and are reminiscing about the best experiences you made during your trek.
We strongly advise all of our valued guests to arrive in Kathmandu by 3 p.m. the day before the trip departure date so that you do not miss the trip briefing, which allows you to check your equipment, learn about the trip details, and check the current weather conditions. We also recommend adding one or two days to your journey in case flights from Kathmandu to Lukla or Lukla to Kathmandu are delayed due to inclement weather.
Highlights Of Everest Base Camp Trek via Gokyo Lakes In Nepal
Sagarmatha National Park's scenic 40-minute flight to Lukla Namche Bazaar, the Sherpa capital (UNESCO World Heritage Site)
Awe-inspiring vista of the Khumbu Icefall
Gokyo Ri (5,357m / 17,575ft) offers spectacular views.
Gokyo Valley, Gokyo Lake, and Cho La Pass are all hidden gems (5,420m)
High suspension bridges, prayer wheels, colorful flags, Mani stones
Everest Base Camp is the world's highest airport (5,364m)
Spectacular vistas of peaks higher than 8000 meters, including Mt. Everest (8,848m)
Schools and hospitals were supported by Edmund Hillary.
Benefits Of Everest Base Camp Trek via Gokyo Lakes In Nepal
Transfer from the airport to the hotel is included in a private vehicle.
An oximeter for monitoring blood oxygen levels at high altitudes in order to detect altitude sickness early, as well as other medical supplies
If you don't have your own, bring sleeping bags and down jackets.
Porters' duffle bag
During the walk, we will store any additional luggage for free in our store.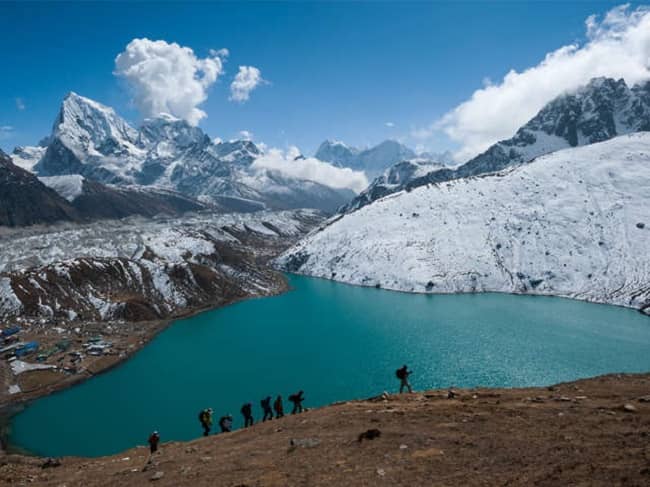 Equipment list for Everest Base Camp via Gokyo Lakes
During the trek, we recommend that you simply bring the essentials. Please keep in mind that we will allocate a porter to two trekkers, and each trekker's weight restriction is 9 kg (18 kg max carrying limit for a porter). It is possible to purchase equipment in Kathmandu itself.
Head
Scarf or hat for the sun
Winter hat, insulating hat, or a hat with a wide brim
Extra batteries for the headlight
Face
Sunscreen
Sunglasses that block UV rays
Wipes for the face and body
Hands
Lightweight gloves

Heavyweight winter gloves
Body
Shirts for hiking
Shirt with a long sleeve made of synthetic fiber.
Rain jacket with hood
Jacket made of fleece
Cotton pants that are light and airy.
T-shirt (bring lightweight wool)
Underwear made of polypropylene
Jacket with down feathers (available for rent in Kathmandu)
Sweater
Jacket and pants that are waterproof
Footwear
Boots for Hiking
Socks made of thick wool (Take an extra pair of thick light socks)
Essential gear
A daypack or a backpack (Size depends on whether you take a porter or not)
Bottle with a heating element
Purification of water
Pole for hiking
Bag for sleeping (-15 degree bag is best for high altitude trekking)
Toiletries
a drying towel of medium size
Toothbrush
Toothpaste
Deodorant/floss/toilet paper
Biodegradable soap in a bar
a pair of nail clippers
Mirror, little
Personal accessories
Money

Watch

Cell phone

Camera
Extra items
Kit for first aid
Extra passport pictures and passport photocopies
Pencil and notebook
Binoculars
Everest Base Camp via Gokyo Lakes Grade | Difficulty | Cost | Best Time
Receiving you at the Tribhuvan International Airport
On your arrival, we will pick you up from the airport and drop you off at your hotel in a private vehicle, and vice versa on your departure. Our agent will be holding a booklet with your name on it at the Tribhuvan International Airport. As a welcoming gesture, they will either give you a Khada or Marigold garland and then drive you to your accommodation. To take use of this free service, please provide your flight information.
Accommodation during Everest Base Camp via Gokyo Lakes
Everest Base Camp via Gokyo Lakes comprises 14 nights of lodge stays in the best Everest region accommodations.
We will spend five nights in standard rooms in Lukla, Phakding, and Namche (3 Nights) and nine nights in standard rooms in Dole, Machhermo, Gokyo (2 Nights), Thangnak, Dzongla, Lobuche, Gorakshep, and Pheriche (twin sharing room).
The package does not include a stay in Kathmandu before or after the hike. Kathmandu offers a wide choice of accommodations to suit all budgets. You can just select the one that best suits your needs.
During the trek, hot showers and Wi-Fi will be available at an additional cost.
Food during Everest Base Camp via Gokyo Lakes
Because the hike takes place at a high altitude, your body will require a sufficient supply of carbs, proteins, and other nutrients. In many regions, you'll find plenty of healthful and excellent cuisine, but your options are limited. In Kathmandu, there are numerous dining options.
In trek regions, we will serve 13 breakfasts, 13 lunches, and 13 dinners.
The following are some of the most popular menu items:
Oatmeal, Corn Flakes, French Toast with Jam, Butter, Cheese, and Honey Tibetan Bread or Chapati are among the thirteen-morning options. Pancakes, Muesli Breads, Fruits and Vegetables, Local Tsampa Porridge, Hashed Brown Eggs, Egg Varieties (Omelets), Muesli Breads, Fruits and Vegetables, Hot Drinks – Teas, Coffees, Hot Chocolates, etc.
Thirteen lunches, including Dhal, Bhat & Tarkari, Tibetan Bread, Various Soup Items, Tenduk, Spaghetti Noodles, Thukpa, Pasta, Sherpa Stew Steaks, Sandwiches, Momo (Dumplings) Macaroni Dishes, Vegetable Curry, Potatoes, Salad, Pizza (Tomato, Mushroom, Mixed), Snacks (Papad, Prawn), Dessert Items
Thirteen meals – Dal (lentils), Bhat (rice) & Tarkari (curry), Tibetan Bread, Various Soup Items, Sherpa Stew, Steaks, Sandwiches, Momo (dumplings), Macaroni Dishes, Tenduk, Spaghetti Noodles, Thukpa, Pasta, Vegetable Curry, Potato Items, Vegetables, Salads, Pizza (Tomato, Mushroom, Mixed), Sn
We choose the best lodges that serve food that is fresh, clean, flavorful, and nutritional. Local, Asian, and western cuisines are available on the menu, but as you climb higher, your options become more limited.
At trek locations, we strongly advise drinking plenty of liquids such as green, ginger, and lemon tea, hot lemon, garlic soup (must), and fresh veggies.
Though non-vegetarian options abound in hike locations, we do not advocate them due to cleanliness concerns. Similarly, alcoholic and caffeinated beverages, hot chocolates, and dairy products should be avoided.
All personal bills (alcoholic, hot (tea/coffee), and cold drinks) in teahouses/lodges or cafés are excluded from the package, save for standard meals (breakfast, lunch, and dinner with seasonal fruits).
Best Time For Everest Base Camp via Gokyo Lakes
Successful hikes to Everest Base Camp are determined by the weather. Unfortunately, weather forecasts are unreliable, and weather at high elevations changes quickly.
Even so, trekking pros, thrill-seekers, and locals visit Everest Base Camp all year long. The ideal season for most of us is spring or autumn when the sky is bright and mountain ranges can be seen in all their glory.
Trekking is more difficult in the winter due to snow and rain during the Monsoon, yet some trekkers find it exciting.
January to February
The coldest months are early January and early February. In many locations, there is a lot of snow, and the temperatures are very cold.
Even if the daytime is warm and beautiful with bright skies, midnight is bitterly chilly. Some trekkers, on the other hand, like hard winter hikes. As a result, Discovery World Trekking also offers winter Everest Base Camp trips.
Temperatures range from 15°C to -15°C.
March to April
This is one of the greatest seasons to hike at Everest Base Camp due to the pleasant weather. Temperatures begin to rise in mid-March, and the bright sky provides for a spectacular view of the Himalayas and related glaciers. The month of March symbolizes the start of the spring season. The weather begins to warm, and the plants and animals that have been dormant for the winter return to life, feeding, and breeding in the sun.
Temperatures range from 18°C to -12°C.
May to June
These months are also ideal for trekking, especially before the monsoon season begins. The monsoon season in Nepal begins at the end of June and lasts until mid-August. The walk is particularly enjoyable during these months because of the blend of spring and summer seasons.
Temperatures range from 25°C to -5°C.
July to August
Flights to Lukla may be canceled due to strong monsoon rains, mostly in areas below 3,500 meters, disrupting your journey. It is not impossible to trek to Everest Base Camp in June and July, however, it is difficult. You can contact us for safe and secure hikes if you wish to trek during these months. During the rainy season, uncrowded paths offer amazing waterfall vistas.
Temperatures range from 27°C to 5°C.
September to October
This is also one of the best seasons for EBC hikes, with a large number of people flocking to the trails. As the rainy season draws to a close, the ideal trekking season approaches. The temperature reaches 20 degrees during the day and 5 degrees at night. The majority of trekkers prefer their EBC hikes during this season, as the skies clear up and provide spectacular mountain views. Most trekkers are advised to visit EBC during this period.
Dashain and Tihar, two major Nepali festivals, fall during these months, allowing you to partake in the festivities.
Temperatures range from 20°C to 5°C.
November to December
Snowfalls begin to fall in the Himalayas region as winter approaches, making trekking difficult. The nights are bitterly cold. Treks in November are comparably easier and offer spectacular vistas of the upper ranges. The temperature begins to drop in December, and snow begins to fall.
Temperatures range from 10°C to -17°C.
The weather in the Himalayas is changeable and unpredictable.
Acclimatization
Altitude sickness is frequent at high elevations, although it can be avoided. Serious altitude sickness, on the other hand, necessitates prompt medical attention.
We will acclimate in two locations on this trek: Namche Bazaar and Gokyo Lake. Both of these locations are ideal for acclimatization because they provide several opportunities for exploring.
Our trip leaders and guides have received thorough first-aid training and are well-trained. As a result, you're in good hands. We place a high value on your health and safety, and they are our top priority.
The only way to avoid severe altitude sickness is to descend swiftly. Due to altitude sickness, your trek leader has the authority to determine whether to continue trekking or descend.
Everest Base Camp Trip via Gokyo Lakes: Fitness Level, Medical, and Health
The trip to Everest Base Camp via Gokyo Lakes is difficult yet rewarding. Depending on your location, you'll be hiking for 5 to 7 hours per day, with several stops to take in the scenery.
Long climbs, sharp descents, and forward trails through rocky slopes and through woods are all part of the journey routes. It will assist if you have previous trekking experience, but it is not needed.
Please keep in mind that the fitter you are, the more enjoyable the walk will be. As a result, we recommend that you participate in stamina-building exercises a few weeks before the walk.
This trek is not recommended for persons who have heart or lung problems. People with such issues should contact us before signing up for this expedition.
Everest Base Camp via Gokyo Lakes Solo Private Trek | Group Trek
We organize both group and private treks. Group discounts are available dependent on the size of your group. The larger your group, the greater the savings. Please see our price list for further information. Simply click the – we offer group discounts – link on the right.
We can accommodate any size group. Each group will have a guide, and we will assign a porter to every two trekkers. We will provide an assistant guide for groups of 12 or more.
A Typical Day on Everest Base Camp via Gokyo Lakes
Every day brings a new trekking adventure, including climbing, admiring the scenery, snapping photos, and touring the surrounding villages. Our tour guides will provide you with information on the locations you will see.
The majority of your luggage will be carried by our porters. However, for your valuables and essentials, you may need to bring your own backpack pack.
A typical day begins with an early morning breakfast, after which we go for the day's journey from roughly 7 a.m. to 8 a.m., depending on the length and condition of the trail. It's lunchtime after a three- to four-hour hike. After lunch, we'll take an hour to recuperate before continuing on our journey. Afternoon walks are usually shorter, lasting two or three hours.
When we get to our overnight site, we eat the additional dietary food and go exploring till supper. We'll have some time to socialize after supper. Your trip leader will also give you an overview of the next day's itinerary.
You can pass the time before night by playing monopoly, playing cards, watching mountaineering documentaries, or reading literature. Our staff would gladly teach you common Nepali words if you so desire.
How can I communicate while on the Everest Base Camp via Gokyo Lake?
For a modest fee, internet access will be accessible at the lodges/hotels. However, after we reach high elevations, we will communicate by phone.
Signals may be received, however, they may not be strong enough at high altitudes, depending on the type of network. For good connectivity, however, you can easily get a local sim card.
At least once a day, we will connect with our valued clients through our trek leader to ensure that everyone is fine, safe, and comfortable.
You can use wi-fi at any of the lodges/hotels along your route, but you must pay for it.
Extra personal expenses during the trek
Although this package covers a substantial portion of the route, it does not cover all expenses. All of our valued clients will require spending money to cover expenses such as lunch and dinner in Kathmandu, visa application fees, travel insurance policy purchases, snacks, Wi-Fi, alcohol, hot (tea/coffee) and cold drinks, tips for trekking crew members, souvenirs, and other miscellaneous expenses. We recommend bringing cash (in the form of dollars) to exchange for rupees. Only Nepali money is accepted in trek areas.
Electricity for recharge, water for trekking
All of the lodges along the Gokyo Lake route to Everest Base Camp offer power, so you may charge your camera or phone there. You may, however, have to pay for this service.
You can either buy packed mineral water at local lodges and en-route shops or fill your bottle with boiled water for an additional fee along the journey. Water purification pills will be available to make water drinkable. We strongly advise against drinking water from local rivers, taps, or wells because it may be contaminated.
You should not consume water from a nearby river, tap, or well since it may not be as safe as it appears.
Everest Base Camp via Gokyo Lake travel insurance
This expedition requires travel insurance. Before beginning the hike, all trekkers must produce a copy of their comprehensive travel insurance policy certificate to us. Medical and emergency repatriation must be covered, as well as helicopter rescue and evacuation costs at high altitudes (up to 6000m).
Based on the experiences of our former clients, we may recommend insurance firms to you. We do not, however, sell insurance coverage. Within a week of booking the trek, we ask that all trek participants provide us with their comprehensive insurance information. In an emergency, we'll prepare a speedy, successful rescue using your insurance policy and other documentation you supplied us.
Before you acquire travel insurance, call your provider and double-check that it covers helicopter rescue and evacuation up to 6000 meters. Do not rely solely on the material of the insurance company's website.
Nepal Tourist Visa Information
Except for Indian nationals, all foreigners must have a valid visa to enter Nepal. At Tribhuvan International Airport and Nepal's borders with India and Tibet, you can obtain an on-arrival visa. Visit www.immigration.gov.np. for additional details.
You'll need a passport that's valid for at least six months, a passport-size photo, and visa fees to apply for a visa. A 30-day visa costs $50 at the moment (to be paid in cash).
A free visa will be given to children under the age of ten. It is strongly recommended that you examine the current regulations. Visa regulations are subject to change at any time. Citizens of China and members of the South Asian Association for Regional Cooperation (SAARC) (Bangladesh, Bhutan, India, Maldives, Pakistan, and Sri Lanka) are exempt from visa fees.
Certain countries' citizens may be denied a visa upon arrival. On-arrival visas are not available for citizens of Nigeria, Ghana, Zimbabwe, Swaziland, Cameroon, Somalia, Liberia, Ethiopia, Iraq, Palestine, and Afghanistan. If you are a citizen of one of these countries, please contact the Nepalese Embassy in your country.
Before we embark on our journey, we'll double-check everything (luggage, equipment, etc.) during our briefing.
Currency Exchange in Nepal
Nepali Rupees (NPR/Rs) are the local currency.
(1 USD = ~ Rs.124 NPR).
You can exchange major foreign currencies through local banks and legitimate money exchanges in Kathmandu and all over Thamel. Legitimate money exchanges display their ongoing exchange rates visibly to the public.
Please note – only 100 INR (Indian Rupees) and 2000 INR notes are legal in Nepal.
Despite having the security advantage of traveler's cheques, we prefer cash exchange. It helps avoid lengthy processes and high bank commissions. 
You can withdraw cash (in Rupees)from ATMs all over Kathmandu and Thamel itself. Many of these ATMs are open around the clock. The maximum withdrawal amount is 35,000 Rupees for a 500 Rupees processing fee for foreign cards.
If you use the money exchange facilities at banks and financial institutions, they impose a service charge fee of about 4% or more.
During the trek, there are no banks and money exchange services so you should exchange your money in Kathmandu, depending on how much personal expense you require. Only Nepali Rupee is accepted in trekking regions.
Most established banks in Asia will only accept foreign currency notes that are not old, torn, or faded. Please ensure that you have new, clean notes.
How much luggage can I take to the Everest Base Camp via Gokyo Lakes?
Your plan includes a 9-kilogram weight limit per person. For every two trekkers, we allocate one porter. Our porters are only allowed to carry a maximum of 18 kilos. However, if more porters are required, we can provide them at an additional cost. We also anticipate you carrying a backpack containing your needs and valuables.
Please just bring what you absolutely need. Excess luggage can be left for free at your accommodation or at our store. To be safe, we'll double-check what you'll be bringing during the briefing before we leave for the trip.
Before we leave our office, we'll double-check everything (luggage, equipment, etc.) in our briefing.
Everest Base Camp via Gokyo Lakes safety
We ensure that your travel will be safe, secure, and fun. The route passes through major towns such as Lukla, Namche Bazar, Lobuche, and Gorakshep, which have a combined population of about 4,000 people. Along with our friendly personnel, you will be fully lost in the tranquility of nature.
We recognize that the terrains are difficult, thus our crew is always available to motivate and inspire you. We vaccinated all of our employees against COVID -19 and followed these procedures to ensure your safety.
Authorized Trekking Guide Training Certificate
Intensive Wilderness First Aid Training
Fluency in English and another major language
Conservation and Biodiversity Training
Experience with rock climbing
Trekking to Everest Base Camp via Gokyo Lakes responsibly
Our philosophy is to photograph the voyage while leaving only footsteps. We believe in sustainable tourism and exclusively offer eco-friendly excursions.
We collaborate with the Kathmandu Environmental Education Project (KEEP) to plan eco-friendly itineraries that satisfy the needs of both tourists and local populations in the trekking areas.
Our Crew
Our knowledgeable guide/Sherpa will accompany us on the trek to ensure your safety and comfort. Your stuff will be carried by porters.
Our members are locals from high Himalayan remote places, and they have exceptional physical endurance at high altitudes.
We value all of our employees, so we pay them well and take care of their insurance, clothing, food, and lodging throughout the trip. When our guides and porters become unwell or injured, they receive medical attention.
Only happy people can make others happy, thus we always make sure that our team members are happy. Members of our trek/expedition team have the following qualifications:
Authorized Trekking Guide Training Certificate
Intensive Wilderness First Aid Training
Fluency in English and another major language
Conservation and Biodiversity Training
Experience with rock climbing
Tipping in Nepal
Tipping is optional and should be dependent on the quality of service received. A tip is an accepted and respected technique in Nepali society to express gratitude (Dhanyabad) for good service.
On the last day of the walk, the majority of our guests offer advice. The amount you tip is totally up to you, and it may be more or less based on your impression of service quality, the length of your trip, your budget, and your appreciation for their efforts
100% Secure Online Payment for Booking
We are a government-approved and bonded trek and tour company in Nepal. We are also members of the Nepal Mountaineering Association (NMA) and the Trekking Agency Association of Nepal (TAAN) (NMA). As a result, you may book your trek/expedition with complete trust.
As a deposit, we require 10% of the total trip cost. Within a week of booking, please send your documentation, including a copy of your passport, passport-size pictures, travel insurance policy, and arrival and departure flight information.
You can make a 10% deposit via bank transfer, western union, or online payment on our website, and the full balance when you arrive in Nepal. Cash, bank transfer, and credit cards are all acceptable methods of payment. In addition, you will receive payment choices in your email.
Last Minute Booking for Everest Base Camp via Gokyo Lakes
Even though it is always a good idea to plan ahead for your excursions. However, for those who are unable to do so, we provide a special last-minute booking option. To take advantage of this benefit, you must pay the entire trip cost 24 hours before the trek's departure.
Even while we do our best to plan treks at any time, there is a small potential of a trek delay due to events beyond our control, such as the inability to obtain air tickets or unfavorable weather.
Can I extend my trip?
If you wish to stay in Nepal for a few days after the trip, we can arrange enjoyable activities for you, such as exploring areas in and around Kathmandu, Chitwan jungle safari, paragliding, rafting, canoeing, and so on.
Feedback so we can serve better.
You can provide us with comments after completing the Everest Base Camp Trek with Gokyo Lakes. It assists us in providing better service to hikers like you in the future.
Please note that at the conclusion of the walk, we will host a farewell meal.
You may also visit Ama Dablam Base Camp Trek-Cost, Distance, Itinerary, In Nepal – 13 Days
Overview Of Everest Base Camp Trek via Gokyo Lakes
In the Khumbu region, the Everest Base Camp via Gokyo Lakes trek takes you to some of nature's best-kept secrets, including Gokyo Lakes, Cho La Pass, Gokyo Ri Viewpoint, and Khumbu Icefall. You'll also see some of the world's highest peaks, including Everest, Pumori, Lhotse, Cho You, and Nuptse, as well as highland flora, animals, and human communities.
The Everest Base Camp Trek is a once-in-a-lifetime trip for those whose ambitions soar above the heavens. You'll be miles away from traffic and contemporary conveniences, immersed in natural splendor.
Also, push yourself to the limits of your personal endurance. Everest Base Camp Trek has known for its beautiful mountain peaks as well as the residents' loyalty and hospitality (the Sherpas).