Introduction To Ama Dablam Base Camp Trek In Nepal
The Ama Dablam Base Camp through Kongma La Pass trek in the Everest region is a challenging but rewarding trek.
The Ama Dablam Base Camp Trek is ideal for adventurers, as it traverses through high rocky slopes that are frequently covered in snow and ice.
You'll also pass through a number of small traditional villages inhabited by ethnic groups such as Sherpas. A 40-minute flight from Kathmandu to Lukla begins your adventure to Ama Dablam. We depart from Lukla for Phakding (2,650m).
To get to Namche Bazaar, you'll have to travel through the lush forest of Sagarmatha National Park, which is rich in pine trees, rhododendron blooms, and plenty of wildlife.
We'll spend a day acclimating at Namche Bazaar (3,440m) to get used to the thin air. During trip seasons, Namche Bazaar, often known as the Everest gateway, is regularly packed with trekkers from all over the world. Namche, thus, has a variety of modern cafes, restaurants, pubs, souvenir shops, and even bakeries.
We travel to Deboche from Namche, passing via Tengboche Monastery, popularly known as the "monastery on top of the hill." We leave Deboche the next day for Dingboche (4,360m). The routes pass through a number of tiny settlements and through numerous Stupas and mani walls.
After that, we'll go from Dingboche to Chhukung (4,730m). We'll stay at Chhukung for a day to acclimate to the altitude. Chhukung is a charming town with breathtaking views of rivers, glaciers, and snow-capped mountains.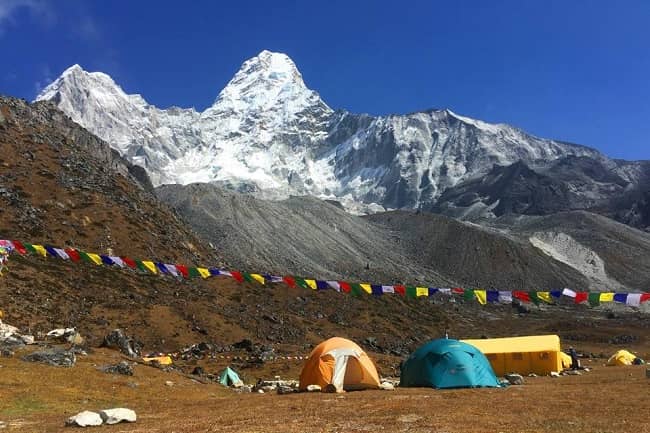 We recommend hiking to Chukung Ri to see Mount Lhotse (8,516 meters), Island Peak (6,189 meters), Ama Dablam (6,812 meters), and Makalu (8,463m).
We travel from Chhukung to Lobuche over the Kogma La Pass (5,535m/18,159ft), the most famous pass in the Everest region. It's a challenging hike, but it's well worth it for the breathtaking vistas of glaciers, lakes, and the Himalayas.
The trip the following day takes us from Lobuche to Pangboche (3,985m). In comparison to the hike the day before, the trails are less difficult. Yaks may be grazing on the pastures along your route.
The tenth day is the most important since you will arrive at Ama Dablam Base Camp. We leave Pangboche and ascend to Ama Dablam (4,600m/15,091ft), gathering our physical strength. Mt Lhotse (8,416m), Ama Dablam (6,812m), Island Peak (6,189m), Lhotse (8,400m), Pumori (7,165m), Lobuche Peak (6,135m), Thamserku (6,618m), Kongde Peak (4,618m), Tawoche Peak (6,542m) and others can all be seen from the base camp.
We return to Pangboche after enjoying the Ama Dablam Base Camp to our hearts' satisfaction. The journey back begins. We return to Namche Bazaar from Pangboche and spend the night there.
We leave Namche the next day and climb to Lukla. At Lukla, you will spend one final night in the trek region. The next morning, you will fly from Lukla to Kathmandu, where our climb to Ama Dablam will come to an end.
This thrilling journey is recommended for active trekkers in the good physical condition who have adequate time to acclimate to high elevations.
Highlights Of Ama Dablam Base Camp Trek In Nepal
The beauty of Mt. AmaDablam (6,856m/22,494ft), is one of the world's most notable peaks.
Lhotse (27,883 ft/8,498 m), Everest (29,035 ft/8,848 m), AmaDablam (22,487 ft/6,854 m), and Makalu (27,838 ft/8,485 m) are all visible from Ama Dablam Base Camp (4,600m)/
Sagarmatha National Park is a UNESCO World Heritage Site where you may learn about the Sherpas' culture and way of life.
Tengboche is a well-known Sherpa monastery.
Snow leopards, musk deer, wild yaks, and Himalayan black bears are among the rare creatures found in the Himalayas.
Benefits of Ama Dablam Base Camp Trek In Nepal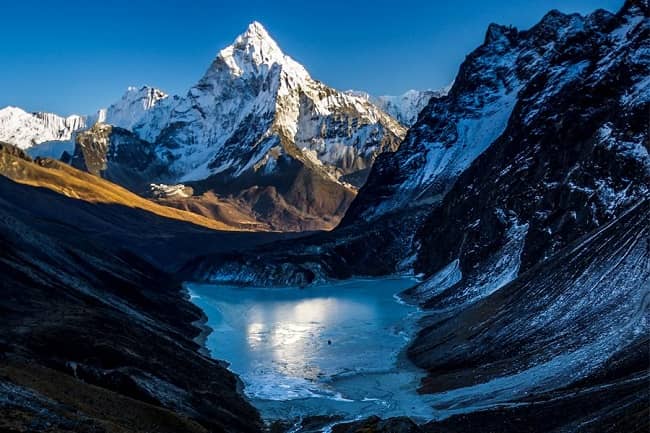 On arrival and departure, complimentary airport to hotel transfers in a private vehicle is provided.
During the trek, surplus luggage can be stored for free at the Discovery World Trekking store.
At high elevations, an oximeter is used to check blood oxygen saturation levels.
Medical supplies
Arrangements for sleeping bags and down coats for individuals who do not have their own.
Porter's duffle bag.
Equipment Checklist
Equipment list for Ama Dablam Trek
We recommend that you bring only the essential clothing and equipment for the walk. For every two trekkers, we allocate one porter. Each trekker's luggage is limited to 9kg. However, we expect you to bring your basics in a typical backpack. This packing list was created to assist you in picking up the necessities.
Head
Scarf or hat for the sun.
Winter hat, insulating hat, or hat with a wide brim.
Extra batteries for the headlight.
Face
Sunglasses with UV protection Sunglasses with UV protection.
Wipes for the face and body.
Hands.
Gloves that are light in weight.
Winter gloves with a lot of weight.
Body
Shirts for hiking
Shirt with a long sleeve
Rain jacket with hood
Lightweight cotton pants with a fleece jacket
T-shirt (bring Lightweight wool)
Underwear made of polypropylene
Jacket with down feathers (available for rent in Kathmandu)
Sweater
Jacket and pants that are waterproof
Footwear
Boots for Hiking.
Socks made of thick wool (Take an extra pair of thick light socks).
Essential gear
A daypack or a backpack (Size depends on whether you take a porter or not).
Bottle with a heating element
Purification of water
Pole for hiking
Bag for sleeping
Toiletries
a drying towel of medium size
Toothbrush \sToothpaste
Floss with deodorant
Biodegradable soap in a bar
a pair of nail clippers
Mirror
Personal accessories
Money

Watch

Cell phone

Camera
Extra items
Kit for first aid
Extra passport photographs and photocopies.
Binoculars and a notebook
Trip Information
Ama Dablam with Kongma La Pass Trek Start
Tribhuvan International Airport in Kathmandu will be your arrival point. You will need to stay in a hotel in Kathmandu for at least one night, which is not included in this package. We will transport you to Tribhuvan International Airport on the day of your trek departure for a 40-minute flight to Lukla.
This package includes the Kathmandu-Lukla-Kathmandu flight.
Free airport pick-up
It can be difficult to travel to a foreign place. So that you don't have to worry about anything, We offer free airport-to-hotel pick-up and hotel-to-airport drop-off services for those who have purchased the Ama Dablam trek package.
At the airport reception, our company representative will be holding a booklet with your name on it. As a welcome gesture, they will present you with a marigold garland before transporting you to your accommodation in a private vehicle.
Accommodation details during the trek
This 13-day Ama Dablam trek includes 12 nights of lodge-to-lodge stays in trek zones, with the best available lodges/teahouses. You will spend five nights in accommodations with a private attached bathroom in Lukla, Phakding, and Namche (3 N) and seven nights in basic rooms in Deboche, Dingboche, Chhukung (2N), Lobuche, and Pangbohe (2N). All of the rooms are set up as twin beds.
We will provide single private rooms with an attached bathroom for solitary trekkers in Lukla, Namche, and Phakding, as well as single private rooms in Deboche, Dingboche, Chhukung, Lobuche, and Pangboche.
You may need two nights in Kathmandu before and after the trek, however, these are not included in this program. There are hotels in Kathmandu to suit all budgets and interests.
You can use hot showers and Wi-Fi at trek lodges by paying small service fees.
The Meals
Because Ama Dablam Base Camp is located at such a high altitude, you will require a lot of nutritious meals. During the walk, you will be provided with enough of nutrient-dense, delicious meals. However, in comparison to big cities, your options are limited.
During the walk, we will provide you with 13 breakfasts, 13 lunches, and 12 dinners. The following are some examples of typical menu items:
Breakfast– Tibetan Bread or Chapati, Tsampa Porridge, Pancakes, Oatmeal, Corn Flakes, French Toast with Jam, Butter, Cheese, and Honey Tsampa Porridge, Pancakes, Oatmeal, Corn Flakes, French Toast with Jam, Butter, Cheese, and Honey Hashed Brown Eggs, Egg Varieties (Omelets), Muesli Breads, Fruits and Vegetables, Hot Drinks – Teas, Coffees, Hot Chocolates, and other hot beverages.
Lunch– Dhal, Bhat, & Tarkari, Tibetan Bread, Momo (Dumplings), Macaroni Dishes, Salad, Pizza (Tomato, Mushroom, Mixed), Various Soups, Tenduk, Spaghetti, Noodles, Thukpa, Pasta, Vegetable Curry, Potatoes, Sherpa Stew, Steaks, Sandwiches, Snacks (Papad, Prawn), Dessert Items (Rice Pudding).
Dinner– Dal (lentils), Bhat (rice) & Tarkari (curry), Tibetan Bread, Soups, Sherpa Stew, Thukpa, Pasta, Vegetable Curry, Potato Items, Pizza (Tomato, Mushroom, Mixed), Vegetables, Salads, Sandwiches, Momo (dumplings), Macaroni Dishes, Tenduk, Spaghetti, Noodles, Snacks, Papad, Prawn, Korean Ramen.
Traditional, Asian, and western dishes are available on the menu, although the options become more limited as you ascend.
At high elevations, we strongly advise you to consume fresh vegetables and plenty of liquids – green tea, lemon tea, hot lemon, ginger tea, and garlic soup (must).
You'll find plenty of non-vegetarian options as well, but we don't recommend them due to sanitary issues. At high elevations, we also advise you to avoid dairy products as well as alcoholic, caffeinated, and chocolate beverages.
All personal bills (alcoholic, hot (tea/coffee), and cold drinks) in tea houses, lodges, or cafés are excluded from this package, save for the standard meals mentioned (containing breakfast, lunch, and dinner with seasonal fruits).
Best time to trek Ama Dablam Base Camp
While trekking to Ama Dablam, the weather is the most important factor to consider. People hike to Ama Dablam Base Camp all year round, however, some seasons are better than others for Ama Dablam hikes.
Due to beautiful skies, magnificent views, and cool weather, spring (March-May) and autumn (mid-September to mid-November) are popular trekking seasons.
Summer in Nepal coincides with the rainy season, making trek tracks wet and slick, but the views of waterfalls are breathtaking. During the winter, there is a lot of snow and the temperatures are very cold.
Some people, however, like trekking during these seasons as well. Here's a quick rundown of the journey conditions in the higher elevations.
January to February
It's the coldest period of the year, especially from January to February. The mountains are blanketed in snow, resulting in bitterly cold temperatures. The daytime is pleasant, with clear skies, but the overnight is bitterly chilly. During these months, though, you can trek to Ama Dablam Base Camp. During these months, Discovery World Trekking offers safe Ama Dablam treks.
Temperature: 15°C to -15°C.
March to April
Hiking in the Ama Dablam at this time of year is one of the best. This month's weather is exceptionally pleasant. The Himalayas and glaciers may be seen in all their glory. From mid-March onwards, the weather begins to warm. The sun-kissed temperatures during these months bring the dormant flora and fauna back to life. The beautiful skies provide breathtaking vistas of the snow-capped peaks, and the mild weather keeps trekkers comfortable. During these months, many trekkers visit Ama Dablam Base Camp.
Temperature: 18°C to -12°C.
May to June
In May and June, just before the rainy season begins in Nepal, you can arrange a fantastic journey to Ama Dablam Base Camp. The combination of spring and summer seasons makes these months ideal for hiking.
Temperature: 25°C to -5°C.
July to August
During these months, rainfall is at its highest, primarily at elevations below 3500 meters. Due to rain, flights from Kathmandu to Lukla at the start of the trek and flights from Lukla to Kathmandu at the end of the walk may be canceled.
During these months, though, hikers can be found trekking to Ama Dablam Base Camp. The hiking path offers beautiful vistas of waterfalls due to the rain. Furthermore, the hiking trails are hardly overcrowded.
Temperature: 27°C to 5°C
September to October
The Ama Dablam Base Camp trip, which attracts a significant number of tourists, is also in its prime season, with bright skies and beautiful mountain views. As the monsoon fades, a great trekking climate emerges. The temperature rises to 20 degrees during the day and drops to 5 degrees at night. In addition, the two most important Nepalese holidays, Dashain and Tihar, fall during these months.
Temperature: 20°C to 5°C
November to December
As winter approaches, snowfalls begin to fall in the Himalayas, making trekking difficult. The nights are getting cooler. Treks in November are still possible, with sunny days and spectacular vistas of snow-capped summits.
The temperature drops in December, and heavy snowfall begins at high trek altitudes.
Temperature: 18°C to -10°C
The weather in the Himalayas is unpredictable and changes quickly.
Acclimatization
Altitude sickness is common among trekkers who try to get to the Ama Dablam. You will acclimate at Namche Bazaar and Chukung to avoid altitude sickness. This trek is far easier than the Everest Base Camp walk, which takes 10 or 12 days.
You can visit Namche Bazaar, a well-known Sherpa town with Wi-Fi-connected cafes, restaurants, pubs, and a variety of shops. At Chukung, you'll also spend one extra day acclimating.
You'll ascend the ridge behind the settlement to get a better glimpse of the surrounding snow peaks. Our trek leaders and guides have extensive expertise at high altitudes and are well-trained.
Your health and safety are extremely important to us, and we prioritize them. If you've been severely afflicted, the only thing you can do now descends.
Your trek leader has the authority to decide whether to continue the trek or descend immediately in such scenarios.
Trip Grade: Fitness level and Health During Ama Dablam trek
The Ama Dablam Trek is as demanding as it is rewarding. On an average trek day, you'll be trekking for 5 to 7 hours. The track features difficult ascents and descents on rocky and stone-paved roads.
The trek can be completed by an averagely fit person. However, the more fit you are, the more enjoyable your hike will be. Previous hike experience is beneficial but not required. Your stamina will improve after a few weeks of regular exercise.
This walk, on the other hand, is not recommended for people who have certain medical concerns, such as heart or lung disease. If you have any of these conditions, we urge that you talk to your doctor before signing up for the walk.
Trekking group/single
We organize both group and private treks. If you have your own group, the larger it is, the greater the discount. If we organize the group, however, you will not be entitled to any discounts.
We can accommodate parties of any size, and for groups of twelve or more, we can add an assistant trek guide. We assign one porter to every two members. The maximum amount of luggage per trekker is 9 kilograms.
A typical day on the trek
Climbing, admiring the scenery, snapping photos, touring communities, and sampling local cuisines will all be part of each day's hiking adventure.
During your journey, our knowledgeable and courteous Sherpa/Guide will provide you with information on the areas you will be seeing. You will be accompanied by porters who will be carrying your bags.
We do, however, require you to bring a small backpack with you that contains vital necessities.
The day begins with a nice cup of tea or coffee in the morning. Following breakfast, we leave off on the day's walk between 7 and 8 a.m., depending on the length and character of the hike.
You will have lunch about midday after walking for three to four hours, frequently on the way to the next site. After lunch, you will enjoy an hour of respite before beginning your trip.
The afternoon hike is usually shorter, lasting between two and three hours. You can munch on the extra dietary food once you get to the overnight lodge/tea house. You have the rest of the day to explore the area before it gets dark. Dinner will be served between 6 and 7 p.m.
Your trek guide will inform you about the next day's journey after dinner. You can read novels, play board games like monopoly, chess, or cards, or watch mountaineering documentaries before going to bed. Our crew also teaches most tourists a few Nepali words.
Communication during the trek
You can pay a nominal fee to use the internet access at the lodges while on the Ama Dablam Trek. We will, however, utilize cell phones to communicate at high altitudes. Discovery World Trekking communicates with all trip groups via the trek leader at least once a day to verify that everything is running smoothly. In Kathmandu, you may buy a local SIM card. The signals may not be strong enough at high elevations, depending on the network you choose.
Wi-Fi is available at lodges/teahouses, but you need to pay a small service charge.
Extra personal expenses on trekking
The Ama Dablam trek package covers the majority of the hike's costs. Certain costs, however, are not covered. Our clients are responsible for their own meals and lodging in Kathmandu.
In Kathmandu, you may book a variety of hotels/lodges (both luxury and inexpensive) online. All of our valued guests must carry personal spending money to cover expenses such as lodging and food in Kathmandu, the visa process, the purchase of travel insurance, snacks, hot (tea/coffee) and cold drinks, tips for crew members, souvenirs, and so on.
We recommend that you carry cash (major currencies) to exchange for Nepali Rupees. Only Nepali money is accepted in trek areas.
Electricity and battery recharge, water on trekking
Electricity for the camera and mobile phone recharge is offered at an additional cost throughout the Ama Dablam trek region's lodges. The shops on the trails sell mineral water in bottles.
Some trip areas, however, may not allow plastic bottles. So you can fill your water bottle with boiled/filtered water purchased from lodges/teahouses. We can also give you water purifying pills if necessary.
Please do not drink water from the rivers, taps, and wells in trek regions for hygiene concerns.
Travel insurance
This is a difficult trek with the risks that come with high-altitude trekking, such as altitude sickness. As a result, travel insurance is required for the Ama Dablam journey. Before beginning the hike, all trekkers must produce a copy of their complete travel insurance policy certificate.
Medical expenditures and emergency repatriation must be covered by the policy, including helicopter rescue and evacuation costs up to the greatest trek height (up to 6000m).
We can make recommendations for insurance companies based on our clients' experiences, but we do not sell policies.
Within a week of scheduling a trek, we ask that our valued clients email us their comprehensive insurance information. In the event of an emergency, we'll use your insurance policy and other documentation you supplied us to quickly rescue you and transport you to medical facilities.
Before buying travel insurance, call the insurance company and recheck if they have helicopter rescue and evacuation up to 6000m. Do not just believe what they say on their website.
Passport and visa
Except for Indians, all foreigners must obtain a visa to enter Nepal. At Tribhuvan International Airport, citizens of most countries can obtain an on-arrival visa.
A passport with at least six months of validity, a passport-size photo, and visa payments are required for the visa application. The visa fee is currently USD 50 for a period of 30 days.
Citizens of the SAARC (India, Maldives, Sri Lanka, Pakistan, Bhutan, Bangladesh) and China are exempt from visa requirements.
An arrival visa may be denied to citizens of Nigeria, Ghana, Zimbabwe, Swaziland, Cameroon, Somalia, Liberia, Ethiopia, Iraq, Palestine, and Afghanistan. If you are a citizen of one of these countries, you must contact the Nepalese embassy in your home country.
Nepal government may change the visa policies without notice, so for the latest information, you can visit https://www.immigration.gov.np/.
Money exchange
Nepali Rupee (NPR) is the local currency.
(1 USD = ~ Rs.120 NPR).
In Kathmandu, you may convert most international currencies at local banks and legal money exchanges. Small sums of cash can also be exchanged in hotels in Kathmandu (major currencies).
Legal money exchangers make their current rates available to the public. In Nepal, only Indian Rupee notes of 100 and 2,000 rupees are legal tenders.
Despite the security of a traveler's check, we encourage cash exchange to prevent inconveniences such as lengthy processes and excessive bank commissions. You can use your card to withdraw cash (in Rupees only) at one of Kathmandu's many ATMs, including Thamel.
Several of these ATMs are operational 24 hours a day. With a foreign card, the maximum withdrawal amount is 35,000 Rupees, plus a 500 Rupee processing fee.
When you use the money exchange function at a bank or financial institution, you will be charged a service fee of 4% or more. Because there are no banks or money exchanges in the trek regions, you should exchange your money in Kathmandu based on your expenditure estimates. Only Nepali money is accepted in trek areas.
Most banks in Asia do not accept foreign currency notes that are old, torn, or faded. Please ensure that you have new, clean notes.
How much luggage can I bring to the Ama Dablam trek?
The maximum luggage weight per trekker is 9 kilograms. For every two trekkers, we allocate one porter. As a result, our porter will only carry a total of 18kg of luggage. You should also bring a small backpack to carry your belongings in. Excess baggage can be left at your accommodation or at the Discovery World Trekking store.
During the trek briefing, we will check your luggage to ensure that you have not missed packing any essentials needed for the trek.
Ama Dablam Base Camp Trek Safety
For us, the most important consideration is safety.
Our trip team is prepared for any situation by carrying all of the necessary gear, equipment, and first-aid supplies. Our tour guides have undergone extensive first-aid training.
If a trekker becomes ill as a result of the altitude, the trek leader has the authority to either continue hiking or descend promptly after assessing the situation. In the event of an emergency, we will dispatch a helicopter to transport the visitor to safety. Furthermore, we will be hiking as a group.
Responsible travel
We are convinced that we must safeguard our environment from the negative consequences of tourism. As a result, we organize eco-trips in collaboration with the Kathmandu Environmental Education Project (KEEP). We make every effort to balance the interests of trekkers and people in trek districts when planning any trips.
Our Crew
Our skilled and experienced guides/Sherpas will accompany you on your trip to make it pleasant and enjoyable.
All of our tour guides have through extensive training, are licensed, and have a wealth of expertise. Porters will transport your belongings. For every two trekkers, we supply a porter. Porters, on the other hand, will not transport bags weighing more than 18 kg. We can also allocate one porter per person if necessary.
Our crew members are locals from remote high Himalayan villages, and they have a high level of physical endurance at high elevations. As a result, they may live happily at high elevations without experiencing any adverse effects.
We value each and every one of our employees. Throughout the walk, we pay them generously and take care of their insurance, clothing, food, and lodging. When our guides and porters become unwell or injured, they receive medical attention.
We make every effort to keep our employees happy since we feel that only happy individuals can make others happy. Our knowledgeable trek leaders have:
Nepal Government-authorized Trekking Guide Training certificate.
Completed intense wilderness first aid training.
Speaking English and other major languages fluently.
Training in conservation and biodiversity has been completed, as well as rock climbing experience.
Tipping
Tipping is acceptable in Nepali culture, however, it is at the discretion of the traveler. The cost should be proportional to the level of service provided. At the end of the walk, we recommend tipping everyone together.
Booking and Payment Process
To confirm the reservation, we require a deposit of 10% of the total trip cost. You can make a payment via bank transfer, Western Union, or directly through our website. After landing in Nepal, you can pay the remaining trip costs in cash, credit card, bank transfer, or western union.
We'll also send you an email with payment information and payment options. Within a week after booking the trek, we ask that you email us the following documents: a passport copy, passport-size pictures, travel insurance policy, and arrival and departure airline details.
Please keep in mind that there are a limited amount of domestic flights to Lukla, and the airport is extremely congested during the trekking season.
Last-minute booking
The Ama Dablam trip is available for a last-minute booking. To take advantage of this service, you must pay the entire trip cost 24 hours prior to the planned journey departure date.
Though we do our best to run treks at any time, in the event of a last-minute booking, you cannot hold us liable for delays caused by factors beyond our control, such as flight cancellations, terrible weather, and so on.
Trip extension
If you wish to stay in Nepal for a few days after the trek, we can arrange enjoyable activities for you. You can go on a Chitwan jungle safari, paragliding, rafting, or canoeing adventure in and around Kathmandu.
Feedback
We will provide a goodbye dinner in Kathmandu when the Ama Dablam climb is completed. We will offer you a printed trek achievement certificate after dinner. It's also a good time to give comments on your trek.
You may also visit Bardiya National Park Tour-Cost, Distance, Itinerary, In Nepal – 4 Days
Overview Of Ama Dablam Base Camp Trek
The Ama Dablam Base Camp through Kongma La Pass trek in the Everest region is a challenging but rewarding trek. It is the ideal trek in the Khumbu region for travelers looking for amazing vistas of the Himalayan range.
This less-traveled trip path is ideal for adventurers, as it traverses through high rocky slopes that are frequently covered in snow and ice. You'll also pass through a number of small traditional villages inhabited by ethnic groups such as Sherpas
The Ama Dablam Base Camp Trek is the trek for you if you're looking for excitement in the mountains. This Everest alternative trek allows you to experience the breathtaking grandeur of the Himalayas while traveling via the iconic Kongma La Pass on your way to Mount Ama Dablam Base Camp.