Introduction To Mardi Himal Trek In Nepal
Thie Mardi Himal Trek may be ideal for hikers who like to encounter fewer people even during peak season, as opposed to other treks. The Mardi Himal is a hidden treasure and a lesser-known hiking location in Nepal.
Few trekkers have explored the tough yet magnificent hiking route to Mardi Himal, which is located south of one of the most renowned trekking routes, Annapurna Base Camp.
The Mardi Himal Trek includes a mix of simple and moderate treks, depending on your previous trekking experience. It may also be the greatest option for beginners looking to take on a high-altitude adventure.
The trek's highest point is 4,250 meters at the Upper View Point or 4,500 meters at the Mardi Himal Base Camp. Mardi Himal Base Camp, traditional Nepali villages, people's lifestyles, up-close views of the mountains including Mt. Annapurna South, Himchuli, and Mt. Machhapuchre, and green lush vegetation throughout the trek are just a few of the attractions of the Mardi Himal Trek.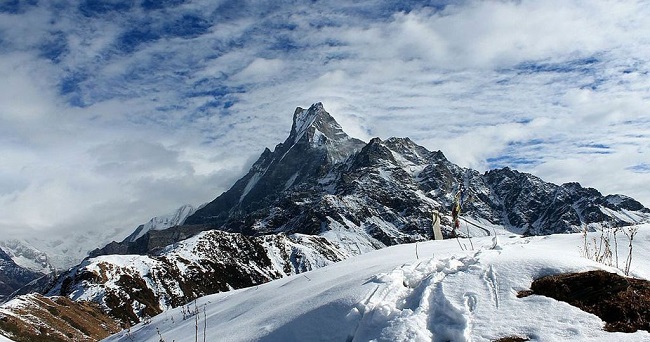 The magnificent vista of the mountains, including Annapurna South, Himchuli, and Machhpuchhre (Fishtail), will instill in you an adventurous attitude. The flora and animals, the lush Oak and Maple forests, and the stunning national flower Rhododendron along the pathways are all worth remembering
. The Mardi Himal Hike is the best trek in Nepal, not only for breathtaking mountain vistas but also for learning about traditional village life and seeing Nepal's authentic countryside.
Highlights Of Mardi Himal Trek In Nepal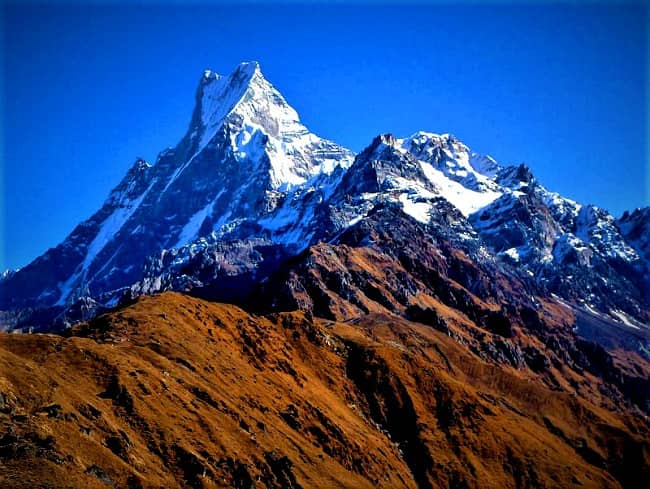 Annapurna, Machapuchre (fishtail), and Mardi Himal are all seen in this panoramic mountain panorama.
Walking through the lovely Mardi Valley Magnificent scenery, flora, and fauna.
Pokhara is a popular tourist destination where you may go paragliding.
Nepal's Annapurna Region is off the main path.
The Gurung and Magar people have distinct cultures.
Examine the varied cultures and lifestyles of mountain people.
View of the sunrise from the Himalayan peaks.
You may also Visit  Manaslu and Annapurna Trek with Tilicho Lake-Cost, Distance, Itinerary, In Nepal – 25 Days
Overview Of Mardi Himal Trek
The Mardi Himal Trek leads to beautiful valleys, alpine meadows, and a rich forest of rhododendron, pines, and lichens. You'll be delighted by the panoramic grandeur of the region as you wander past lovely streams and waterfalls.
Furthermore, the Mardi Himal Trek takes you all the way to Machhapuchhare Base Camp. On the journey, you'll be rewarded with spectacular views of Dhaulagiri, Annapurna, Hiunchuli, and Mount Fishtail.
It's a challenging trip that takes you over steep valleys and sharp slopes, giving you a true alpine feel. You'll journey through a diverse terrain of yak pastures and lush forests, and it'll be thrilling to see all of these incredible sights.