Introduction To Langtang Valley Trek In Nepal
The Langtang Valley Trek is Nepal's third most popular trekking route. The Langtang Valley is also known as the Glacier Valley. The Langtang Valley Trek is simply the best trekking in the Himalayas, with breathtaking scenery, culture, environment, and mountain vistas.
Langtang is a stunning valley with numerous glacier lakes and scattered Tamang villages. The main attractions of Langtang Trek include the rough paths and unspoiled beauty, as well as the Tibetan-influenced culture and traditions of the local Sherpa and Tamang communities, as well as the diverse flora and fauna.
Due to the magnificent mountain vistas, bright days, and pleasant temperatures, the best time to trek Langtang valley is in the spring and autumn. However, you can walk in the summer/rainy season and winter as there are fewer hikers on the trail during these seasons.
Perfect temperatures, clear blue skies, fresh air, and spectacular mountain vistas characterize the weather. Autumn and spring bring temperatures ranging from 10°C to 15°C throughout the day, making trekking in Langtang valley a joy due to the flowering of colorful rhododendron along the route woodland.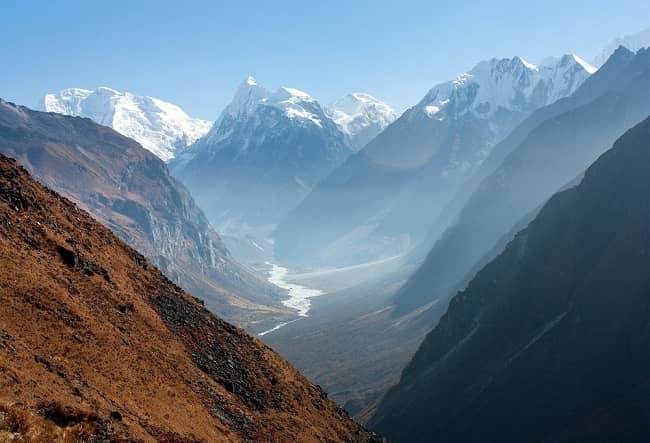 Summers in the Langtang region is wet, and the pathways become slick, posing a landslide risk, while clouds obscure the sky and obscure the mountain. The Langtang walk in the winter is too cold. The trail is almost completely covered in snow, and the temperature has dropped to minus 15 to 20 degrees Fahrenheit.
Highlights Of Langtang Valley Trek In Nepal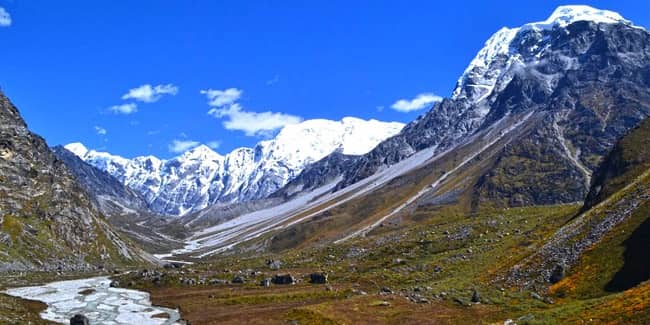 A voyage through a variety of picturesque aspects, from rushing river waters to dense forests to alpine pastures and yak herds.
On both sides of the valley, there are spectacular mountain vistas.
From Kyanjin Ri and Cherko Ri, you can see all the way to the Tibetan plateau.
Kyanjing Monastery is a Buddhist monastery in Kyanjing, China.
You may also visit Khopra Community Ridge Trek-Cost, Distance, Itinerary, In Nepal – 13 Days
Overview Of Langtang Valley Trek
The Langtang Valley Trek in Nepal begins with a visit to UNESCO World Heritage Sites in Kathmandu, followed by a drive to Syabrubesi the next day.
We start hiking in Nepal from the lower Langtang Valley, following our route chart. We arrive at Kyangjin Gompa after passing through the Langtang National Park, tiny villages, farmlands, and lush forests.
We also climb Tserko Ri for spectacular views of the Langtang peaks at daybreak. The region, which borders Tibet, was previously a major trade route. The influence may still be seen in the rich local culture.