Introduction To Bardia National Park Tour In Nepal
Bardia National Park Tour is located in the Bardia district, southwest Nepal. Roads connect this district to Kathmandu. To reach Bardia by air, one must first fly to Nepalgunj, a large city and renowned tourist destination, and then drive to the national park.
Bardia National Park lies in Nepal's southern Terai area. This unpopulated park is one of the greatest for spotting Royal Bengal tigers. The park is 968 km2 and has an average elevation of 415 m. (374 sq mi).
Nature and wildlife lovers will love Bardia National Park. We'll fly to Nepalgunj first. After a two-hour drive from Nepalgunj, we'll check into our resort and receive trip details. After lunch, we'll visit a Tharu village and crocodile farm.
The next day, we'll enter Bardia National Park's dense forest, home to Gharials, Marsh muggers among crocodiles, Royal Bengal tigers, one-horned rhinos, monkeys, pythons, wild elephants, black buck, wild boar, spotted deer, hog deer, and swamp deer.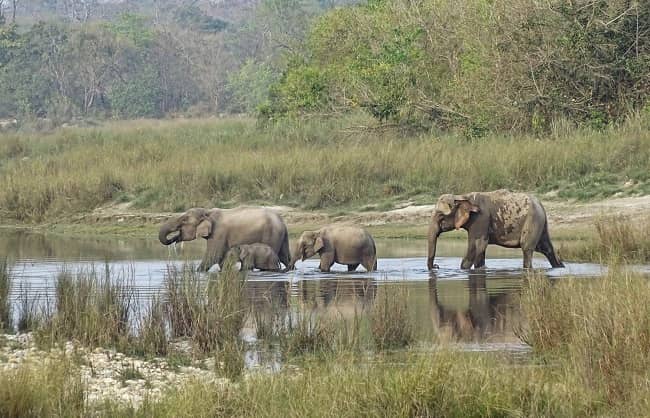 The next day, we'll birdwatch at Karnali River. Bardia National Park has 400 bird species, including Bengal Florican and Sarus Crane. On our last day, we'll embark on an elephant safari in Bardia National Park and then return to Kathmandu.
We'll assist you to discover Bardia's beauty. We want every tourist to have a memorable trip, therefore we strive to provide great service every time.
Highlights Of Bardia National Park Tour In Nepal
Crocodile Breeding Center Karnali River and bird viewing
Bengal tiger, one-horned rhino, and Asiatic elephants
The vibrant Tharu community, their way of life, and culture
There is a diverse assortment of vegetation and wildlife.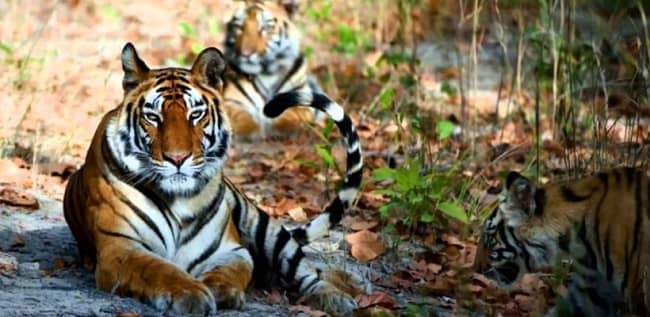 Trip Information
How Your Journey Towards Bardia Jungle Safari Will Start?
Tribhuvan International Airport, Nepal's only international airport, would welcome you. Arrival in Kathmandu necessitates an overnight stay in a hotel. The next day, early in the morning, we will take a domestic aircraft to Nepalgunj, which will take around an hour.
Don't Worry, We'll Pick You up!
For clients who have bought the trek package, we provide free airport arrival and departure transfers on any airline. A leaflet with your name and our firm name will be held by our agent. They will greet you with a khaki or marigold garland before transporting you to your accommodation in a private vehicle.
Accommodation Details During The Bardia National Park Tour!
The friendly welcome of the locals will make you feel at ease during your visit to Bardia National Park. You will need two nights in Kathmandu to rest before and after the trip, which is not included in the package. There is a wide choice of hotels to suit all budgets. The lodging is set out on a nearly twin-sharing basis, with a bed, mattresses, blankets, and pillows. In the national park, we have good public relations with service providers.
How about the Meals, Don't you wanna know?
The dinner kit is quite useful. The plan includes three food items: four breakfasts, four lunches, and three dinners. The meals will be chosen from the lodge's menu and will be fresh, hygienic, flavorful, and nutritional. Traditional local, Asian, and western cuisines are represented on the menu. Meals in Kathmandu are not included in the packages, although there is a wide selection of Nepalese and international cuisine to pick from, depending on our preferences.
Best Season for an Adventurous safari in Bardia National Park
When planning a trip, one of the most crucial factors to consider is the weather. The Bardia National Park is open all year. However, the greatest time to visit is between February and June, when the dry season ends and the warmer season begins. We will have a better possibility of spotting tigers and rhinos around the water holes at this time. The park will be foggy in the winter, from November through January, and animals will hide in the dense woodland.
Passport and visa
Except for Indian nationals, all foreigners must have a valid visa to enter Nepal. At Tribhuvan International Airport and Nepal's borders with India and Tibet, you can obtain an on-arrival visa. Visit www.immigration.gov.np. for additional details.
You'll need a passport that's valid for at least six months, a passport-size photo, and visa fees to apply for a visa. A 30-day visa costs $50 at the moment (to be paid in cash).
A free visa will be given to children under the age of ten. It is strongly recommended that you examine the current regulations. Visa regulations are subject to change at any time. Citizens of China and members of the South Asian Association for Regional Cooperation (SAARC) (Bangladesh, Bhutan, India, Maldives, Pakistan, and Sri Lanka) are exempt from visa fees.
Certain countries' citizens may be denied a visa upon arrival. On-arrival visas are not available for citizens of Nigeria, Ghana, Zimbabwe, Swaziland, Cameroon, Somalia, Liberia, Ethiopia, Iraq, Palestine, and Afghanistan. If you are a citizen of one of these countries, please contact the Nepalese Embassy in your country.
Before we embark on our journey, we'll double-check everything (luggage, equipment, etc.) during our briefing.
Money Exchange
Nepali Rupees (NPR/Rs) are the local currency.
(1 USD = ~ Rs.120 NPR).
You can exchange major foreign currencies through local banks and legitimate money exchanges in Kathmandu and all over Thamel. Legitimate money exchanges display their ongoing exchange rates visibly to the public.
Please note – only 100 INR (Indian Rupees) and 2000 INR notes are legal in Nepal.
Despite having the security advantage of traveler's cheques, we prefer cash exchange. It helps avoid lengthy processes and high bank commissions. 
You can withdraw cash (in Rupees)from ATMs all over Kathmandu and Thamel itself. Many of these ATMs are open around the clock. The maximum withdrawal amount is 35,000 Rupees for a 500 Rupees processing fee for foreign cards.
If you use the money exchange facilities at banks and financial institutions, they impose a service charge fee of about 4% or more.
During the trek, there are no banks and money exchange services so you should exchange your money in Kathmandu, depending on how much personal expense you require. Only Nepali Rupee is accepted in trekking regions.
Most established banks in Asia will only accept foreign currency notes that are not old, torn, or faded. Please ensure that you have new, clean notes.
Safety
We ensure the safety, security, and contentment of our clients. For us, the most crucial concern is safety. Our trip leaders and guides are well-versed on the subject and have received comprehensive first-aid training. We'll all be together on the jungle walk to keep everyone safe and prevent anyone from wandering off alone.
Responsible travel
We are firm believers in environmentally responsible tourism. As a result, we collaborate with the Kathmandu Environmental Education Project (KEEP) to create environmentally sustainable treks that benefit both trekkers and communities in the trekking areas.
Tipping
Most significantly, tipping is at the discretion of the traveler and should be based on excellent service that is not included in the salary of your guides, porters, and crew, but they are greatly appreciated. Tipping is an accepted and valued means of saying thank you (Dhanyabaad) for good service in Nepalese culture.
Tipping is usually done at the end of the walk and is best done in a group. To mark the completion of the walk, most groups would present the tips at a farewell supper on the last evening or day of the trek. The amount of the tip is totally up to you, and it may be more or less depending on the quality of the service, the length of the journey, your budget, and your appreciation of the job.
It is critical to us that crew members look after you professionally during the voyage, provide exceptional service, and provide an enriching journey—a once-in-a-lifetime experience. We make certain that all of our crew members, including guides and porters, are adequately compensated and treated with respect.
Booking and payment process
We are a government-approved and bonded trek and tour company in Nepal. We are also members of the Nepal Mountaineering Association (NMA) and the Trekking Agency Association of Nepal (TAAN) (NMA). As a result, you may book your trek/expedition with complete trust.
As a deposit, we require 10% of the total trip cost. Within a week of booking, please send your documentation, including a copy of your passport, passport-size pictures, travel insurance policy, and arrival and departure flight information.
You can make a 10% deposit via bank transfer, western union, or online payment on our website, and the full balance when you arrive in Nepal. Cash, bank transfer, and credit cards are all acceptable methods of payment. In addition, you will receive payment choices in your email.
Last-minute booking
We offer last-minute bookings for individuals who are unable to book Annapurna Circuit Trek in advance. You must pay 100% of the trek cost 24 hours before the trip begins to take advantage of this service.
We make every effort to run last-minute treks/trips on your scheduled date. However, there is a slight potential for a journey delay owing to factors beyond our control, such as terrible weather or a lack of housing.
Trip Extensions
If you have extra days after the trip, you can embark on a sightseeing tour in Kathmandu or the surrounding districts. In Chitwan, you can also embark on a jungle safari, paragliding, rafting, canyoning, or other treks.
Feedback
We offer a farewell meal at the end of the trek, and we will also award you with a trek completion certificate after dinner (hard copy). It's also a great opportunity to tell us about your experience and provide us feedback.
Overview Of Bardia National Park
The Bardia National Park is an ideal wild safari experience, where you may walk or ride through the silent jungle and see wild animals right in front of your eyes.
A Bardia Jungle Safari day tour is for visitors who want to explore Nepal's Bardia National Park. This day tour includes Tiger Tracking, Elephant Tracking, Jungle/Nature Walks, Bird Watching, Full Day Wild Sightseeing, Jeep Safari, Dolphin Sightseeing, Camping, and Hiking, among other activities.