Introduction To Mera Peak Climbing and Amphu Labcha pass In Nepal
The Mera Peak Climbing and Amphu Labcha pass in Nepal begins in Lukla and ends in Lukla after passing over the isolated wilderness trail, dramatic Amphu Lapcha Pass (5,800m – 19,029ft), and the dramatic Amphu Lapcha Pass (5,800m – 19,029ft).
The Mera Peak Climbing and Amphu Labcha pass are perfect for adventure trekkers looking for more hard treks and small peaks, which can be reached after crossing the Mera La pass (5,415m. -17,766ft).
Mera peak has three main summits: Mera North (6,470 m/21227 ft), Mera Central (6,461 m/21,190 ft), and Mera South (6,065 m/21,190 ft) (19,898 ft),. Mera Peak (6,654m / 21,831ft) is Nepal's highest NMA-listed trekking peak, located on the outskirts of the famed Khumbu region and offering a breathtaking summit vista that encompasses five of the world's 8000m peaks: Mt. Kanchenjunga, Mt. Makalu, Mt. Lhotse, Mt. Cho Oyu, and Mt. Everest.
Mera Peak is gaining popularity among trekkers since it is a good mountain for novices. Although Mera Peak is physically hard, the climbing is rather simple in terms of technique, with snow slopes rarely reaching 30 degrees. The sole need for climbing Mera Peak is exceptional physical fitness and a desire to participate in adventure activities.
Following the summit of Mera Peak, we descend into the deserted Hinku (Honku) valley to the east via the Amphu Lapcha pass. The upper Hinku part is a very wild valley where you're unlikely to run into any other hikers. The valley is high and open, with broad moraines and towering snowy peaks on either side, and it's a fantastic site to camp.
Here, the glacial lakes and vistas of Chamlang (7,319m. – 24,013ft.) and Baruntse (7,129m. – 23,390ft.) are particularly appealing. The passage of the Amphu Lapcha pass is technically more difficult, but it rewards brave trekkers and climbers with beautiful vistas.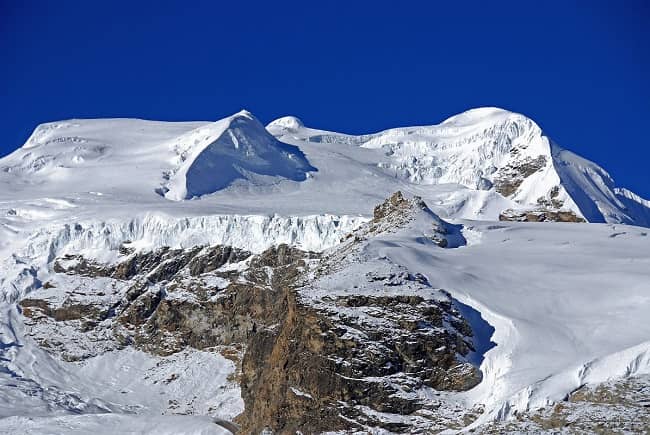 The Amphu Lapcha pass is climbed with fixed ropes on easy ice, and the descent needs a short abseil to a broad snow terrace to reach Imja Tse base camp (Island Peak) and an overnight stay in Chhukung. The pass is difficult to navigate due to its steepness while being lower in elevation than Mera (6,470m.-21,831ft) and Island Peak (6,470m.-21,831ft) (6,160m.- 20,211ft).
Finally, the Amphu Lapcha Pass is regarded as one of Nepal's most difficult and complex mountain passes. We trek back to Lukla from Chhukung and fly to Kathmandu.
Highlights Of Mera Peak Climbing and Amphu Labcha pass In Nepal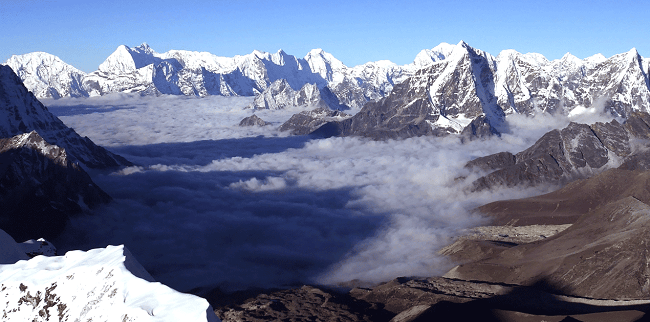 Climb Mera Peak, Nepal's highest trekking peak (6,461m)
The courageous crossing of Amphu Lapcha, one of the Himalayas' most difficult mountain passes
Trek past glaciers, high-altitude alpine lakes, beautiful rhododendron forests, and traditional Sherpa villages in just 21 days.
Visit the biodiverse Makalu Barun National Peak and Sagarmatha National Park.
Take a walk through the Hinku, Hongu, and Dudh Koshi river valleys.
You may also visit Paragliding in Pokhara-Cost, Distance, Itinerary, In Nepal – 1 Day
Overview Of Mera Peak Climbing and Amphu Labcha pass
The Mera Peak Climbing and Amphu Labcha pass consists of Nepal's most popular peak, Mera, with spectacular views of the high Himalayan panorama, crossing the difficult Amphu Lapcha La Pass, exploring Honku valley, Honku glacier, large frozen lakes, and Pachpokhari (five lakes).
An exciting mountaineering expedition to Island Peak (6,189m), one of Nepal's most popular trekking peaks, for breathtaking panoramic views of five of the world's top ten highest 8,000m mountains; Everest, Lhotse, Kanchanjunga, Makalu, and Cho-Oyu, via the high spectacular and challenging Amphu Laptsa Pass in the Himalayas- an ultimate diverse climbing adventure leading to a