Introduction To Chulu Peak Climbing  In Nepal
The Chulu West Peak is one of Nepal's most popular and difficult hiking peaks, attracting hundreds of climbers each year during the climbing season.
It is located north of Manag village in the Annapurna area. The Chulu West Peak is a spectacular peak that rises to 6419 meters (21,055 feet) above sea level.
Being able to reach the summit of this mountain is undoubtedly a once-in-a-lifetime achievement.
The Chulu West Peak has become one of Nepal's most popular climbs in recent years, and it should be on the bucket lists of most people across the world.
This legendary summit in the Himalayas offers 360-degree vistas of Annapurna, Dhaulagiri, Manaslu, and countless other Nepalese and Tibetan plateaus.
It is fairly suitable for both experienced and novice climbers who wish to conquer the mountain and themselves at least once in a lifetime.
Our Chulu west peak itinerary is non-technical climbs and anyone with reasonable fitness can be a part of this journey. There are no technical climbing skills required in reaching the summit of this peak.
During the spring season, the ideal months for peak climbing are March and May. Similarly, in Nepal's autumn season, October and November are the finest months to climb; choose any of these months for this climbing that gives temperate temperatures and spectacular vistas with crystal clear weather.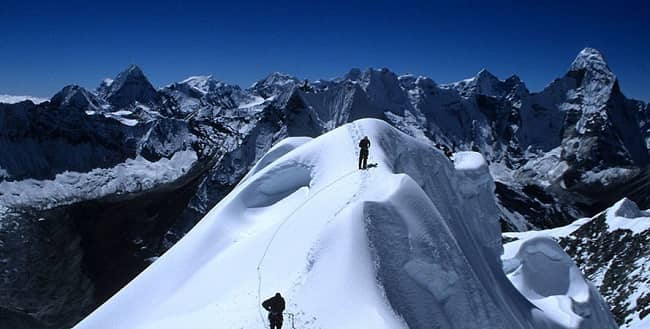 Highlights Of Chulu Peak Climbing In Nepal
Drive through the mountains to Besisahar and Danakyu.
Beautiful pine trees and wild rivers.
Villages, people, and traditions in the area
The beautiful snow-capped mountains and diversified landscape.
Gangapurna's magnificent glacial lake.
Mountain Buddhist monasteries and insights
The Kali Gandaki valley and Muktinath temple.
Benefits Of Chulu Peak Climbing In Nepal
Upon arrival and departure, free domestic and international airport transfers are provided.
Any necessary trekking gear, such as sleeping bags, down coats, duffel bags, walkie-talkies, trekking poles, and an oximeter to measure your oxygen and pulse, is provided free of charge.
A hiking route map, a t-shirt with the Alpine Ramble Treks emblem, and a hat are all fun souvenirs of your Himalayan experience!
You may also visit Bardiya National Park Tour-Cost, Distance, Itinerary, In Nepal – 4 Days
Overview
Among the Chulu summits, the Chulu west peak is another popular climb (Chulu east, Chulu far east, Chulu central). The 6419m/21059.71ft high Chulu west peak is located north of Manang, above the Ghyanchang Khola (river).
Although there isn't much technical climbing at this peak, it does necessitate high physical condition and fitness to reach the summit. Before reaching the summit, this peak has a "base camp" (4800m) and a "high camp" (5550m).
The Chulu West Peak is considered by some to be one of the best peaks in the Annapurna range. We will have spectacular views of Dhaulagiri, Nilgiri, Annapurna, and other Himalayan peaks while climbing the top. Climbing the Chulu West Peak, on the other hand, necessitates good physical fitness and stamina.