Introduction To Tsum Valley Trek In Nepal
Tsum Valley Trek is one of Nepal's most distant and newly exciting tourist sites, with elevations ranging from 1907 to 5095 meters.
It's also known as the Hidden Valley, and it's a great place to hike if you want to learn about Gurung culture and see the Himalayan panorama, which includes Baudha Himal and Himal Chuli to the west, Ganesh Himal to the south, and Sringi Himal to the north.
Chhekampar (upper Tsum) and Chumchet (lower Tsum) are two secret village development committees (lower Tsum). Visitors can witness the icy state, remoteness, and archaic ruins because the area has not been upgraded.
Tsum Valley Trek is located in the Manaslu region, which is near Tibet's border, and takes you through a Buddhist civilization rich in history and culture.
This journey will take you through pine and rhododendron forests, incredible suspension bridges, Rocky Mountains, Hills, stunning waterfalls, traditional villages, and several Gompas, Mani walls, stupas, and caves.
While the trekking trail departs from the main Manaslu trek route for Tsum valley, the hidden valley jewel is quickly discovered. This journey provides an incredible glimpse into the local way of life as well as an unusual valley of customs.
The Chum Valley Trek is a distant trekking destination in Nepal's Himalayan area, with magnificent views and rich traditional culture.
The trail continues on, passing by numerous historic monasteries and prayer flags. As we travel through the Manaslu region, we come across flora and animals that can make nature more enjoyable and peaceful.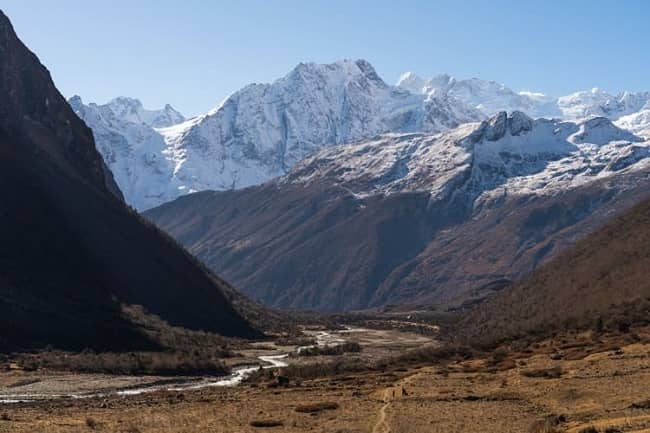 The Tsum "Hidden" valley trip allows visitors to learn about natural hot springs, Buddhist culture, mountains, and traditional towns. The excellent pilgrimage circuit in the central Trans Himalayan is highly known for its study and prayer sites.
Tibet's Short Tsum Valley Trek is naturally gorgeous, and its virginal culture makes traveling in this location unironically enjoyable. The majority of the locals are Tibetans who speak a distinct dialect. Many walls built of thousands of stone slabs line a route.
Buddhism has a long history in the Tsum valley. Tsum Valley Trek begins with a beautiful scenic drive from Kathmandu to Sotikhola, the main tourist junction for the Manaslu circuit trek and Tsum Valley trek. The trek then takes us along the Budhi Gandaki valley, passing through pine and rhododendron forests, rice terraced fields, and various villages.
The gorgeous pine trees, kind friendliness, and way of life of the locals are the main draws of this walk. Also, pay a visit to one of the ancient Buddhist monasteries.
Highlights Of Tsum Valley Trek In Nepal
To have a better understanding of the less known Tsum Valley, take a walk through the off-the-beaten-path Manaslu district.
Visit several chortens, monasteries, and Gompas that show Tibetan Buddhism's direct influence.
Hiunchuli, Ganesh Himal, Manaslu, Churke Himal, and Poshyop glacier are all visible from here.
Explore the many suspension bridges as well as the cascading rivers and waterfalls.
Meet the region's residents, and the lamas, and learn about their unique way of life.
Benefits Of Tsum Valley Trek In Nepal
On arrival and departure days, airport transportation is provided (our staff will

Destination: Tsum valley trek (Source: Alpine Holidays)

pick you up and drop you off).

Trekking equipment, such as sleeping bags and down jackets (if you don't have your own), can be rented if needed.
Medical First Aid Kit
Trip route map, outline itinerary, and printed hiking T-shirt (Himalayan Local Guide Pvt. Ltd).
We supply an oximeter to test your oxygen and pulse at high altitude illness to determine the precise state of your health while in the Himalayas.
Accommodations
In Tsum Valley, new tea houses/guest homes are springing up. During the Tsum Valley Trek, you will be accommodated in twin-sharing comfortable tea houses/guest houses and homestays. It's a good idea to pack a sleeping bag that can withstand temperatures as low as minus 20 degrees.
Meals 
Every day of the journey, we will supply you with three meals: breakfast, lunch, and dinner. Breakfast and supper will be served at the same teahouse/guest house where you will be staying the night, and lunch will be served on the route to our destination at a teahouse or guesthouse. Meals are not as varied as they are on other Annapurna and Everest treks. Tibetan bread, dal bath, tsampa porridge, noodle soup, muesli, porridge, omelet, and boiled egg are the most common dishes served with tea and coffee.
Best time for trekking in Tsum Valley
The best months to visit Tsum Valley are September, October, and November in the Autumn season, and March, April, and May in the Spring season. Tsum valley trekking is not suggested from June to August due to the summer/monsoon season. The weather in Nepal is ideal for hiking in the autumn. There is no rain, and the weather is pleasant, with a clear blue sky and a sunny day.
Fitness Level for Tsum Valley Trek
To cover the 10km to 18km trek distance, it is necessary to walk 6 to 8 hours every day. Previous trekking experience, a cheerful attitude, and a strong sense of resolve will all be beneficial in completing Tsum Valley Trekking. It's also required to have a lot of willpower, a high level of tolerance for adversity, good health, and a respectable level of physical fitness. The participant is responsible for all medical and evacuation/rescue costs.
You may also visit Ama Dablam Base Camp Trek-Cost, Distance, Itinerary, In Nepal – 13 Days
Overview Of Tsum Valley Trek
Tsum Valley Trek is a popular Buddhist pilgrimage location. Tsum Valley, one of the world's most isolated Himalayan valleys, was just opened for trekking. "Tsum" literally means "vivid" and refers to the holy secret valley of happiness in northern Gorkha, Nepal. Ancient art, culture, and religion abound in Tsum Valley Trek.
Tibetan ancestors make up the majority of the population. With old monasteries and a thriving geographical land formation, the Tsum Valley Trekking is awe-inspiring.
Tsum Valley Trek is also a relatively unknown and newly opened trekking trail in Nepal. The beautiful Tsum valley trip is still unspoiled. As a result, we refer to it as a "virgin" trekking track in the Manaslu region.
Explore the hidden Tibetan Buddhist land in the midst of the Himalayan Valley's most remote and secluded valley. Discover the grandeur of nature in the off-beaten path, which affords breathtaking views of the majestic mountains, while learning about Buddhism's history.