Introduction To Annapurna Base Camp Trek In Nepal
This Annapurna Base Camp Trek is one of Nepal's most popular and somewhat difficult treks. This walk is easier and shorter than other high-altitude excursions. The Annapurna Base Camp Trek may be completed by any fit individual with a little determination.
During the trek, you'll see a variety of scenery, learn about traditional highland culture, and experience a variety of weather. Stunning views of the Annapurna range, Macchapuchhre, Hiunchuli, and Dhaulagiri are also available.
Because you trek inside the Annapurna Conservation Area, the ABC Trek is also known as the Annapurna Sanctuary Trek. The Annapurna Sanctuary is encircled by Annapurna ranges and is home to rich flora, fauna, and ethnic Gurung and Magar settlements.
The sanctuary contains a healthy Himalayan environment with drier regions due to its unique geography. At the foothills of the Annapurna range, there are also dainty Thakali villages.
Terraced paddy fields, dense pine, and bamboo woods, and the peacefulness that envelops you throughout your trip can transport you to a different time away from the rush and bustle of the cities.
Your adventure to the ABC Trek begins with a tourist bus ride from Kathmandu to Pokhara. Pokhara is Nepal's tourist hub, and we are confident that you will be wowed by its beauty. Many mountains and lovely lakes may be seen from Pokhara (820 meters / 2,690 feet).
The second day begins with a drive from Pokhara to Tikhedunga through Birethanti (1039m / 3,250ft). The true trekking begins from Tikhedhunga, where we follow a trail through rice fields along the Modi River to Ulleri (1,540m / 5,050ft), the day's objective.
Ghorepani (2,860m / 9,385ft) is the destination for the next day's hike. The Annapurna massifs, Dhaulagiri, Tukuche, Dhampas, Nilgiri, Barash Sikhar, and Machhapuchre can all be seen from Ghorepani (Fishtail).
The fourth day will be particularly memorable because you will be visiting the famous Poon Hill viewpoint.
To get the most out of Poon Hill (3,210m / 10,525ft), we'll get up early and trek to Poon Hill to watch the sunrise over more than 32 Annapurna ranges, as well as Dhaulagiri and Nilgiri. We drive to Tadapani (2,630m / 8,630ft) for the night after taking in the magnificent views from Poon Hill.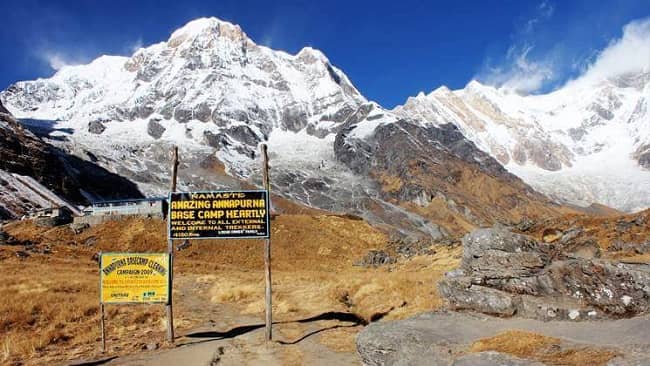 We leave Tadapani for Chomrong (2,165m / 7,105ft) the next morning after spending the night there. We continue our walk to Chomrong by passing through Ghandruk, which descends to the Kirmron River. For ABC trekkers, Chomrong is a favorite overnight stop.
The next day, we'll wake up in Chomrong, eat breakfast, and begin our walk to the Himalayas (2,890 meters / 9,425 feet). The path follows the Chomrong River through a charming village before ascending to the Modi River Valley, where we will spend the night.
We leave Himalaya on the sixth day and climb to Base Camp. Hiunchuli, Annapurna South, Annapurna I (8,097m/26,566ft), Gangapurna, Khangsar Kang, Annapurna III, and Machhapuchhare provide breathtaking views of glaciers and mountain ranges. We'll be staying at the Base Camp itself for the night.
The next day, we'll leave Annapurna Sanctuary and retrace our steps out of the Modi River Valley to Bamboo, a peaceful rest stop where we'll spend the night. We leave Bamboo the next morning and climb to Jhinu Danda (1,780m / 6,393ft). Natural hot springs may be found at Jhinu Danda, where we can rest and relieve our aching muscles.
If all goes well, we will leave Jhinu Danda on the tenth day and follow the Modi Khola to Ghandruk Phedi (1,150m / 3,770ft). We will drive to Pokhara via Nayapul from Ghandruk Phedi / Siwa. This is your final day in the hiking region, and you'll be staying in a hotel in Pokhara for the night. We'll take a tourist bus back to Kathmandu early the next morning.
The ABC trip is not extremely difficult, but it does provide you the opportunity to observe the Himalayan (Annapurna) region's outstanding natural splendor.
The Annapurna Base Camp trip begins with 6-7-hour bus travel from Kathmandu to Pokhara (about 200 kilometers), although you can also fly from Kathmandu to Pokhara for a fee. For tour briefing, we also propose that our guests arrive in Kathmandu by 3 p.m. one day prior to the trip departure date. We'll set your hike expectations and double-check the gear, equipment, and luggage you'll need at the trip briefing.
Highlights Of Annapurna Base Camp Trek In Nepal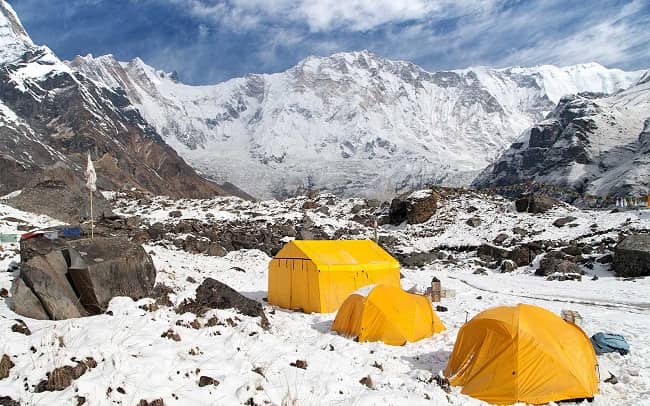 Sunrise views of the Annapurna range from the Poon Hill viewpoint, including Dhaulagiri I (8,167m / 26,795ft),
Annapurna I (8,091m / 26,545m), and Nilgiri (7,061m / 23,166ft).
Annapurna Base Camp is located at the foot of Annapurna I. (4,130m)
Flora and wildlife are abundant.
Jhinu Danda's hot springs
Hiunchuli, Annapurna South, Annapurna I, Khangsar, Gangapurna, Annapurna III, and Machhapuchhare offer breathtaking vistas.
Ghandrunk has lovely villages and agriculture.
A look into Nepalese rural life
Benefits Of Annapurna Base Camp Trek In Nepal
Free private airport arrival and departure transfers to and from the hotel
During the trek, you can store your excess luggage for free.
Pulse oximeters are used to measure blood oxygen saturation levels at high elevations in order to detect early signs of altitude sickness and other health concerns.
First-aid kit
Arrangements for sleeping bags and down jackets (if you don't have your own)
Equipment list for ABC Tour Package
ABC Trek requires varied gear (clothes) depending on the season, but we have developed a list for you. We recommend that you simply carry the essentials.
Head
Scarf or hat for the sun
Winter hat, insulating hat, or a hat with a wide brim
Extra batteries for the headlight
Face
Sunscreen
Sunglasses that block UV rays
Wipes for the face and body
Hands
Lightweight gloves

Heavyweight winter gloves
Body
Shirts for hiking
Shirt with a long sleeve made of synthetic fiber.
Rain jacket with hood
Jacket made of fleece
Cotton pants that are light and airy.
T-shirt (bring lightweight wool)
Underwear made of polypropylene
Jacket with down feathers (available for rent in Kathmandu)
Sweater
Jacket and pants that are waterproof
Footwear
Boots for Hiking
Socks made of thick wool (Take an extra pair of thick light socks)
Essential gear
A daypack or a backpack (Size depends on whether you take a porter or not)
Bottle with a heating element
Purification of water
Pole for hiking
Bag for sleeping (-15 degree bag is best for high altitude trekking)
Toiletries
a drying towel of medium size
Toothbrush
Toothpaste
Deodorant/floss/toilet paper
Biodegradable soap in a bar
a pair of nail clippers
Mirror, little
Personal accessories
Money

Watch

Cell phone

Camera
Extra items
Kit for first aid
Extra passport pictures and passport photocopies
Pencil and notebook
Binoculars
Annapurna Trek Difficulty, Cost, Insurance, Safety & Best time
Travel to the Annapurna Base Camp in 2022-2023
Central Nepal is home to the massive Mt Annapurna massif. Pokhara is about 50 kilometers away from the ABC.
ABC is one of the most well-known tourist destinations. Annapurna Trek has even been suggested by National Geographic as a once-in-a-lifetime experience location. It is the most popular long-distance trek in the world.
We organize ABC trips that are both safe and secure.
You can begin the ABC trek with a picturesque drive from Kathmandu to Pokhara or a 20-minute flight from Kathmandu to Pokhara (for additional cost). We drive from Pokhara to Tikhedhunga, and from there, the actual trekking begins. The trekking areas are relatively remote, with few lodges and hotels. As a result, the safety of all trekkers must be ensured.
Here are some suggestions for safe ABC trips.
Our guides have received extensive wilderness first-aid training, and we utilize high-quality masks, gloves, and hand sanitizers on a daily basis.
For motivation and encouragement, we brighten your attitude.
We review meals and accommodations for hygiene.
Our trip leaders and guides have years of trekking experience.
Flight cost is not included in the trip package.
ABC Trek in Nepal
Kathmandu is the starting point for your Annapurna journey. We will meet you at Tribhuwan International Airport and transport you in a private vehicle to your accommodation. However, you must attend a trip briefing at the office one day before the trek's departure.
The next day, we'll travel to Pokhara. The tourist bus leaves Sorakhutte, Kathmandu, around 7 a.m.
The package includes transportation by tourist bus from Kathmandu to Pokhara. You can fly to Pokhara in 25 minutes or hire a private vehicle for an extra fee.
Free transfer from Airport to the hotel and vice-versa
We provide a free airport pick-up and drop-off service to your chosen hotel. At the Tribhuvan International Airport, a representative will greet and welcome you. They will have a leaflet with your name on it and will give you either a Marigold garland or a khada as a welcoming gesture. Then, in a private vehicle, they will transport you to your hotel. Similarly, when you return, we will transport you from your accommodation to the airport.
Accommodation during ABC Trek
The ABC Trek includes eight nights of lodge-to-lodge lodging in the trekking zones and two nights in a Pokhara hotel.
At Ulleri, Ghorepani, Chomrong, and Jhinu Danda, we offer four nights in accommodations with an attached bathroom, and four nights in regular rooms at Tadapani, Himalayan, ABC, and Bamboo (Generally twin Sharing rooms).
You will stay in a hotel in Pokhara for two nights, in a room with an attached bathroom, TV, 24-hour hot water, electricity, and a laundry facility.
Wherever possible, we offer a single private room with an attached bathroom to solitary trekkers, as well as single private lodging in other locations.
Two nights of hotel accommodation in Kathmandu may be required before and after the trek, but this is not included in the package. Kathmandu has a variety of hotels to suit your needs and budget.
Hotel/lodge hot showers and Wi-Fi are provided for an additional fee.
Food during ABC Trek
Because the ABC Trek takes place in the high Himalayas, enough nourishing food is required. In rural regions, you will find lots of nutritious food, but there will be fewer selections than in cities.
During the walk, you will be served 10 breakfasts, 9 lunches, and 9 evenings.
The following are some of the most popular menu items:
Oatmeal, Corn Flakes, French toast with jam, butter, and cheese, Honey Tibetan bread or Chapati, and local Tsampa porridge are among the ten breakfast options. Fruits, Vegetables, Eggs, Pancakes, Muesli Breads Drinks that are heated (varieties of teas and coffees, hot chocolates, etc.)
Dhal, Bhat, Tarkari, Tibetan Bread, Soups, Momo (dumplings), Macaroni meals, Tenduk Spaghetti Noodles, Thukpa, Pasta, Vegetable curry, Potatoes, Vegetables, Salad Pizza (Tomato, Mushroom, Mixed), Snacks (Papad, Prawn), Desserts (Rice Pudding, Apple Pie), etc.
Nine meals – Dhal, Bhat, Tarkari, Tibetan Bread, Soups, Sherpa Stew, Steaks, Sandwiches, Momo (dumplings), Macaroni, Tenduk Spaghetti, Noodles Thukpa, Pasta, Vegetable curry, Potato items, Vegetable and salad Pizza (Tomato, Mushroom, Mixed), Snacks (Papad, Prawn), Korean Raman, Desserts (Rice
Local, Asian, and western cuisine are available on the menu in trek sections, although the menu gets shorter as we ascend.
At high elevations, we strongly advise you to consume fresh vegetables and drink liquids such as green tea, lemon tea, hot lemon, ginger tea, and garlic soup (must).
Though there will be lots of non-vegetarian options in the trekking areas, we recommend avoiding them due to cleanliness concerns. We also advise you to avoid dairy, cheese, alcoholic beverages, caffeinated beverages, and hot chocolates.
All personal costs (alcoholic, hot (tea, coffee), and cold drinks) in tea houses, lodges, or cafés are excluded from the package, save for standard meals (breakfast, lunch, and dinner with seasonal fruits).
Best Time to Hike ABC
While trekking to ABC, the weather is the most important element. Though you may trek to Base Camp at any time of year, the finest weather and vistas are in the spring and autumn. If you want to be more adventurous, you can go trekking in the winter or during the monsoon.
Here's a look at the weather at high elevations in the ABC areas during various seasons.
March-May (spring)
One of the best times to trek to Annapurna Base Camp is in the spring (March-May). The weather is pleasant, the rainfall is light, and the trekking conditions are ideal during this season. The average daily temperature in the ABC ranges from 10 to 0 degrees Celsius. Even warmer are the lower hike zones.
From mid-March until mid-May, the temperature begins to rise. The spring weather is pleasant, the skies are clear, and the best mountain vistas are available. After March, the trekking season begins, and by April, the trek route is adorned with red, pink, and white rhododendron blooms.
June to August (summer)
Summer in Nepal lasts from June to August, but it overlaps with the monsoon season. Even though the temperatures are hot at high elevations, the rain makes the trails wet and slick.
At high heights, daytime temperatures often range from 10°C to 23°C, with nighttime temperatures falling between 5°C and 10°C. Mornings are usually clear, but clouds gather in the afternoon and vanish at night.
The vegetation blossoms in the summer, providing rich views that are not available in other seasons.
September to November (autumn)
Autumn (September, October, and November) is a great time to visit the ABC because of the pleasant temperatures, low humidity, and low precipitation.
The sun shines brilliantly, the sky is clear, and you get a spectacular view of the mountains during this time of year. The night skies are also clear, allowing you to take in the beauty of the night sky.
By early September, the monsoons will have passed, and the weather will be mild to warm. In high heights, daytime temperatures can reach 20°C; nights are cooler, with temperatures around 5°C.
The monsoon greens fade to golden/amber, creating a stunning contrast against the crystal blue skies, while the terraced fields' grains begin to ripen. The lowlands are lush and the environment is clean. Dashain and Tihar, Nepal's two most important festivals, fall during these months, allowing you to enjoy the joyful atmosphere.
December to February (winter)
Winter excursions to the ABC are somewhat popular (December to February). During this season, the ABC Trek zones are frigid, yet this excites brave hikers. The temperature at the ABC can drop to -10°C.
From December to early February, the weather is the coldest. After late February, the temperature progressively warms. The weather is good during the day, with plenty of sunshine. Despite the cold, the winter sky is frequently clear, mountain views are at their best with snowy peaks, and paths are less crowded. Although it is not the finest trekking season for beginners, experienced trekkers would have little difficulty.
The weather in the Himalayas is changeable and unpredictable.
Physical Condition & Experience Requirements for ABC Trekking
The ABC Trip is a somewhat difficult trek. The hike takes about 6 to 7 hours per day, with breaks to take in the breathtaking mountain vistas. Long climbs, severe descents, and straight highways are all part of the trek routes.
Previous hiking experience would be beneficial for the ABC hike, but no technical experience or talent is required.
This trek can be completed by hikers who can walk at a moderate speed for 6 to 7 hours while carrying a light day pack. On other days, you'll need to walk for longer periods of time. As a result, you must be physically fit, as trekking at higher elevations is extremely hard.
You will appreciate trekking more if you are physically fit. You can complete the trek if you are in good health, have normal physical fitness, have a cheerful attitude, and have self-confidence.
Participants with pre-existing medical concerns including heart, lung, or blood disorders should let us know before signing up for the walk.
Travel insurance for ABC Trek
Because the ABC Trek takes place at a high altitude, there is a danger of altitude sickness as well as other unforeseen incidents like landslides.
As a result, travel insurance is required for the ABC journey. Before beginning the Annapurna Base Camp Trek, all trekkers must produce a copy of their complete travel insurance policy certificate. Medical and emergency repatriation must be covered, as well as helicopter rescue and evacuation costs at high altitudes.
We can make insurance company recommendations based on our clients' experiences, but we do not sell life insurance.
After booking a hike, all trekkers must submit comprehensive insurance information. In the event of an emergency, your insurance policy and other documentation will be used to conduct a timely and effective rescue effort.
Please double-check that your insurance covers the cost of mountain rescue as well as medical expenses at the highest trek elevations.
We advise our clients to contact their insurance provider and confirm that their policies cover helicopter rescue and evacuation at heights of up to 6,000 meters. Do not rely solely on the information on their website.
Nepal Tourist Visa
Except for Indians, all foreigners must have a valid visa to enter Nepal. An on-arrival visa can be obtained at the Tribhuvan International Airport or at border crossing sites.
You'll need a passport that's valid for at least six months, a passport-size photo, and visa fees to apply for a visa. The current cost of a 30-day visa is $50 USD (to be paid in cash). More visa information is available at www.immigration.gov.np.
Citizens of China and members of the South Asian Association for Regional Cooperation (SAARC) (Bangladesh, Bhutan, India, Maldives, Pakistan, and Sri Lanka) are exempt from visa fees.
A free visa will be given to youngsters under the age of ten.
An on-arrival visa is not available to all countries. Contact your nearest Nepalese embassy if you are a citizen of Nigeria, Ghana, Zimbabwe, Swaziland, Cameroon, Somalia, Liberia, Ethiopia, Iraq, Palestine, or Afghanistan.
We also advise our trekkers to add at least one or two extra days to their trip towards the conclusion in case of a delay.
Group / Single Treks
We can arrange both group and private treks. The larger your group, the greater the discount you will receive. Discounts are not available for parties.
We can accommodate any group size. A trekking guide and porters will be assigned to each party (one porter for every two trekkers). For trekking groups of 12 or more, we will additionally supply an assistance guide.
Travel Responsibly to the ABC
We are a company that specializes in eco-tours (treks). We recognize that increased tourist visits to trekking areas may have a negative impact on the local ecology. As a result, we make every effort not to disrupt the ecosystem in the trekking areas.
We collaborate with the Kathmandu Environmental Education Project (KEEP) to plan environmentally sustainable trips that benefit both trekkers and communities in the trekking areas.
Our Hiking Team
Our skilled and experienced guides/Sherpas will accompany you on your trek to ABC to ensure that you have a pleasant experience. Porters will carry your luggage, and if there are more than 12 people in your group, we will add an assistant guide.
Our crew members are Himalayans who have a high level of physical endurance and are accustomed to living at high altitudes.
We value each and every one of our employees. We cover their insurance, clothing, food, lodging, and equipment, in addition to their income, throughout the adventure.
When our guides and porters become unwell or injured, they receive medical attention. We make every effort to ensure that our employees are happy because we believe that only happy individuals can make other people happy.
Our employees have the following qualifications:
Authorized Trekking Guide Training Certificate
Intensive Wilderness First Aid Training
Fluency in English and another major language
Conservation and Biodiversity Training
Experience with rock climbing
Tipping in Nepal
Tipping is accepted in Nepali culture and is seen as a sign of excellent service. Tipping is entirely up to the trekkers' discretion and should be commensurate with the level of service received. We recommend tipping as a group at the end of the journey.
How secure is online booking?
We are a government-approved and bonded trek and tour company in Nepal.
We are members of the Nepal Mountaineering Association (NMA) and the Trekking Agency Association of Nepal (TAAN).
As a result, you may book the tours with complete assurance. To book the trip, we require a 10% deposit. Please provide us with relevant documentation such as a passport copy, passport-size pictures, travel insurance policy, and arrival and departure airline data within a week of booking your trip.
You can make a payment via bank transfer, Western Union, or directly through our website. You can pay the remaining trip cost in cash, bank transfer, or credit card after you get to Nepal. We'll also send you the payment information through email.
Last-minute ABC Tour package booking
It is preferable to reserve ahead of time, however for those who are unable to do so, We offer a special last-minute booking option.
If you make a last-minute reservation, you must pay in full for your trip 24 hours before the departure date.
We make every effort to run excursions at all times. However, in the event of a last-minute booking, we cannot be held liable for any delays caused by events beyond our control, such as bad weather or housing unavailability.
Trip Extensions after your ABC Tour
If you have extra days in Nepal after completing the ABC Trek, we can arrange sightseeing tours in and around Kathmandu Valley. A Chitwan jungle safari, paragliding, rafting, canyoning, and other adventures are also available.
Feedback is Highly Appreciated
After the ABC trek is completed, we will provide a farewell dinner in Kathmandu. The firm will offer you a trekking success certificate after the dinner (hard copy). You will also have the opportunity to provide us with feedback at the farewell supper.
USEFUL INFO
Please note that the ABC Trek has set departure dates from Kathmandu and Pokhara, but it can be customized to fit your needs and timetable.
Please review your scheduled departure dates, and if they do not suit you, please contact us and we will schedule the trip at your leisure.
Please keep in mind that the above schedule may be altered due to unforeseen circumstances such as inclement weather or lodging shortages. In these circumstances, your trip leader will devise a revised itinerary depending on the hiking group's preferences.
We look forward to taking you to the iconic overlooks of Poon Hill and the ABC, as well as taking you through some of the most breathtaking landscapes on the earth, all with the majestic Himalayas in the background.
You may also visit Bardiya National Park Tour-Cost, Distance, Itinerary, In Nepal – 4 Days
Overview Of Annapurna Base Camp Trek
The Annapurna Base Camp Trek is one of the world's most spectacular hikes, taking you through a variety of climates, landscapes, and culturally fascinating communities.
Fishtail, Hiunchuli, Annapurna Massif, Dhaulagiri, Tilicho, Pisang, Pungda Danda, and countless other peaks can all be seen from the Annapurna Base Camp.
You'll stop by the famous Poon Hill viewpoint and rest in the natural hot water pool at Jhinu Danda along the route.