Introduction To Annapurna Base Camp Trek In Nepal
The Annapurna Base Camp is one of the world's most visited tourist destinations. Lonely Planet, Tripadvisor, and many other travel professionals recommend Annapurna Base Camp as one of the must-do hikes in a lifetime.
The hike to Annapurna Base Camp is varied, passing through ethnic Nepalese communities and lush woods. You will be rewarded with spectacular mountain views during the journey.
This trek is short and somewhat difficult, making it ideal for those who don't have much time but yet want to see the majesty of Nepal's mountains and terrain.
After a two-hour journey from Pokhara, our trip begins at Kimche. Until we reach Ghandruk, our first day's destination, we follow a trail that leads us through deep rhododendron and bamboo forests, gorgeous terraced fields, and suspension bridges to traditional Gurung settlements.
On the second day, we'll travel through lush forests and grass pastures until we reach Chomrong, where we'll encounter rugged passes and cliffs. The Annapurna massifs and Machhapuchre may be seen on the road to Chomrong (fishtail).
The next day, we depart Chomrong for the Himalayas. As you travel through more rhododendron and bamboo trees, you'll notice that your path is steadily increasing.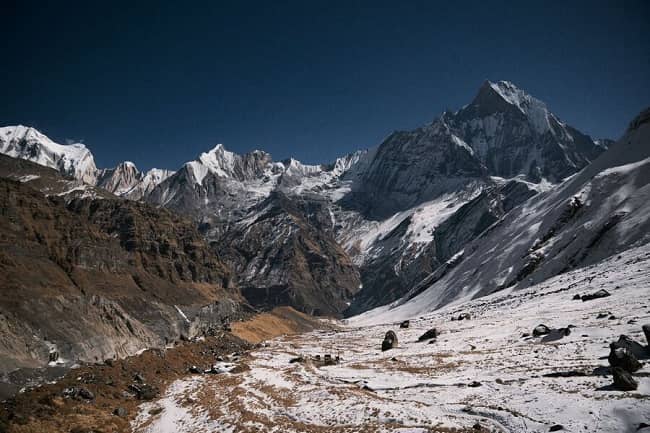 You will reach Annapurna Base Camp (4,130m / 13,550ft) on your fourth day, as well as Machhapuchre Base Camp. The Modi Khola glacier valley is followed on the way to Annapurna Base Camp.
Overall views of Hiunchuli, Annapurna ranges – especially Annapurna I (8,097m / 26,566ft), Khangsar Kang, Gangapurna, and Macchapuchre – can be seen from the Annapurna Base Camp. For the night, we'll be staying at Annapurna Base Camp.
The descent begins after a night at Annapurna Base Camp, and it ends on the fifth day of the climb at Bamboo. We leave Bamboo the next morning and travel to Jhinu Danda. We'll unwind in the neighboring natural hot springs once we get to Jhinu Danda.
We will hike from Jhinu Danda to Siwa/Ghandruk Phedi on the final day of the trek and then travel to Pokhara, where the adventure will end.
A bus journey from Kathmandu to Pokhara is included in this package (approx 200km). You can either take a 20-minute flight to Pokhara or rent a private vehicle for an extra fee. We also ask that our clients be in Kathmandu one day prior to the trip departure date by 3 p.m. for a trip briefing. We will recheck your essential items and offer you information about the walk at the travel briefing.
Highlights Of Annapurna Base Camp Trek In Nepal
A day in Pokhara, Nepal's tourist capital.
Ghandruk Gurung village, Gurung museum, and monasteries are visited.
Annapurna Base Camp is located at the foot of Annapurna I. (4130m)
Jhinu Danda Hiunchuli has relaxing hot springs.
Hiunchuli: Annapurna South Annapurna I,Khangsar, Kang, Gangapurna, Annapurna III, and Machhapuchhare.
Benefits Of Annapurna Base Camp Trek In Nepal
Free private airport arrival and departure transfers to and from the hotel.
During the trek, surplus luggage can be stored for free.
Pulse oximeters are used to measure blood oxygen saturation levels at high elevations in order to detect early signs of altitude sickness and other health hazards.
Medical supplies.
If you don't have your own, sleeping bags and down jackets can be rented.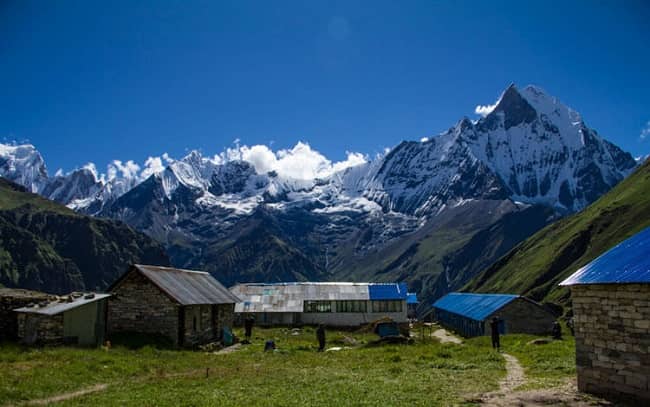 Annapurna Base Camp Packing List
The Annapurna Base Camp trek requires various equipment and clothing depending on the season. However, we have compiled a list of needs for your convenience. Please just bring what you absolutely need.
Head
Scarf or hat for the sun
Winter hat, insulating hat, or a hat with a wide brim
Extra batteries for the headlight
Face
Sunscreen
Sunglasses that block UV rays
Wipes for the face and body
Hands
Gloves that are light in weight
Winter gloves with a lot of weight
Body
Shirts for hiking
Shirt with a long sleeve made of synthetic fibers
Rain jacket with hood
Jacket made of fleece
Cotton pants that are light and airy.
T-shirt (bring lightweight wool)
Underwear made of polypropylene
Jacket with down feathers (available for rent in Kathmandu)
Sweater
Jacket and pants that are waterproof
Footwear
Boots for Hiking
Socks made of thick wool (Take an extra pair of thick light socks)
Essential gear
A daypack or a backpack (size depends on whether you take porter or not)
Bottle with a heating element
Purification of water
Pole for hiking
Bag for sleeping (-15 degree bag is best in the high altitude trek)
Items for the bathroom (toilet papers, toothpaste, toothbrush)
Personal accessories
Money

Watch

Cell phone

Camera
Extra items
Kit for first aid
Extra passport photographs and photocopies are available.
Pencil and notebook
Binoculars
Annapurna Base Camp Hike Difficulty, Cost, Best Time & Package Info
Annapurna Base Camp – Trekking in Nepal
The ABC hike begins with a drive from Kathmandu to Pokhara. The Annapurna Base Camp is the highlight of this short hike.
The package includes transportation on a tourist bus from Kathmandu to Pokhara and back. Flights/private transportation from Pokhara to Kathmandu or vice versa are available for an additional fee.
Free airport pick & drop service from Tribhuvan International Airport
For trekkers who have booked treks/tours with us, we provide complimentary airport pick-up and drop-off service from Tribhuvan International Airport. A representative will meet you at the airport with a booklet bearing your name and drive you to your hotel in a private vehicle. Similarly, for your departure, a representative will pick you up from your hotel and send you off at the airport.
Trekking Annapurna Base Camp | Accommodation | Amenities | Group/ Single
Six nights in the top lodges/hotels in the trekking regions and two nights in a Pokhara hotel are included in the Annapurna Base Camp Trek.
At Ghandruk, Chomrong, and Jhinu Danda, we provide three nights in accommodations with connected bathrooms, and three nights in regular rooms at Himalayan, Chomrong, Annapurna base camp, and Bamboo (Generally twin sharing rooms for groups)
In Pokhara, you will spend two nights in a hotel. The accommodation has a private bathroom, TV, 24-hour hot water, electricity, and a laundry facility.
Wherever possible, solo travelers will stay in a single private room with an attached bathroom, and in single private accommodations in other locations.
Before and after the hike, a two-night hotel stay in Kathmandu may be required, however, this is not included in the program. There are hotels in Kathmandu to suit all budgets and inclinations.
Trekking zones offer hot showers and Wi-Fi for an additional fee.
Food at Annapurna Base Camp | Breakfast – Lunch – Dinner |
The Annapurna Base Camp Trek takes place at a high altitude and necessitates plenty of nourishing food. During the walk, you will eat enough healthy food, although the options are restricted compared to big cities.
During the walk, we will feed you with 7 breakfasts, 6 lunches, and 6 dinners.
The following are some of the most popular menu items:
Oatmeal, Corn Flakes, French toast with jam, butter, and cheese, Honey Tibetan bread or Chapati, and local Tsampa porridge are among the seven breakfast options. Fruits, Vegetables, Eggs, Pancakes, Muesli Breads Drinks that are heated (varieties of teas and coffees, hot chocolates, etc.)
Dhal, Bhat, Tarkari, Tibetan Bread, Soups, Momo (dumplings), Macaroni meals, Tenduk Spaghetti Noodles, Thukpa, Pasta, Vegetable curry, Potatoes, Vegetables, Salad Pizza (Tomato, Mushroom, Mixed), Snacks (Papad, Prawn), Desserts (Rice Pudding, Apple Pie), etc.
Six dinners – Dhal, Bhat, Tarkari, Tibetan Bread, Soups, Sherpa Stew, Steaks, Sandwiches, Momo (dumplings), Macaroni, Tenduk Spaghetti, Noodles Thukpa, Pasta, Vegetable curry, Potato items, Vegetable and salad Pizza (Tomato, Mushroom, Mixed), Snacks (Papad, Prawn), Korean Raman, Desserts (Rice
Note that the package does not include lunch or dinner in Pokhara.
For hygienic, tasty, and nutritional cuisine, we select the best lodges accessible in the trekking districts.
Traditional, Asian, and western cuisine are all on the menu, but as we climb higher, the list gets shorter and shorter. At high altitudes, we strongly advise you to consume fresh vegetables and liquids (green tea, lemon tea, hot lemon, ginger tea, and garlic soup(must)).
Though non-vegetarian options will be plentiful in trekking locations, we will not advocate them because the meat may not be sanitary. We strongly advise you to avoid dairy, cheese, alcoholic beverages, caffeinated beverages, and hot chocolates.
All personal costs (alcoholic drinks, hot (tea, coffee), and cold drinks) in tea houses/ lodges/cafes are excluded from the package, except for standard meals (breakfast, lunch, and dinner with seasonal fruits).
Best Time To Trek Annapurna Base Camp
The weather is the most important aspect to consider while planning your Annapurna Base Camp hike.
Trekking to Annapurna in Nepal is possible all year, however, certain seasons are better than others. The spring and autumn seasons are ideal for a relaxing hike since the skies are clear, the temperatures are pleasant, and the vistas are spectacular.
Based on the seasons, below is an overview of the weather at high altitudes in the trekking regions.
Annapurna Base Camp in Spring (March-May)
The Annapurna Base Camp hike is particularly popular in the spring (March-May), attracting mountaineers and travelers from all over the world.
The weather is pleasant, the rainfall is light, and the trekking conditions are ideal during this season. The average daily temperature at Annapurna Base Camp ranges from 10 to 0 degrees Celsius. Because the lower sections are warmer, the trek is more enjoyable.
After March, the hiking season begins. By April, the forests are ablaze with rhododendron blooms in shades of red, pink, and white.
From mid-March to mid-May, the temperature begins to rise; the weather is cool, the skies are clear, and the best mountain vistas are available.
Annapurna Base Camp in Summer (June – August)
Summer in Nepal lasts from June to August and coincides with the monsoon season. Temperatures can reach dangerously high levels. The trails, however, may be soggy and slick.
The monsoon season usually starts around the end of June and lasts until the second week of August. Temperatures range from 10°C to 23°C on these days. The nights are chilly, with temperatures ranging from 5 to 10 degrees Celsius. Mornings are usually clear, but clouds begin to form in the afternoon and fade away at night.
During this season, a variety of flora bloom, making the valleys appear greener.
Annapurna Base Camp in Autumn (September – November)
The Annapurna Base Camp hike is best done in the autumn. The combination of moderate temperatures, light winds, and limited precipitation throughout this season makes for ideal trekking conditions.
The sun shines brightly in October, the sky is clear, and you get a spectacular view of the mountains. The nights are also clear, allowing you to enjoy a clear glimpse of the stars.
By early September, the monsoons will have passed, and the days will be pleasant to warm. In high altitudes, daytime temperatures can exceed 20°C. The nights are chilly, with temperatures hovering around 5°C. The monsoon greens fade to a golden/amber color, creating a stunning contrast against the pristine blue skies.
The grains are ripening on the terraced fields during this season. The lowlands are lush and the environment is clean. The two most important Nepali festivals, Dashain and Tihar, bring a joyous atmosphere to the entire region.
Annapurna Base Camp in Winter (December – February)
Treks to Annapurna Base Camp in the winter (December-February) are less popular than treks in the spring or autumn. Although the trekking regions are frigid, they appeal to different types of trekkers seeking new experiences. The temperature at Annapurna Base Camp can drop below -10°C in the winter.
Late December to early February is the coldest period of the year. The weather progressively warms in late February, reaching roughly -5°C at high altitudes. The weather is good during the day, with plenty of sunshine. Despite the cold, the sky is frequently clear, and snow-capped mountains are at their most beautiful in the winter.
Winter is also the quietest season on the trails. Though we do not advocate a winter trip to Annapurna Base Camp for beginners, experienced hikers can complete the climb without difficulty.
The weather in the Himalayas is erratic and rapidly changing.
Physical Condition & Experience Requirements for ABC Trek
The Annapurna Base Camp trek, which is a moderate hike, has no specified physical criteria.
Hiking takes about 6 to 7 hours per day, with intermittent breaks to take in the breathtaking mountain vistas. Long climbs, severe descents, and straight tracks characterize trek itineraries. Prior hiking experience is beneficial, but neither experience nor technical skills are required.
This trek can be completed by hikers who can hike for 6 to 7 hours per day with a light day pack. Because trekking at high altitudes is physically hard, certain days will necessitate longer walking hours.
Participants with pre-existing medical concerns including heart, lung, or blood disorders should let us know before signing up for the walk.
Annapurna Base Camp Trek in Nepal | Trekking in Group | Private Trek
We can arrange both a group and private trek. There are group discounts available; the larger your group, the more discounts you'll get. However, we do not offer discounts for groups.
We can accommodate any group size. There will be a guide and porters at each party. For groups of 12 or more, we will additionally add an assistant guide.
A typical day in Annapurna Base Camp Tour
Every day brings new trekking adventures, climbing thrills, breathtaking scenic views, and opportunities to visit traditional communities.
As you journey, our knowledgeable and courteous guide / Sherpa will provide you with information and historical details about the locations. Porters will transport your belongings. However, we anticipate you to bring a compact day backpack with you that contains your needs.
The day begins with a nice cup of tea or coffee in the morning. Following breakfast, we leave off on the day's walk between 7 and 8 a.m., depending on the length and character of the hike. Before lunch, we'll hike for three to four hours. After lunch, we'll take an hour to recover before continuing on to our destination for the day.
The afternoon stroll is usually shorter, lasting between two and three hours. We munch on the additional dietary food and spend our leisure time visiting surrounding sights after we get to our overnight lodge/tea house/tent.
Dinner will be served at approximately 7 p.m. We have friendly discussions after dinner. Your excursion leader/guide will give you an overview of the next day's activities. Following the briefing, you can play monopoly, play cards, or watch mountaineering films. Before going to bed, most visitors pick up a few Nepali words from our crew or read a book.
Communication during Annapurna Base Camp Trek
The internet will be available for a fee at lodges, hotels, and tea houses during the Annapurna Base Camp walk. We will, however, use phones to communicate once we reach high elevations.
The office will communicate with all of its trek groups via the team guide at least once a day to ensure that the trek is proceeding smoothly.
You may receive signals depending on the type of network you use, but they may not be powerful enough at high elevations. In Kathmandu, though, you can get a local sim card and use it to communicate.
Wi-Fi is accessible for a fee in hiking areas at hotels/lodges.
Battery recharge, water on trekking
Electricity for camera and mobile battery recharge is offered at an additional cost throughout the lodges in the Annapurna Base Camp hiking districts.
Water can be purchased in the form of packed mineral water from small lodges and en-route shops, or heated water can be filled into your water bottle for an additional fee. If necessary, we can give you a purifying pill.
You should avoid drinking water from rivers, taps, or wells in trekking areas because the water may not be as potable as it appears.
Extra personal expenses during Annapurna Base Camp Trek
Our clients are responsible for their own meals and lodging in Kathmandu. Kathmandu has a wide choice of hotels to suit all tastes and budgets.
Personal spending money is required for all of our valued clients to cover costs such as meals and accommodations in Kathmandu, lunch, and dinner in Pokhara, visa fees, travel insurance policy purchase, beverages, snacks for the trek, hot (tea, coffee), and cold drinks, tips for the trekking crew, souvenirs, and so on.
We recommend bringing cash (major currencies) to Kathmandu and exchanging it for Nepalese Rupees. Only Nepalese money is accepted in the hiking areas.
Annapurna Base Camp Travel insurance
The climb to Annapurna Base Camp is moderately tough, with the possibility of high altitude sickness or other unforeseen events, such as abrupt climate changes.
The Annapurna Base Camp Trek requires travel insurance. Before beginning the trek, all trekkers must produce a copy of their complete travel insurance policy certificate. Medical and emergency repatriation must be covered, as well as helicopter rescue and evacuation costs at high altitudes.
We can make insurance company recommendations based on our clients' experiences, but we do not sell insurance. Within a week of booking your trip, please provide us with your comprehensive insurance details. In the event of an emergency, we will use your insurance information.
We recommend that you contact your travel insurance company to confirm that they cover Helicopter-rescue and evacuation at a height of 6000 meters, as well as medical expenditures. Do not rely solely on the content of a website.
Nepal Tourist Visa
Except for Indians, all foreigners require a visa to enter Nepal. At Tribhuvan International Airport or Nepal border posts, you can obtain an on-arrival visa. To apply for an on-arrival visa, you must have the following documents:
a passport that is valid for at least six months
one passport-size photo
visa application fee (currently USD 50 for a period of 30 days) (paid in cash)
The Nepalese government can change visa requirements at any time, so check www.immigration.gov.np. for the most up-to-date information.
The children under ten will get a free visa. 
Citizens of China and the SAARC countries (Bangladesh, Bhutan, India, Maldives, Pakistan, and Sri Lanka) are granted visas for free. Nigeria, Ghana, Zimbabwe, Swaziland, Cameroon, Somalia, Liberia, Ethiopia, Iraq, Palestine, and Afghanistan are among the nations that may be denied an on-arrival visa. If you are a citizen of one of these countries, please contact the Nepalese Embassy in your country.
We recommend adding at least 1-2 days to your itinerary in case of a delay, so you don't miss your international trip back home.
Currency Exchange in Nepal | USD to NPR
Nepali Rupees (NPR/Rs) are the local currency.
(1 USD = ~120 NPR).
In Kathmandu and across Thamel, you may exchange major foreign currencies at local banks and legal money exchanges. Money exchanges prominently advertise current exchange rates.
In Nepal, only INR 100 and 2,000 notes are legal tenders.
We recommend bringing cash (major currencies) and exchanging it in Kathmandu to avoid problems such as lengthy processes and hefty bank commission rates. You can also withdraw Nepalese Rupees from ATMs in Kathmandu using your foreign credit/debit card. The majority of ATMs are open 24 hours a day, seven days a week. You can withdraw a maximum of Rs. 35,000 for a cost of Rs. 500.
Most Asian banks refuse to accept a foreign currency that is old, damaged, or faded. As a result, please bring only new, unblemished notes.
How much luggage can I bring for 7 days of Annapurna Base Camp Trek?
Two trekkers' luggage will be carried by one porter, and the total weight will not exceed 18kg. As a result, each trekker's weight is limited to 9 kg. You can, however, hire more porters if necessary. We also expect you to bring your documents and other valuables in a typical backpack. Please just bring what you absolutely need.
During our briefing, we'll double-check everything you're carrying (luggage, equipment, etc.).
Annapurna Base Camp Safety
All of our client's safety and security are guaranteed by the office. The following measures are taken by us.
Our team has all of the appropriate gear, equipment, and first-aid supplies.
In the event that one of the team members becomes ill, the team guide has complete authority to determine whether or not to ascend.
In the event of an emergency, a helicopter will be dispatched for evacuation (funded by insurance)
The entire group will trek together.
Our team has years of expertise trekking in the Himalayas.
Responsible Trek to Annapurna Base Camp
We make every effort to protect the delicate ecosystems in the trekking areas. The trekking region's environment may suffer as a result of a large number of trekkers. As a result, we make every effort to preserve the environment of the journey location.
Furthermore, we collaborate with the Kathmandu Environmental Education Project (KEEP) to offer environmentally responsible treks that are both sustainable and environmentally friendly. We make every effort to ensure that both trekkers and locals benefit from one another.
Our Hiking Team
Throughout your walk, you will be accompanied by professional guides/Sherpas from the high Himalayas. They will also provide you with information on the trekking areas you will be visiting.
Porters are also members of your trekking group. We assign one porter to every two trekkers, with each porter carrying a maximum combined weight of 18 kg.
Because our staff members are from the Himalayas, they have a lot of stamina and are used to working at high altitudes.
We value each and every one of our employees. We pay them well and cover all of their expenses, including insurance, clothing, food, accommodation, and equipment.
When they are hurt, they are also treated medically. We do everything we can to keep our employees happy since only happy individuals can make other people happy.
Our employees have the following qualifications:
Intensive wilderness first-aid training and a government-issued trekking guide certificate
Speaking English and other major languages fluently
Rock climbing adventure with a focus on conservation and biodiversity
Tipping in Nepal
Tipping is accepted as an indication of good service in Nepali culture. Tipping should be done at the trekkers' discretion and should be dependent on the level of service received. We recommend tipping at the end of your excursion and as a group.
Secure Payment | No booking charge | 100 % Safe | Visa- Mastercard- American Express
We are a government-licensed and bonded trek and tour company in Nepal. We are members of the Nepal Mountaineering Association (NMA) and the Trekking Agency Association of Nepal (TAAN).
We demand a 10% deposit when booking a trip and ask that you email us other required papers, such as a passport copy, passport-size pictures, travel insurance policy, and flight information, within a week of booking.
You can pay via bank transfer, Western Union, or our website's online payment system.
Once you get to Nepal, you can pay for the remainder of your vacation with cash, bank transfer, or credit card. We'll also send you an email with payment options and methods.
Last-minute booking Annapurna Base Camp tour package
We offer last-minute bookings for individuals who are unable to book Annapurna Base Camp Trek in advance. In the event of a last-minute booking, we demand payment of the entire journey cost 24 hours before the trek departure date.
Please note that while we make every effort to run tours on time, you cannot hold us liable for delays caused by situations beyond our control, such as weather extremes or lodge unavailability, if you book last minute.
Trip Extensions after Annapurna Base Camp Expedition/Trek
If you have spare days after finishing the Annapurna Base Camp Trek/expedition, you can go on scenic tours in and around Kathmandu Valley. Other activities include Chitwan Jungle Safari, paragliding, rafting, canyoning, and participating in another trip.
Feedback
We will offer a farewell meal in Kathmandu after you complete the Annapurna Base Camp Trek. We will provide you with a trek achievement certificate after the dinner (hard copy). We also anticipate hearing from you regarding the service you received during the tour.
You may also visit Kathmandu Valley and Bardiya National Park Tour-Cost, Distance, Itinerary, In Nepal – 8 Days
Overview Of Annapurna Base Camp Short Trek
The Annapurna Base Camp Trek is a moderate hike that leads to Annapurna Base Camp via thick rhododendron woods, beautiful white water rivers, terraced farms, hot springs, and stunning ethnic Gurung towns (4130m).
Beautiful snow peaks, such as the Annapurna ranges, Machhapuchre, Khangsar, Gangapurna, and Hiunchuli, can be seen from the walking trails.
The Annapurna Base Camp Trek is varied, passing through ethnic Nepalese communities and lush woods. You will be rewarded with spectacular mountain views during the journey.