Introduction To Annapurna Circle Trek In Nepal.
One of Nepal's most magnificent hikes in the Annapurna Base Camp Trek, commonly known as Annapurna Sanctuary. It will be a traveler's heaven due to the mix of stunning mountain scenery and a short walk.
This walk will take you to the base of Annapurna I, the world's tenth tallest mountain. Mt. Annapurna I (8091m), Mt. Annapurna South (7200m), Mt. Fishtail (6993m), Mt. Hiuchuli (6440m), Tent Peak, and Barahsikhar are all visible from Annapurna Base Camp at 4130m. The spectacular magnificence of the mountain ranges will astound you.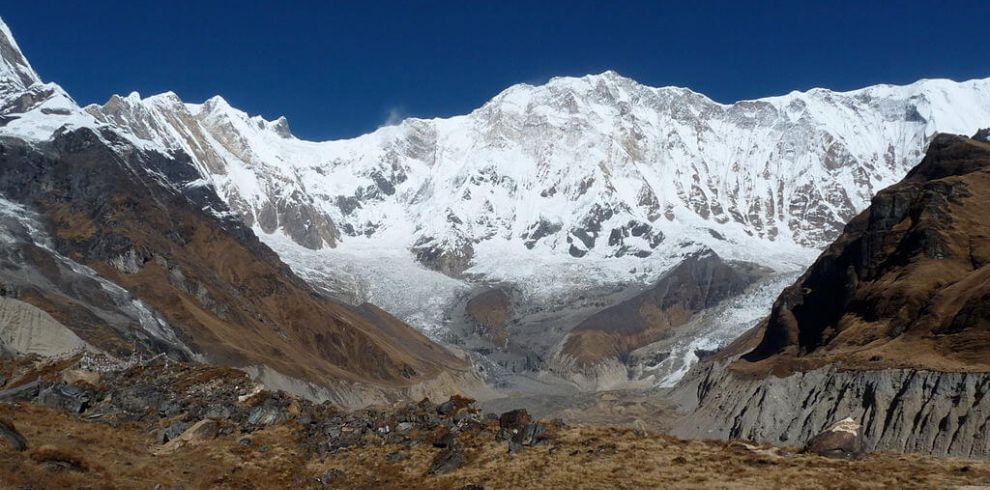 The walk passes through rhododendron trees, rice terraces, stunning waterfalls, and the Hinku cave (large overhanging rock). Throughout the excursion, you will be exposed to local culture and learn about the Gurung and Magar ethnic groups' cultures and traditions.
Highlights Of Annapurna Circle Trek In Nepal.
Kathmandu sightseeing tour.
From Kathmandu, take the Manang-Chame route.
Visit local Gurung and Tibetan villages to learn about their mountain cultures and lifestyles.
View of Annapurna and Dhaulagiri from the Annapurna Base Camp.
Visit numerous distinct monasteries and temples while taking a natural soak in a hot spring.
You may also Visit Annapurna Base Camp Trek
Overview of Annapurna Circle Trek In Nepal.
One of the most popular classic treks in the world is the Annapurna Circle Trek, which begins with a hike up to Jomsom and ends with a flight to Pokhara.
Our tour begins in Kathmandu, where we will explore incredible World Heritage Sites all across the city.
We begin our trek in Syangja and take in the Annapurna region's ever-changing landscape and culture.
While circumnavigating the Annapurna massif, we will triumph over one of the world's highest passes, Thorong La (5,416m/17,769ft), enjoy the dry yet stunning terrain of the Manang valley, and visit Muktinath, a sacred site for Nepalese pilgrims (both Hindus and Buddhists).