Introduction To Paragliding in Pokhara In Nepal
Paragliding is Life in Pokhara offers some of the best views of natural and artificial brilliance. A tandem flight above the luxury city of Pokhara with transportation from Lakes Side is a fantastic experience.
For adventure seekers, paragliding in Nepal can be a truly fantastic and gratifying experience. As you hover over villages, monasteries, temples, lakes, and jungles with a spectacular view of the mighty Himalayas, share the sky with Himalayan griffin vultures, eagles, and kites.
There are discounts available for both experienced paragliders and those who are trying out the sport for the first time. A three-day introduction training is available for novices, as well as tandem flights (flights with an instructor) for the less experienced or brave.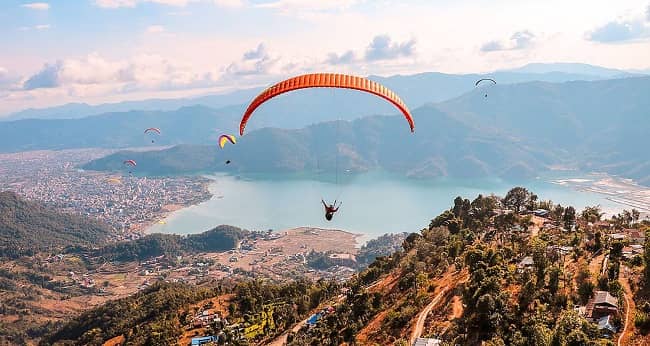 You sit back in your own seat at 6000 feet as your qualified pilot takes you on an incredible journey. This flight departs from Sarangkot, which also offers spectacular views of Phewa Tal and the mountains at sunrise and sunset, as well as a landing by the lake.
A first flight adventure from Sarangkot (1500m) to Pokhara (800m). Feel the thrill of flying in thermal conditions (more than 500 meters above the take-off point), then fly cross-country with the birds over the local countryside, passing by rice fields, traditional villages, and people working in the fields, before flying over the lake and landing beside the lakeside.
Highlights Of Paragliding in Pokhara In Nepal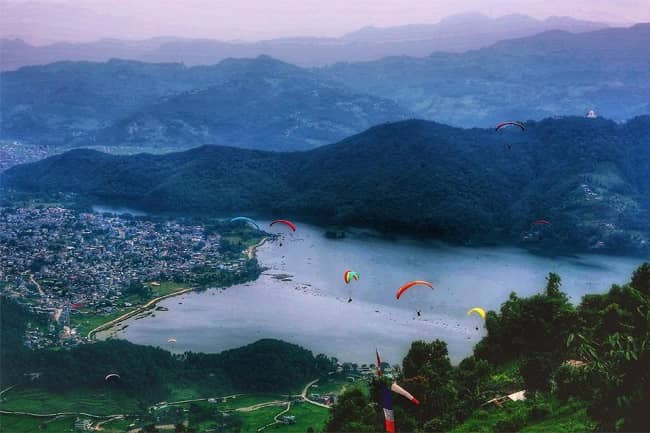 Experience paragliding in one of the world's best paragliding locations.
Enjoy breathtaking views of Annapurna (8091m), Fishtail/Machhapuchhre (6993m), and Dhaulagiri (8167m), among others.
Pokhara is a beautiful city with many things to see and do.
Discover the breathtaking views of the Lakes, Valleys, Cities, and Towns, as well as the neighboring green hills and mountain range.
Overview Of Paragliding is Life
Paragliding is Life combines the fantastic view of the mountains blanketed in a white covering of snow. The view of some of the world's tallest mountain ranges, such as Annapurna, Dhaulagiri, and Machhapuchhre, will make you succumb to the creator's extraordinary skill.
Silver lakes and rivers weave their way through lush forests, hills, and valleys. All of this is seen from the vantage point of the plane.
Every colossal structure will be reduced to insignificance from your vantage point. The settlements begin to resemble scribblings on a green piece of paper. Nothing is large anymore, but the globe appears to be larger than it has ever been.