Introduction To Annapurna Circuit Trek with Annapurna Base Camp In Nepal
The Annapurna Circuit Trek with Annapurna Base Camp, which takes place on a protected trail in the Annapurna region, is both an ecclesiastical and a risky journey.
This trip takes us through a totally new trail packed with unimaginable magnificence, with protected floras and faunas, the natural environment, and the unique ethnic culture of the area.
The Annapurna Circuit Trek with ABC is a complete package of natural splendors and wonders.
We will experience fantastic cultures, unusual landscapes, and the growing Himalayan ecosystem, which comprises dense woods mixed with uninhabited terrains, during the walk. Mt. Dhaulagiri (8,167m), Mt. Annapurna I (8,091m), Mt. Annapurna II (7,937m), Mt. Annapurna III (7,555m), Mt. Annapurna IV (7,525m), Mt. Annapurna south (7,219m), Mt. Manaslu (8,163m), Mt. Nilgiri (7,041m), Mt. (7,134m).
We encounter a next-level serenity that transfers us to another dimension while traveling through the exotic beauty of customs and nature. We arrive at Kathmandu's international airport full of anticipation for what lies ahead.
We delve into the cultural and historical depths of Kathmandu. Exploring Kathmandu's Durbar Squares reveals not only the ancient splendor of the city but also the Nepalese people's gracious hospitality and delectable cuisine.
We begin our trip to the Annapurna circuit and climb to Annapurna Base Camp with a drive to Bhulbhule after a relaxing day meandering around the valley.
We start our journey from Bhulbhule to Jagat. We walk from Dharapani to Chame along a tiny motorable road. We travel to Pisang along the Marsyangdi River.
We trek to Manang, one of Nepal's major tourist destinations. We stay in Manang for two nights in order to acclimate to the increased altitude.
We hike higher and sleep lower as a matter of thumb when trekking. As a result, we make our way up to the nearby short hiking trails in Manang.
We continue on the trail, passing through Yak Kharka and on to Thorong Phedi. We ascend from Thorong Phedi to Thorong La Pass (5,416m/17,769ft), one of the most beautiful passes in the Annapurna region. We descend to Muktinath, a sacred Hindu and Buddhist temple site, after passing via the Thorong La pass.
We stare at the 108 water sprouts (Dhara), which are said to have sacred water running through them that, when sprinkled or rained on us, will wash away all of our sins. We travel to Kagbeni after a pleasant day spent in the positive energy of Muktinath (2,804m).
We hike from Larjung to Ghasa (2,113m) through Marpha (2,665m). We walk to Tatopani (1,200m) and spend the night there. We take a swim in Tatopani's hot spring to relax both physically and emotionally. From Ghorepani (2,860m), we continue to Poon Hill (3210m) and then to Tadapani (2,630m).
To go to Chomrong, we have to climb a difficult slope (2,165m). We reach the Himalayas after passing through a gorgeous village and climbing to the Modi River valley. As we pass through Machhapuchhre Base Camp, surrounded by gorgeous mountains such as the Annapurna Massifs, Dhaulagiri, Tilicho Peak, and others, the trail from Himalaya(2,890) to Annapurna Base Camp(4,130m/13,549ft) is especially creative.
We trek back to Bamboo from Annapurna Base Camp (2,350m). The view of the sparkling mountain diminishes as we descend, and we only catch a few glimpses. We return to Jhinu Dada (1,78m) and unwind in the natural hot spring. After all the miles we've traveled, this will be the ideal way to round off our magnificent journey.
We will trek to Siwa, Ghandruk Phedi, and then drive to Pokhara. We'll spend some time on Pokhara's lakefront. Pokhara is a town of wonders and a wonderful location to unwind after an incredible journey. After weeks of walking, there are numerous massage establishments that we can visit. As we return to Kathmandu from Pokhara, we complete our trek.
This program combines exhilarating adventure and tranquillity with a walk around the Annapurna circuit and a hike to the southern side of Annapurna. We are engulfed by the indescribable grandeur of the snow-capped mountains. We begin with a historical and cultural tour of Kathmandu's ancient city before venturing into the frigid Himalayan region.
It is a reminder to all of our valued clients who are joining us on the Annapurna Circuit and Base Camp Trek that our journey will begin with a 7-8 hour local bus ride from Kathmandu to Besisahar or Bhulbhule (approx 172.9 km), which is included in the package; however, you can book a Private Jeep for an additional cost, and on the way back to Kathmandu, if you want to take a domestic flight from Pokhara to Kathmandu Besishar, although being the starting point for the Annapurna Circuit and Base Camp Trekking, lacks this facility. To ensure that you attend our Official Briefing as a vital Pre-meeting, we recommend that all of our valued clients come to Kathmandu a day early in the afternoon before the day we start our Annapurna Circuit and Base Camp Trek the following day. We do this because we want to ensure that you receive sufficient mental direction and required information, as well as a recheck of your equipment and belongings for the voyage so that if you forget something, we can offer it to you as quickly as possible.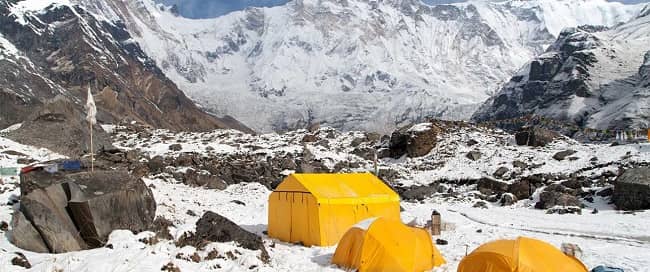 Highlights Of Annapurna Circuit Trek with Annapurna Base Camp In Nepal
Annapurna Base Camp is reached via a classic and enticing trek.
Witness the splendor of Nepal's alpine region.
Yak fields in the Gorge with grazing yaks
Tatopani's relaxing hot spring
Stay at the stunningly gorgeous Jomsom, the Mustang district's headquarters town.
Spend a day in Pokhara, Nepal's most exciting city.
Mount Annapurna, Thorung Peak, Nilgiri, Chulu West and East, Tukuche Peak, Dhaulagiri, Lamjung Himal,
Annapurna II and Annapurna IV are all visible from here.
Glaciers, gorges, and waterfalls abound.
Take a tour of the historic Muktinath temple, which is revered by Hindus and Buddhists alike.
Visit the picturesque Manang neighborhood and bask in its splendor.
Visit the Barge Monastery, Manang's largest monastery.
Traveling via the Thorong La Pass, the world's largest pass (5,416m)
Equipment Checklist
Equipment lists for the trek
We will pick you up from the airport and give you complimentary private transportation. We will manage the vehicle for you based on your flight itinerary.
Head
Scarf or hat for the sun
Winter hat, insulating hat, or a hat with a wide brim
Extra batteries for the headlight
Face
Sunscreen
Sunglasses that block UV rays
Wipes for the face and body
Hands
Lightweight gloves

Heavyweight winter gloves
Body
Shirts for hiking
Shirt with a long sleeve made of synthetic fiber.
Rain jacket with hood
Jacket made of fleece
Cotton pants that are light and airy.
T-shirt (bring lightweight wool)
Underwear made of polypropylene
Jacket with down feathers (available for rent in Kathmandu)
Sweater
Jacket and pants that are waterproof
Footwear
Boots for Hiking
Socks made of thick wool (Take an extra pair of thick light socks)
Essential gear
A daypack or a backpack (Size depends on whether you take a porter or not)
Bottle with a heating element
Purification of water
Pole for hiking
Bag for sleeping (-15 degree bag is best for high altitude trekking)
Toiletries
a drying towel of medium size
Toothbrush
Toothpaste
Deodorant/floss/toilet paper
Biodegradable soap in a bar
a pair of nail clippers
Mirror, little
Personal accessories
Money

Watch

Cell phone

Camera
Extra items
Kit for first aid
Extra passport pictures and passport photocopies
Pencil and notebook
Binoculars
Covid-19 updates & safety precautions for Annapurna Circuit with Base Camp
What is the first thing that comes to mind after a lengthy pandemic? No one can deny that spending at least 27 days afloat in the mountains, away from any form of city noise, walking among the world's highest peaks is an unforgettable experience. Yes, getting away from crowded cities to breathe fresh air seems like a fantastic luxury after a pandemic has forced us to confine ourselves to four walls.
The Annapurna Circut with Base Camp is a lovely track to walk on at any time, and given the length of the epidemic, it appears to be the ideal destination to pursue once the covid-19 outbreak is ended. Of course, numerous measures must still be followed, and Discovery World Trekking is completely prepared for the worst!
Apart from geographic safety, we have taken precautions in the following areas to ensure that our travel is as safe as possible, allowing us to make the most of it without concern!
Our guides have received extensive wilderness first-aid training, and we utilize high-quality masks, gloves, and hand sanitizers on a daily basis.
For motivation and encouragement, we brighten your attitude.
We review meals and accommodations for hygiene.
Our trip leaders and guides have years of trekking experience.
Throughout the journey, we'll have high-quality masks and gloves with sanitizers for our crew to aid you.
The beginning of the journey towards Annapurna Circuit and Base Camp Trek
The first day in Nepal is your arrival day. The second day is devoted to a full-day sightseeing trip of world-renowned landmarks. After the tour, we give a trek briefing, guide introduction, and equipment checklist in the evening. The package includes a three-star hotel in Kathmandu with breakfast. On the third day, we take a local bus to Bhulbhule through Besisahar to begin the journey.
The package includes local transportation (from Kathmandu to Bhulbhule). A private jeep is available for an additional fee.
Don't Worry, We'll Pick You up!
For the Annapurna Circuit Trek package, we provide free airport arrival and departure transfers on any aircraft. Regardless of which aircraft you take, you will be greeted by our representative crew who will carry a booklet with your name and our company name and will give you a warm greeting with either a khada or a marigold garland, and you will be brought to your hotel in the most comfortable manner possible.
Accommodation Details During The Trek
The combined 27-day Annapurna Circuit and Annapurna Base Camp trip include 22 nights of lodge-to-lodge stays on the mountain, three nights in Kathmandu (three-star category), and one night in Pokhara, where we use the best available lodge and select the best lodging during the trek.
At Jagat, Dharapani, Chame, Pisang, Muktinath, Tatopani, Ghorepani, Chmrong, and Jhino Danda, we provide nine nights of private attached bathroom accommodation, and thirteen nights of standard accommodation at Bhulbhule, Manang, Yak Kharka, Thorong Phedi, Kagbeni, Marpha, Larjung, Ghasa, Tadapani, Himalaya,
Hot showers and Wi-Fi will be provided for an additional fee in some locations.
The Meals
The package includes breakfast at hotels in Kathmandu and Pokhara. Because the trek takes place at higher heights, your body will require sufficient carbohydrates, protein, and nutrition in order to go on such massive Himalayan trails. The food on this walk is quite convenient, unlike in cities, and we make sure you get all of the nutrients you need throughout your trek.
Throughout the walk, you will be served 23 breakfasts, 23 lunches, and 22 dinners.
The following are some examples of typical food menus:
Oatmeal, Corn Flakes, and French Toast with Jam, Butter, Cheese, and Honey are among the thirteen breakfast options. Tibetan bread, often known as Chapati, is made from local tsampa porridge. Pancakes, Muesli, Bread, Fruits and Vegetables, Hashed Brown Eggs, Egg Varieties (Omelettes, Poached, Boiled), Pancakes, Muesli, Bread, Fruits, and Vegetables, teas and coffees, as well as hot chocolates, are examples of hot beverages.
Thirteen Lunch – Typical Nepali dishes (Dal, Bhat, and Tarkari), Tibetan Bread, Various Soups, Sherpa Stew, Steaks, Sandwiches, Momo (dumplings), Macaroni, Tenduk, Spaghetti Noodles, Thukpa, Pasta, Vegetable curry, Potato items, Vegetable and Salad, Pizza (Tomato, Mushroom, Mixed), Snacks (Papad, Pra
During the trek, twenty-two dinners are available, including Dal, Bhat & Tarkari, Tibetan Bread, Various Soups, Sherpa Stew, Steaks, Sandwiches, Momo (dumplings), Macaroni, Tenduk, Spaghetti, Noodles, Thukpa, Pasta, Vegetable curry, Potato items, Vegetable and salad, Pizza (Tomato, Mushroom, Mixed), Snacks (Papad
Fresh, sanitary, tasty, and nutritious food products are frequently available on the menu. The menu is a mix of traditional and regional; Asian and Western food; practically everywhere, but the menu list shrinks as we get closer. At high altitudes, we strongly advise drinking plenty of water, green tea, lemon tea, hot lemon, ginger tea, and garlic soup (must), as well as eating plenty of fresh vegetables.
Though there will be lots of non-vegetarian options, we will not recommend any of them because the meat in such locations may not be healthy for the hike. Experts recommend avoiding alcohol, caffeinated drinks, hot cocoa, dairy, and cheesy foods on such high-altitude treks.
Note: The Company will not give lunch or dinner in Pokhara.
All personal bills (alcohol drinks, hot and cold drinks) in tea houses/ lodges or cafes are excluded from the package, save for the usual meals mentioned (breakfast, lunch, and dinner with seasonal fruits).
Best Time to 27 Days Annapurna Circuit & Annapurna Base Camp trek
Although trekking in the Annapurna region is feasible throughout the year, each season has its own set of benefits, attractions, and advantages. The temperature in the mountains is also affected by altitude: the greater the altitude, the lower the temperature.
March-May (Spring Season To Go For Annapurna Circuit and Annapurna Base Camp Trek)
After March, the trekking season begins. Even at elevations above 3,000 meters, the journey path in the Himalayas will be rewarded with diverse full blossom rhododendron of red, pink, and white by April. From mid-March until mid-May, the temperature begins to rise. At this time of year, the weather is cool. The sky is crystal clear, and you can see the mountains in all their glory.
June-August (Summer Season)
During this time of year, it usually rains. The monsoon season usually starts at the end of June and lasts until the second week of August. The temperature normally fluctuates from 10°C to 23°C during the day and drops to 5°C to 10°C at night. The mornings are normally clear, with clouds forming in the afternoon and then dissipating at night. This month's expedition may encounter some difficulties due to the weather. During this time of year, a variety of flora blossom. The valleys will be crisp and offer a different perspective than in other seasons.
September-October (Autumn Season To Go For Annapurna Circuit and Base Camp Trek)
This is a popular tourist season because of the pleasant weather and ideal temperature conditions. The sun is shining brightly, the skies are clear, the mountains are in full view, and the temperature is ideal for a daytime hike. Because the sky is clear at night, you may enjoy amazing starry skies. By early September, the monsoons will have passed, and the weather will be mild to warm. In high altitudes, daytime temperatures can exceed 20°C.
The nights are cooler, with temperatures dropping to roughly 5 degrees Celsius. The monsoon greens fade to a golden/amber color, creating a stunning contrast against the pristine blue skies. The enclave's grains are also maturing. The lowlands are lush and the environment is clean. These seasons also coincide with Nepal's most important festivals, such as Dashain and Tihar.
November
November is a busy month since it is the clearest month of the year, with clean and glittering skies. This month's daytime temperatures are usually the most consistent, ranging from pleasant to cool. The humidity is low, and the nights are quite chilly.
December-February (Winter Season)
From December through early February, it is the coldest. After late February, the weather progressively becomes warmer, with temperatures dipping to -5°C at high altitudes. The weather is good during the day, with plenty of sunshine. Despite the cold, the skies are usually clear and the vistas of the mountains are at their best. It may snow, and the ground will be snowy, with snowy tops. At this time, the trails are the least crowded. Although it is not the best season for beginners, experienced hikers will have little difficulty.
The weather in the Himalayas is notoriously unreliable, with temperatures fluctuating dramatically from day to night.
Acclimatization
Our 27-day Annapurna circuit & Annapurna Base Camp trekking tour includes a rest day at Manang, at 3540 meters, for proper acclimatization, as there is a high danger of altitude illness, commonly known as acute mountain sickness. Although altitude sickness is preventable, ignoring its symptoms can result in a life-threatening condition.
Starting at Bhulbhule 845 m and hiking in low elevation for four to five days before reaching Manang 3540 m allows our bodies to adjust to the high altitude environment automatically, lowering the risk of altitude sickness. We utilize an oximeter to monitor your oxygen level and detect symptoms, and our trekking leader and guide have considerable first aid training and experience in the Himalayas.
We ensure that your health is in good hands. Precautions will be suggested by your hike leader or guide. The ideal strategy is to take it slowly and drink at least 4 liters of water every day. If altitude sickness is severe, the only treatment is to descend promptly. Please keep in mind that your group leader has the final say on whether or not to continue climbing based on your general health. It's critical to remember that some people are more vulnerable than others.
Trip Grade: Fitness level, Medical, and Health
The 27-day Annapurna Circuit & Base Camp Trek in the Annapurna region is a difficult grade trek. Because trekking at a higher altitude is physically demanding than trekking at a lower altitude, hiking up in the lower land for five days below 3500m from Bhulbhule 845 m to Manang 3540 m takes 5 to 6 hours, and hiking up in the high mountain for two days above 3500m from Manang 3540 m to ThorongPhedi 4,525m takes 3 to 4 hours, with regular breaks to take in the stunning mountain views takes 3 to 4 hours.
We join a rather straightforward path to Annapurna Base Camp after finishing the Annapurna Circuit. In actuality, this is a distant mountain adventure; Annapurna circuit trek routes include difficult climbs, sharp descents, and straight highways after a good trial. Previous hiking experience would be beneficial, but no technical knowledge or abilities are required to complete the hike. Our short Annapurna circuit is suitable for trekkers who can travel for 5 to 6 hours per day at a decent pace with a light day pack.
You must be reasonably fit and prepared for long days on some days, as they require more waking hours. To improve our stamina, we should exercise and jog frequently for a few weeks before the trip. All participants must be in good health, have normal physical fitness, and have a positive attitude, self-confidence, and strong resolve to join our Annapurna circuit trekking. Before embarking on the walk, it is critical to ensure that you are in the best possible health. Participants with pre-existing medical concerns including heart, lung, or blood disorders should let us know before signing up for the walk.
Trekking group/single
We can arrange both a group and private trek. The group discount is applied when you have your own taxes in your group, and the pricing is the same whether you join a group or go on a solo tour. We have the ability to lead and manage groups of varying sizes. For groups of 12 or more trekking members, there will be a group leader, a porter for every two trekkers, and an assistant guide.
A typical day on the trek
Every day will be rewarded with a one-of-a-kind experience of walking, climbing, shooting photography, and touring the surrounding villages. During the adventure, an experienced, pleasant, and trained expert Sherpa will join us on the hike and give information and historical details about the locations. We shall be accompanied by the porters who will be carrying our bags. We will, however, be carrying our own modest bag containing all of the necessary materials.
The day begins with a nice cup of tea or coffee in the morning. We set off on the day's walk from 7 AM to 8 AM, depending on the duration and nature of the day's trek, after packing our bags and eating a hearty breakfast. We will take lunch about midday on the way to the next destination after hiking for three to four hours, and we will continue after roughly an hour of respite.
The trek in the afternoon is usually shorter, lasting two to three hours. We nibble on the additional dietary food once we arrive at our overnight lodge/tea house/tent. We'll also get some free time to go exploring in the area.
Dinner is served between 6 and 7 p.m. We will spend some valuable time in friendly chats before retiring to bed, discussing the events of the day. The expedition leader/guide will give us an overview of the next day's activities. Following the briefing, we play onboard games like monopoly and cards, as well as watch climbing documentaries that are available. Most visitors learn the Nepalese language in a light and enjoyable manner from our personnel or read books before retiring to their beds for a well-deserved rest.
Communication on trek
The usage of internet service will be offered at the lodges on the Annapurna Circuit and Annapurna Base Camp Trek for an additional fee. You can communicate with your family and friends through the lodges, but after we reach high altitudes, communication will be by phone for safety reasons.
We'll check in with all of our valued clients at least once a day through our leader to make sure they're fine, safe, and have all they need. During the walk, you'll be able to contact our office at any time if you need assistance. Also, depending on the network you choose, there will be a signal before the high altitude, but it will be weak. We may give you a different local sim card (most businesses have wifi service accessible for an additional fee) if you request it for good access to connect.
In most cases, Wi-Fi is available during the walk-in hotels/lodges for an additional fee.
Extra personal expenses on trekking
We make every effort to cover all extra costs not included in the program. Our clients are responsible for their own meals and lodging in Kathmandu, as various types of hotels/lodges (both luxury and cheap) may be booked easily online or on request.
All of our valued clients will need to bring personal spending money with them to cover the costs of lodging in Kathmandu, lunch, and dinner in Pokhara, the visa process, the purchase of travel insurance, beverages, trek snacks, hot and cold drinks, tips to the trekking crew members, souvenirs, and so on. We recommend taking cash (dollars) that can be exchanged for rupees here because only Nepalese money is accepted during the hike.
Electricity and battery recharge, water on the trek
Electricity for camera and mobile battery recharge is offered at an extra cost in all lodges on the Annapurna Circuit hike with the Annapurna base camp. The majority of the lodges are powered by hydroelectricity, while some have solar panels. Water can be purchased in the form of packed mineral water from local lodges and en-route shops, or boiled water can be filled at an additional fee. To make the water drinkable, a water purification tablet will be provided.
You should avoid drinking water from the river, tap, or well up there since it may not be as safe as it appears.
Travel insurance
This excursion is rated as Challenging because it involves the danger of high altitude illness as well as other unpredictable events such as sudden climate changes. Our booking condition for The Annapurna Circuit trek including the Annapurna Base Camp hike includes travel insurance.
A copy of the member's comprehensive travel insurance policy certificate must be provided to our office by all Trekkers. Medical and emergency repatriation, including helicopter rescue and evacuation charges at high altitudes for hiking members, must be covered by the policy.
We can recommend insurance firms to assist you, but we do not participate in the sale of insurance policies directly. Members may be denied participation in the walk if their travel insurance policy is insufficient, incorrect, or non-existent. After booking a trek, trekking members are kindly asked to give their comprehensive insurance information.
We shall use the insurance policy and informational materials you supplied us in the event of an emergency. This will allow us to plan a speedy and efficient rescue effort, as well as a transfer for emergency medical assistance. Please check with your insurance company to see if the cost of mountain rescue service at the highest elevation of your trek is covered.
Before you acquire travel insurance (don't just trust what they say on their website), call them and double-check if they provide Helicopter-rescue and evacuation up to 6000 meters, depending on your trekking height.
Passport and visa
To enter Nepal, all foreigners save Indian nationals must have a valid visa. Visas are available upon arrival at Tribhuvan International Airport in Kathmandu, Nepal, as well as at Nepal's Indian and Tibetan borders. It is simple to extend a visa to the central immigration office. www.immigration.gov.np; A passport with at least 6 months remaining on its expiration date and one passport-size photo are required for visa applications.
The current cost of a 30-day visa is US$50 (must be paid in cash) for 30 days, which must be paid in cash. Other currencies are accepted as well, though exchange rates may vary. Other nationalities should double-check the conditions for admittance.
Visitors are asked to provide details about their return flight tickets and the length of time they want to spend in Nepal. We recommend adding at least 1-2 days to your journey at the conclusion just in case there is a delay. If there is no delay, we can plan an additional activity for you during your stay in Nepal.
A free visa will be given to youngsters under the age of ten. It is strongly recommended that you examine the current regulations. Visa regulations are subject to change at any time. A free visa is available to Chinese citizens as well as citizens of the South Asian Association for Regional Cooperation (SAARC) countries (Bangladesh, Bhutan, India, Maldives, Pakistan, and Sri Lanka). Nigeria, Ghana, Zimbabwe, Swaziland, Cameroon, Somalia, Liberia, Ethiopia, Iraq, Palestine, and Afghanistan are among the nations that are not eligible for a visa on arrival.
Please contact your nearest Nepalese embassy if you are a citizen of one of these countries.
Money exchange
Nepali Rupees (NPR/Rs) are the local currency.
(1 USD = Rs.100-118 NPR).
In Kathmandu and across Thamel, we may exchange most international currencies at local banks and reputable money exchanges. The hotel can also exchange small sums of cash.
The current currency rate is clearly indicated. The Nepalese government has outlawed the import, export, and usage of 500 and 1000 rupee notes. You should not carry these notes with you when you arrive in Nepal, as they will be confiscated and you may be punished.
Despite the security of traveler's cheques, we choose cash conversion to avoid the difficulties of a long process and a hefty commission rate at the banks. You can get cash (only in Nepalese Rupees) at one of the many ATMs in Kathmandu and Thamel. There are a number of ATMs that are open 24 hours a day. If you use your foreign card, the maximum withdrawal amount is 35,000 Rupees with a 500 Rupee processing fee.
If you utilize a bank or financial institution's money exchange service, you will be charged a service fee of around 4% or more, depending on the bank.
Because there are no banks or money exchange services along the trail, you should exchange your money in Kathmandu alone, depending on how much personal expenditure you anticipate, as individuals in the Himalayan region only accept Nepalese currency.
Foreign currency notes that are old, damaged, or faded will not be accepted by the majority of Asia's established banks. Please make sure you have fresh, clean notes.
How Much Luggage Can I take during the Trek?
Porters will be allocated to carry your luggage; two passengers will be assigned to one porter, and combined luggage should not exceed 18kg. Our porters are never overworked. However, you should bring your own rucksack or backpack (with any valuables or important items) with you. Only bring what you absolutely need; any excess baggage can be left at your hotel or at our store for free and will be kept safe.
Before we leave our office, we'll double-check everything (luggage, equipment, etc.) in our briefing.
Annapurna Circuit trek with Annapurna Base Camp Trek Safety
We ensure the safety, security, and contentment of our valued customers. For us, the most crucial concern is safety. We'll be carrying all of the required gear, equipment, and first-aid kits for the hike. Our leaders and guides are well-versed on the subject and have received comprehensive first-aid training.
If a trekker becomes ill as a result of the altitude, the trekker must determine whether or not to continue, as health is paramount. In the event of an emergency, the rescue chopper will be on standby to transport you back to the lower elevation. During the journey, each group will stay together to ensure that no one gets separated.
Responsible Travel
We are convinced that our ecosystem must be safeguarded, as tourism may have severe consequences. We emphasize the benefits of tourism to the environment. Furthermore, we collaborate with the Kathmandu Environmental Education Project (KEEP) to offer environmentally conscious and culturally engaging itineraries that match the expectations of both passengers and communities.
Our Crew
Our local best-trained and well-experienced guides / Sherpas will accompany you on the trip to make your journey even more pleasant and unforgettable. All of our guides are well-trained and licensed, and they have spent years trekking and climbing peaks all over the world.
Your stuff will also be carried by porters. One porter will be assigned to two people. The total weight of your luggage should not exceed 18 kg. Our porters are never overworked. We assign one porter to each of the two members and one assistant guide to each of the eight members.
We can additionally have one porter per passenger if necessary. Our crew members are locals from high Himalayan remote locations, and due to their physical endurance and heredity, they can live peacefully and readily at high elevations. All of our employees are extremely valuable to us; they are highly compensated, and we provide insurance, clothing, food, and accommodation for them throughout the expedition.
When our guides and porters become unwell or injured, they receive medical attention. We make every effort to ensure their happiness since we believe that only happy people can make others happy. The local expert trek leader who will be guiding you is an expert in the following subject. We provide modest lodging for our guides and porters, such as a tent with sleeping gear, as well as meals and warm beverages.
Authorized Trekking Guide Training Certificate
Intensive Wilderness First Aid Training
Fluency in English and another major language
Conservation and Biodiversity Training
Experience with rock climbing
Tipping
Tipping is accepted and respected in Nepali society, and it is a form of expressing thanks. Tipping is at the discretion of hikers and is based on service quality. We recommend tipping at the end of the hike and as a group.
Booking and payment process
We are a government-approved and bonded trek and tour company in Nepal. We are also members of the Nepal Mountaineering Association (NMA) and the Trekking Agency Association of Nepal (TAAN) (NMA). As a result, you may book your trek/expedition with complete trust.
As a deposit, we require 10% of the total trip cost. Within a week of booking, please send your documentation, including a copy of your passport, passport-size pictures, travel insurance policy, and arrival and departure flight information.
You can make a 10% deposit via bank transfer, western union, or online payment on our website, and the full balance when you arrive in Nepal. Cash, bank transfer, and credit cards are all acceptable methods of payment. In addition, you will receive payment choices in your email.
Last-minute booking
We offer last-minute bookings for individuals who are unable to book Annapurna Circuit Trek in advance. You must pay 100% of the trek cost 24 hours before the trip begins to take advantage of this service.
We make every effort to run last-minute treks/trips on your scheduled date. However, there is a slight potential for a journey delay owing to factors beyond our control, such as terrible weather or a lack of housing.
Trip Extensions
If you have extra days after the trip, you can embark on a sightseeing tour in Kathmandu or the surrounding districts. In Chitwan, you can also embark on a jungle safari, paragliding, rafting, canyoning, or other treks.
Feedback
We don't demand anything in return except feedback (both positive and negative) on our services and team's performance. We will make changes as a service provider based on your input on our overall performance. Your feedback assists us in carrying out future goals by identifying and addressing flaws as well as maintaining strengths. We invite you to express your true feelings and experiences on prominent social media sites such as Facebook and Trip Advisor.
USEFUL INFO ABOUT ANNAPURNA CIRCUIT SHORT TREK
Please note that the Annapurna Circuit and Base Camp Trek has set departure dates from Kathmandu and can be customized to match your needs and timetable. Please evaluate the journey's scheduled departure dates and, if they do not fit your schedule, let us know how we can arrange a trek that is more convenient for you.
The above itinerary is a general guideline; please be aware that it may need to be modified due to external factors beyond our control, such as unstable weather, lodging, and campsite accessibility and availability, unforeseen governmental, trail, and ecological conditions, and other circumstances beyond our control.
Although alterations that materially affect the original schedule are improbable, we cannot be held liable for the consequences of delays or changes beyond our control. In the event of an itinerary change or the necessity to redirect to other trails or regions, the Leader Guide will make the final decision on the best rerouting after discussing with the group members and keeping the party's best interests in mind.
If a change is required, we will do everything possible to minimize the consequences.
You may also visit Joy of Rafting over the Trisuli River-Cost, Distance, Itinerary, In Nepal – 1 Day
Overview Of Annapurna Circuit Trek with Annapurna Base Camp
The Annapurna Circuit Trek with Annapurna Base Camp takes you around the Annapurna circuit and the base camp is the ultimate bundle for the adventurous and serenity seeker in us.
We get a taste of Nepal's best with the thrill of the high pass and the tranquility of the Annapurna valley. We get a close look at mountains such as the Annapurna Massif, Thorung Peak, Nilgiri, Chulu West and East, Tukuche Peak, Dhaulagiri, and Lamjung Himal as we go along the trail. We visit mysterious villages such as Marpha and Kagbeni, as well as the forbidden kingdoms of Mustang and Manang.
We delve into the visual splendor of the monasteries, as well as the culture and tradition of the Gurung and Thakali people, to add to the natural beauty of the location. The exhilarating Thorong La Pass, the well-known Muktinath Temple, and the soothing hot spring are just a few of the numerous highlights of our walk.