Introduction To Gokyo Lakes and Gokyo Ri Trek In Nepal
The Gokyo Lakes Trek and Gokyo Ri Trek take you to the magnificent Gokyo Lakes. You will reach the world's highest freshwater lake system by following our carefully crafted Gokyo Lake Trek schedule.
Gokyo Lakes is part of the Ramsar Site and has the most beautiful scenery. The Gokyo Trek is an excellent alternative to the traditional Everest Base Camp Trek.
The trek will lead you to Khumjung village, the Khumbu region's oldest village, where you will get the opportunity to learn about Sherpa culture. You'll arrive in the Gokyo valley, where you'll spend a couple of nights, after passing through beautiful rhododendron and pine woods, little towns, and historic Gompas.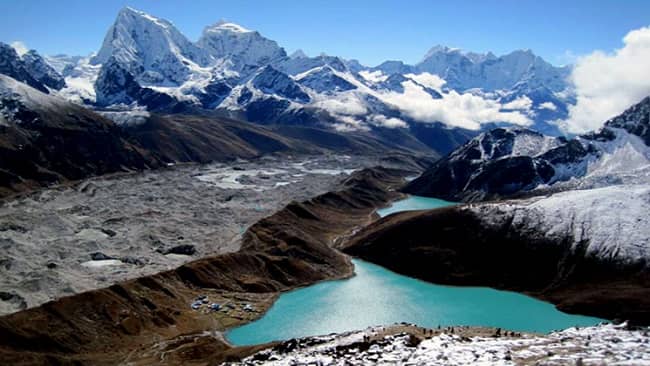 There are five lakes in all, with Gokyo Lake, the third and most beautiful, being the most beautiful. The lake's stunning blue color draws a large number of visitors each year.
Gokyo Lake Trekking will take you through spectacular Himalayan scenery with views of snow-capped summits such as Mt. Lhotse (8,516 m), Mt. Cho Oyu (8,201 m), Mt. Makalu (8,481 m), Mt. Nuptse (7,861 m), Mt. Pumori (7,161 m), Mt. Ama Dablam (6,812 m), Mt.Thamserku (6,623 m), Mt. Kangtega (6,782 m) and others.
Highlights Of Gokyo Lakes and Gokyo Ri Trek In Nepal

Mt. Everest, Lhotse, Makalu, Cho Oyu, and other peaks can be seen from Gokyo Ri.
Gokyo 5th Lake has a great view of Cho Oyu and Mt. Everest.
Mong La is a great place to visit if you want to see the most stunning Himalayan peaks.
View of Renjo La Pass, the Everest region's most adventurous pass.
The Ngozumpa Glacier is Nepal's largest glacier.
Buddhist prayer stone with matra engraved Syangboche View Point Flight to Lukla, one of Nepal's most adventurous flights.
You may also visit Annapurna Base Camp Helicopter Tour-Cost, Distance, Itinerary, In Nepal – 1 Day
Overview of Gokyo Lakes Trek and Gokyo Ri Trek
The Gokyo Lakes Trek and Gokyo Ri Trek will take you to the peak of Gokyo Ri, which is at the same altitude as Everest Base Camp, to see stunning turquoise lakes and stand in the shadows of Everest.
You will enjoy spectacular views of Everest, the world's tallest mountain, which rises about five and a half miles into the sky. With panoramic vistas of snow-capped mountains and glaciers from every angle.
One of Nepal's hidden beauties is the stunning blue waters of the Gokyo Lakes. These lakes make up the world's highest freshwater lake system.