Introduction To Langtang Valley Trek In Nepal
The Langtang Valley Trek is Nepal's third most popular trekking route. The Langtang Valley is also known as the Glacier Valley.
The Langtang Valley Trek is simply the best trekking in the Himalayas, with breathtaking scenery, culture, environment, and mountain vistas.
Langtang is a stunning valley with numerous glacier lakes and scattered Tamang villages. The main attractions of Langtang Trek include the rough paths and unspoiled beauty, as well as the Tibetan-influenced culture and traditions of the local Sherpa and Tamang communities, as well as the diverse flora and fauna.
Due to the magnificent mountain vistas, bright days, and pleasant temperatures, the best time to trek Langtang valley is in the spring and autumn.
However, you can walk in the summer/rainy season and winter as there are fewer hikers on the trail during these seasons.
Perfect temperatures, clear blue skies, fresh air, and spectacular mountain vistas characterize the weather. Autumn and spring bring temperatures ranging from 10°C to 15°C throughout the day, making trekking in Langtang valley a joy due to the flowering of colorful rhododendron along the route woodland.
Summers in the Langtang region is wet, and the pathways become slick, posing a landslide risk, while clouds obscure the sky and obscure the mountain. The Langtang walk in the winter is too cold.
The trail is almost completely covered in snow, and the temperature has dropped to minus 15 to 20 degrees Fahrenheit.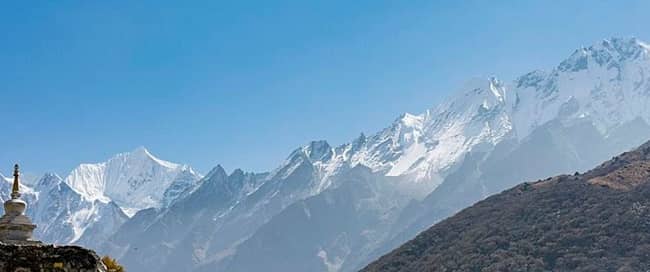 Highlights Of Langtang Valley Trek In Nepal
A voyage through a variety of picturesque aspects, from rushing river waters to dense forests to alpine pastures and yak herds.
On both sides of the valley, there are spectacular mountain vistas.
From Kyanjin Ri and Cherko Ri, you can see all the way to the Tibetan plateau.
Kyanjing Monastery is a Buddhist monastery in Kyanjing, China.
Best Time for Langtang Trek
Spring and autumn, like every other trip in Nepal, are the finest times to go on the Langtang Trek for 7 days. The sky is significantly clearer, allowing for stunning vistas of the Langtang region's mountains and landscapes. In addition, the weather is constant and great during these seasons, which is something that every trekker desires.
The difficulty level of Langtang Trek

You might be wondering about the difficulty level of the Langtang hike. Don't worry; we've got you covered. The Langtang Hike is a somewhat difficult trek. For the Langtang Trek, an average level of fitness will suffice.
Because you will be ascending and descending on a frequent basis, the paths are shaped upward and downward. You don't have to be a seasoned hiker with a wide range of abilities. The Langtang Trek may be the greatest place to start if you are a beginner.
On trekking days, you'll have to walk for 4 to 6 hours. There's no need to rush; you can take deep breaths and rest as you stroll. The vistas will make you forget about your fatigue and tiredness. You will also be conquering the Kyanjing Gompa (3870m) as the highest point.
In comparison to other high-altitude treks such as Everest Base Camp Trek and Annapurna Base Camp Trek, the 7 Days Langtang Trek is not considered a high-altitude trek. You won't get altitude sickness if you get enough rest and drink plenty of water.
As a result, the 7 Days Langtang Trek Itinerary is the ideal trek package for you to discover the Langtang region's culture and natural beauty. With an average level of fitness, this moderate walk is doable. So gather your belongings and accompany us on our journey.
Permits You Will Need for Langtang Trek 7 Days Itinerary
You will need two permits for the Langtang Trek: TIMS and Langtang National Park Permit.
Trekkers Information Management System(TIMS) card:
It is the card that every trekker must obtain prior to embarking on any trek. This card ensures that the trekkers' information is secure. It provides visitors with a sense of safety and security. The data is stored in a database and is available in the event of an accident or disaster. This TIMS card costs ten dollars.
Langtang National Park Permit:
The entry permit allows you to visit any Nepalese national park or conservation area. Langtang National Park is the Langtang region's only restricted area. The region is home to a diverse range of vegetation and wildlife. The permit for Langtang National Park is roughly USD 30.
All you have to do is join us for the Langtang Trek 7 Days and we will obtain these permits for you.
Equipment List for Langtang Trek
The Langtang Trek is unlike any other popular Nepalese trek. High altitude treks like as Everest Base Camp Trek, Annapurna Circuit Trek, and Mardi Himal Trek are popular and demand a big load. However, the Langtang trek does not include many high-altitude treks. Because of the lower altitude, the weather is moderate and mild.
As a result, the 7 Days Langtang Trek Itinerary equipment list should be light; only a few items will suffice. The following is a complete list of what you'll need for the Langtang Trek:
For Head:
Buffs
Scarfs
Earplugs
Sun Hat
Warm Hat
Sunglasses(UV protected)
For Body:
Fleece Jacket
Down Jacket
Trekking shorts
Hiking pants/trousers
Hiking shirts/pullovers
Multiple thermal layers
Waterproof/Windproof jackets and pants
Breathable underwear/undergarments
For Hand:
Water/windproof inner gloves
Water/windproof outer gloves
For Feet:
Sandals
Gaiters
Sport shoes
Trekking socks
Trekking boots
Finger/toe warmer
Others:
First-Aid kit
Lip Balm
Cold Cream
Power Bank
Day bag
Insect repellent
Hand Sanitizer
Trekking stick
Quick-drying towel
Camera and extra batteries
Rain gears- Raincoat, bag cover
Toilet essentials: soap, shampoo, toilet papers
You may also visit Khopra Community Ridge Trek-Cost, Distance, Itinerary, In Nepal – 13 Days
Overview Of Langtang Trek
The Langtang Valley Trek in Nepal begins with a visit to UNESCO World Heritage Sites in Kathmandu, followed by a drive to Syabrubesi the next day.
We start hiking in Nepal from the lower Langtang Valley, following our route chart. We arrive at Kyangjin Gompa after passing through the Langtang National Park, tiny villages, farmlands, and lush forests.
We also climb Tserko Ri for spectacular views of the Langtang peaks at daybreak. The region, which borders Tibet, was previously a major trade route. The influence may still be seen in the rich local culture.