Introduction To Khopra Ridge Community Trek In Nepal
Khopra Community Ridge Trek provides a majestic view of Mt. Dhaulagiri (8167m), Tukuche Peak (6800m), Nilgiri (6600m), Annapurna I, II, III. Rural settlements and rice fields run through the Rhododendron forest, and Himalayan animals such as pheasants and yaks can also be seen.
This walk is also known as the Khopra ridge trek or the Khopra community hike. The Khopra Community Ridge Trek is an alternate hiking route plan for hikers who like quiet, off-the-beaten-path adventures. It leads to the beautiful Khayer Lake, which is nestled gently in the Annapurna South mountains (7219m).
The hike takes you through remote mountain slopes, rhododendron and bamboo woods, terraced hills, and traditional Gurung and Magar towns, allowing you to appreciate the beauty of remoteness.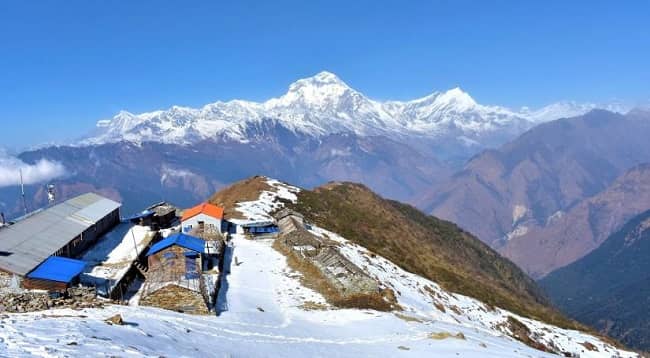 The ambiance and architecture of these hillside villages, as well as the hospitality of the locals in places like Ghandruk, Tadapani, Dobato, Chistibung, and Swanta, among others, will provide a unique and pleasant experience and sense of Nepal's natural and community beauty.
The nicest part of the hike is learning more about Nepal's unique Magar ethnic community. Eventually, your journey will come to a close with a natural bath at Tatopani, followed by a drive back to Pokhara. Furthermore, the appealing blend of natural and cultural diversity fascinates and entices you to return to Khopra trekking time and time again.
Highlights Of Khopra Ridge Community Trek In Nepal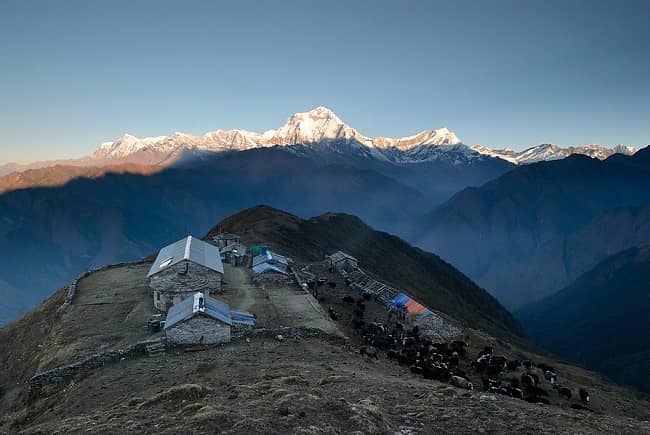 During a sightseeing tour in Kathmandu, see the Unesco World Heritage sites.
Trekking in the famous Annapurna region is a must-do. Take the less-traveled way.
Take in the sights of some of the world's tallest mountains.
Pokhara, Nepal's own lake city, is a must-see.
You may also visit Langtang, Gosainkunda, and Helambu Treks-Cost, Distance, Itinerary, In Nepal – 17 Days
Overview of Khopra Ridge Community Trek
The Khopra Community Ridge Trek takes us to the Kopra Ridge, also known as Khopra, is tucked away from the Annapurna region's popular paths but offers equally stunning vistas of the Himalayas, including Mount Dhaulagiri, Annapurna South, Fang, and Nilgiri.
After Tadapani, we leave the main trail and travel down a rural trail for the next five days, staying in community teahouses. The 13-day trek is ideal for people who want to experience Mt. Annapurna's magnificence while also enjoying the solitude of a more isolated track.
The sacred Kaire Lake, which needs a little traveling away from the Kopra Ridge, is another highlight of our tour. The Khopra Community Ridge Trek will be well worth our time, with its unique tradition, culture, and stunning scenery.