Introduction To Annapurna Circuit Trek with Tilicho Lake In Nepal
The Annapurna circuit trek with Tilicho Lake is a stunning combo. This Annapurna circuit trek with Tilicho Lake highlights includes Tilicho Lake (4,919m/16,138ft), one of the world's highest lakes, and Thoronga La Pass (5,416m/17769ft), one of the world's highest passes.
Mt. Dhaulagiri (8,167 meters), Mt. Annapurna I (8,091 meters), Mt. Manaslu (8,163 meters), Mt. Annapurna II (7,937 meters), Mt. Annapurna III (7,555 meters), Mt. Annapurna IV (7,525 meters), Mt. Annapurna south (7,219 meters), Mt. Nilgiri (7,041 meters), Mt. (7,134m).
This trip takes you through a variety of climatic zones, with vegetation changing along the way. Paddy fields, subtropical forests, glacier zones, and rural farmlands will all be encountered. You might see high-altitude creatures like blue sheep, snow leopards, and yaks in the highlands.
Diverse individuals get together to enjoy warm baths at natural hot springs. Similarly, as a shared sacred site for Hindus and Buddhists, Muktinath Temple brings the two religions together.
Thorong La Pass (5,416m/17769ft), one of the world's highest passes, is also an important part of this expedition. The panoramas from the Thorong La Pass are breathtaking.
Your journey begins with an early morning bus ride from Kathmandu to Besishar, then to Jagat, passing through picturesque villages, terraced farmland, and mountain views.
On the second day, the trip begins at Jagat (1,300m/4,265ft) and ends at Dharapani (1,860m/6,200ft). The third journey begins at Dharapani and ends in Chame (2,610m/8,890ft), the Manang district's headquarters.
From the trail, you'll have spectacular views of Lamjung Himal, Annapurna II, and Annapurna III. We'll travel to Pisang (3,115m/10,200ft) after spending the night in Chame, through the trail that allows us to glimpse the Paungda Danda Rock face.
We travel from Pisang to Manang (3,540m/11,300ft) on the sixth day. You'll view Tibetan-style towns and incredible high peaks like Gangapurna, Tilicho, and Pisang Peak from the trail. We'll acclimate at Manang for a day before heading to Siri Kharka (4,060m/13,320ft) the next day.
We hike from Siri Kharka to Tilicho Base Camp (4,150m/13,583ft) on our eighth day and spend the night there. The following day will be memorable because we will arrive at gorgeous Tilicho Lake, popularly known as "The Great Ice Lake."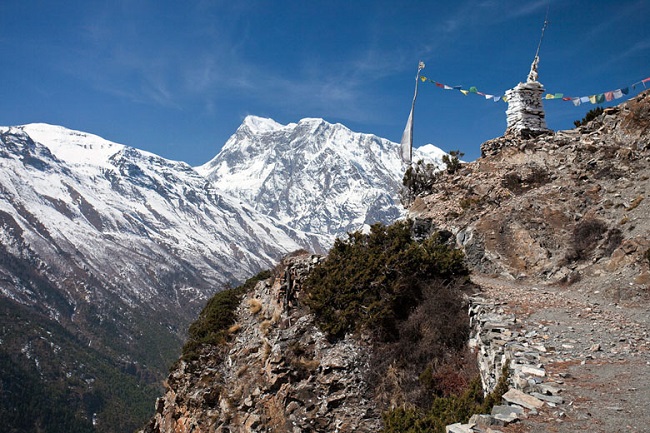 You may enjoy spectacular views of immaculate lake water and magnificent snow-capped high mountains that are unrivaled anyplace in the world from Tilicho Lake. Tilicho Lake is surrounded by the Tilicho Himal, Annapurna Range, and Nilgiri Himal as if they are hiding nature's jewels. We'll return to Siri Kharka for the night after reaching Tilicho Lake.
We wake up in Siri Kharka the next morning and begin our climb to Yak Kharka (4,060m/13,020ft), our target for the day. Yak Kharka is known for its blue sheep, and if you're lucky, you might even see a snow leopard if you're there at the appropriate time.
We'll spend the night in Yak Kharka before continuing on to Thorong Phedi, a little village perfectly situated for a successful passage of the Thorong La Hi-Pass (5,416 m/17,756 ft). We may walk to High Camp for the night if the situation at Thorong Phedi is favorable.
We get up extremely early in the morning at Thorong Phedi to prepare for the Thorong La Hi-Pass crossing and struggle through the chilly air and high-altitude exhaustion to reach Thorong La Pass. The Himalayas stretch north to Tibet and the Annapurna mountains spread south from the Thorong La Pass.
We'll descend to Muktinath (3,760m/12,623ft), a Buddhist and Hindu sacred place, after crossing the Thorong La Pass. We will spend the night in Muktinath because we will be fatigued by the time we arrive.
We'll take local transportation to Tatopani (1,200m/3,940ft) after spending the night in Muktinath. We'll pass through Jomsom en route, which is a bustling market in this area. Tatopani means "hot water" in Nepali, and you can take a dip in the naturally warm water at Tatopani.
The viewpoint – Poon Hill (3,210m/10,525 ft) is another popular destination for this journey, however, to reach there, we start at Tatopani and travel to Ghorepani through Sikha and Chitre hamlet. We'll spend the night at the Ghorepani and then travel to Poon Hill the next morning to witness the sunrise over the Annapurna and Dhaulagiri massifs.
We'll drive to Pokhara, Nepal's tourist capital, after enjoying the early sunrise from Poon Hill. You will be staying in a hotel in Pokhara with all of the latest conveniences.
Your trek will come to a close on the sixteenth day when you board a tourist bus to Kathmandu. But by then, the lessons you've learned on this journey, as well as the resolve that helped you achieve, will have influenced your thinking for years to come.
This package includes a local bus ride from Kathmandu to Banisher or Bhulbhule, but you can also arrange private transportation for an additional fee. You can also fly from Pokhara to Kathmandu on your own dime. We also ask that our customers arrive in Kathmandu one day early, before 3 p.m., to participate in the tour briefing. The trip briefing allows you to double-check items you'll need while also outlining your trek goals.
Highlights Of Annapurna Circuit Trek with Tilicho Lake In Nepal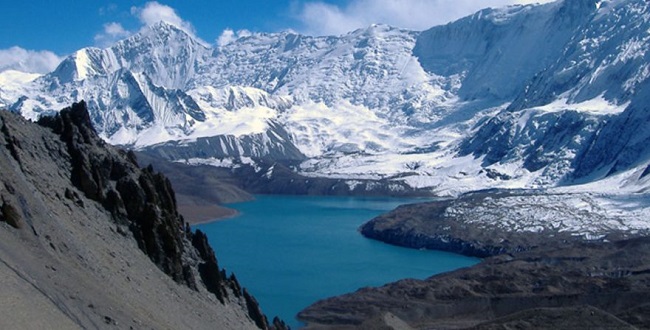 At 5,416 meters, Thorong La Pass is one of the highest passes in the world.
Tilicho Lake (4,949m) is one of the world's highest lakes.
Yak Kharka's blue sheep
Mt. Annapurna, Thorung Peak, Nilgiri, Chulu West and East, Tukuche Peak, Dhaulagiri, Lamjung Himal, Annapurna II, and Annapurna IV are all visible from here.
Tatopani hot springs are a great place to unwind.
Lakes, glaciers, gorges, and waterfalls abound.
Muktinath is a Hindu and Buddhist pilgrimage place.
Manang district is a beautiful spot to visit, so take advantage of it.
The largest monastery in the Manang district is Barge Monastery.
Benefits Of Annapurna Circuit Trek with Tilicho Lake In Nepal
Free private airport arrival and departure transfers to and from the hotel
Pulse oximeters are used to measure blood oxygen saturation at high elevations in order to detect early signs of altitude sickness and other potential health hazards.
Medical Kit Arrangement of sleeping bags and down jackets if you do not have your own.
Annapurna with Tilicho Lake Trek Gears
You will need to change your gear and equipment depending on the trekking season. There is, however, a list of stuff that you will require during the trek. We strongly advise you to only bring what you absolutely need.
Head
Scarf or hat for the sun
Winter hat, insulating hat, or a hat with a wide brim
Extra batteries for the headlight
Face
Sunscreen
Sunglasses that block UV rays
Wipes for the face and body
Hands
Lightweight gloves

Heavyweight winter gloves
Body
Shirts for hiking
Shirt with a long sleeve made of synthetic fiber.
Rain jacket with hood
Jacket made of fleece
Cotton pants that are light and airy.
T-shirt (bring lightweight wool)
Underwear made of polypropylene
Jacket with down feathers (available for rent in Kathmandu)
Sweater
Jacket and pants that are waterproof
Footwear
Boots for Hiking
Socks made of thick wool (Take an extra pair of thick light socks)
Essential gear
A daypack or a backpack (Size depends on whether you take a porter or not)
Bottle with a heating element
Purification of water
Pole for hiking
Bag for sleeping (-15 degree bag is best for high altitude trekking)
Toiletries
a drying towel of medium size
Toothbrush
Toothpaste
Deodorant/floss/toilet paper
Biodegradable soap in a bar
a pair of nail clippers
Mirror, little
Personal accessories
Money

Watch

Cell phone

Camera
Extra items
Kit for first aid
Extra passport pictures and passport photocopies
Pencil and notebook
Binoculars
Tilicho Lake Trek | Thorong La Pass | Package Info
Annapurna with Tilicho Lake Trek Safety
We organize Annapurna with Tilicho Lake treks in accordance with the Nepal Tourism Board's guidelines, with a focus on safety.
We secure trekkers' safety in the following ways, in addition to geographical safety.
For motivation and encouragement, we brighten your attitude.
We review meals and accommodations for hygiene.
Our trip leaders and guides have years of trekking experience.
Throughout the journey, we'll have high-quality masks and gloves with sanitizers for our crew to aid you.
Annapurna with Tilicho Lake Trek In Nepal
You will arrive at Tribhuvan International Airport before 3 p.m. one day prior to the start of the Annapurna Circuit Trek and participate in a tour briefing. For the night, you'll return to your hotel.
Early in the morning on the day of departure, we board a local bus that will transport us to Jagat Village, the starting site of our Annapurna Circuit with Tilicho Lake walk.
The package includes local transportation (Kathmandu to Besisahar, then to Jagat, Muktinath to Tatopani). For an additional fee, a private jeep is offered.
Free Airport Transfer Service from Tribhuvan International Airport
For the Annapurna Circuit Trek package, we provide free airport arrival and departure transfers on any aircraft. Regardless of which aircraft you take, you will be greeted by our representative crew who will carry a booklet with your name and our company name and will give you a warm greeting with either a khada or a marigold garland, and you will be brought to your hotel in the most comfortable manner possible.
Annapurna with Tilicho Lake Trek Accommodation
The 16-day trek includes fifteen nights of lodge-to-lodge lodging in the greatest trekking zones, as well as one night in a Pokhara hotel.
At Dharapani, Chame, Pisang, Manang (2N), Muktinath, Tatopani, and Ghorepani, we give an eight-night room with an attached bathroom. During the hike, you will stay in ordinary rooms at Jagat, Siri Kharka (2N), Tilicho Base Camp, Yak Kharka, and Thorong Phedi (Twin Sharing room).
The package includes a one-night stay in a Pokhara hotel room with an attached bathroom, TV, 24-hour hot water, power, and laundry.
We give a single private room with an associated bathroom in available lodges and a single private room in other locations for solitary trekkers.
You may need two nights in a hotel in Kathmandu before and after the hike, but this is not included in the package. There are hotels in Kathmandu to suit all budgets and inclinations.
In trekking locations, hot showers and Wi-Fi will be offered for an additional fee.
Breakfast | Dinner | Lunch included in Annapurna Trek Package
Tilicho Lake and Annapurna Trekking take place at high altitudes near the highest peaks on the planet. As a result, you'll require a nutrient-dense diet. Throughout the voyage, we ensure that you have access to nutritious and sanitary food. However, compared to cities, the dining alternatives are restricted.
During the walk, you will be served 16 breakfasts, 15 lunches, and 14 dinners.
The following are some of the most popular menu items:
Oatmeal, Corn Flakes, French toast with jam, butter, and cheese, Honey Tibetan bread or Chapati, and local Tsampa porridge are among the sixteen breakfast options. Fruits and vegetables, as well as eggs, pancakes, and muesli bread Drinks that are heated (varieties of teas and coffees, hot chocolates, etc.)
Fifteen meals – Dhal, Bhat, & Tarkari, Tibetan Bread, Soups, Sherpa Stew, Steaks, Sandwiches, Momo (dumplings), Macaroni dishes, Tenduk Spaghetti Noodles, Thukpa, Pasta, Vegetable curry, Potatoes, Vegetables, Salad Pizza (Tomato, Mushroom, Mixed), Snacks (Papad, Prawn),
Dhal, Bhat & Tarkari, Tibetan Bread, Various Soups, Sherpa Stew, Steaks, Sandwiches, Momo (dumplings), Macaroni, Tenduk Spaghetti, Noodles Thukpa, Pasta, Vegetable curry, Potatoes items, Vegetable and Salad Pizza (Tomato, Mushroom, Mixed), Snacks (Papad, Prawn), Korean Raman, Desserts (R
We choose motels that serve food that is fresh, hygienic, tasty, and nutritious. Traditional, Asian, and Western cuisine are available on the menu, however, the choice grows narrower as we move higher.
At high elevations, we strongly encourage fresh vegetables and plenty of liquids such as green tea, lemon tea, hot lemon, ginger tea, and garlic soup (a necessity).
Though there will be lots of non-vegetarian options available in hiking areas, we do not advocate them due to quality concerns. We also recommend avoiding dairy products, alcoholic beverages, caffeinated beverages, and hot chocolates.
Note that the package does not include lunch or dinner in Pokhara.
All personal bills (alcoholic drinks, hot (tea, coffee), and cold drinks) in tea houses, lodges, or cafés are excluded from the package, save for standard meals (breakfast, lunch, and dinner with seasonal fruits).
Annapurna with Tilicho Lake Trek Best time
For the Annapurna with Tilicho Lake hike, the weather is the most important factor. Trekking can be done at any time of year, but certain seasons are better than others. Clear skies, comfortable temperatures, and no rain or clouds make for beautiful views in the spring and autumn seasons.
Throughout the year, we arrange Annapurna Treks with Tilicho Lake.
Due to the harsh weather and snowfalls at high altitudes, the trek is difficult in the winter. Similarly, the monsoon season occurs in Nepal during the summer, making the routes slick. Some trekkers, on the other hand, are drawn to challenges and enjoy their Annapurna Circuit Trip during the summer and winter.
The actual temperature and weather conditions vary by location, but below is a brief summary of the weather in the Annapurna Trekking zones at high elevations.
March to May (Spring )
The temperature is warm, the rainfall is low, and the skies are clear, allowing for spectacular vistas. Spring is an ideal time for an Annapurna Trek with Tilicho Lake because the weather is mild, the rainfall is low, and the skies are clear, providing spectacular views. During this time, tens of thousands of people trek in the Annapurna region.
In the high elevations, the average daily temperature ranges from 8°C to 0°C. Lower sections are even warmer, making the climb more bearable.
June to August (Summer)
Summer in Nepal lasts from June to August, but it overlaps with the monsoon season (rainy season). Even though the temperature is warm and pleasant, the paths will be damp and slick.
The monsoon season begins in late June and lasts until the second week of August. The temperature ranges from 10°C to 23°C during the day at high elevations, although nights are lower at 5°C to 10°C. Mornings are often cloud-free even in this season, but clouds come in the afternoon and disappear at night. Various flora bloom as a result of the rain, and the entire trekking region appears green and pleasant.
September to November (Autumn)
The Annapurna Circuit including the Tilicho Lake trip attracts visitors from all over the world in the autumn (September, October, and November). Autumn is a fantastic trekking season because of the moderate temperatures, light wind, clear skies, and low precipitation.
By early September, the monsoon will have passed, and the weather will be pleasant to warm. At high altitudes, daytime temperatures can reach 20°C, while nighttime temperatures hover around 5°C.
The greens that bloomed during the monsoon fade to golden/amber throughout this season, creating a stunning contrast against the clear blue skies. The lowlands are lush, the fields are full of maturing cereals, and the environment is clean. Furthermore, the two most important Hindu holidays, Dashain and Tihar, fall at this time.
December to February (Winter)
Annapurna with Tilicho Lake hikes are somewhat popular in the winter (December-February). High altitudes at Annapurna Circuit Trek with Tilicho Lake can reach as low as -10°C during this period.
From late December to early February, it is the coldest. The temperature steadily rises to -5°C from late February. Despite the cold, the skies are normally clear during this time of year; mountain views are at their best, and the trails are less crowded. The path may be difficult for new hikers, but experienced hikers can enjoy their adventure to the utmost.
The weather in the Himalayas is erratic and changes frequently. Temperatures during the day and at night might be very different.
Acclimatization
Annapurna Trekking with Tilicho Lake includes a one-day acclimatization stop in Manang to prevent altitude sickness. Although altitude sickness is preventable, it can be lethal if the symptoms are ignored. Our itinerary has been intended to allow your body to adjust to the increased altitude slowly and steadily.
All of our trekking leaders (guides) have had comprehensive first-aid training, and we strongly advise you to notify your guide as soon as you notice any symptoms. Our team has oximeters with them to check your oxygen levels and detect early signs of altitude sickness.
Precautions will also be recommended by your hike leader or guide. The ideal strategy is to take it slowly and drink enough water on a daily basis. The only way to recover from acute altitude sickness is to descend as soon as possible. Your group leader has the last say over whether or not you continue climbing based on the health of your teammates.
Physical Condition & Experience Requirements
Annapurna Trek with Tilicho lake hike is a challenging trek. The hiking generally lasts for 4 to 7 hrs a day, with regular breaks to soak in the stunning mountain views. 
Trek routes on Annapurna involve long climbs, steep descents, and straightforward roads. Past hiking experience would be an added advantage, but no technical experience and skills are necessary. 
Trekkers who can hike 5 to 6 hours a day reasonably can complete Annapurna Trek with Tilicho Lake. Please remember that trekking at higher altitudes is more physically demanding than trekking in lower altitudes. 
Exercising and jogging regularly for a couple of weeks before the trip enhances your stamina, and the fitter you are, the more enjoyable your trekking experience will be.
To join the Annapurna circuit trek with Tilicho lake, you need to be healthy with normal physical fitness and a good dose of positive attitude, self-confidence, and determination. 
Participants with pre-existing medical conditions such as heart, lung, and blood disease should inform us before booking the trek.
Trekking in Group | Solo Trip | Backpackers
We can arrange both a group and private trek. The group discount is applied when you have your own taxes in your group, and the pricing is the same whether you join a group or go on a solo tour. We have the ability to lead and manage groups of varying sizes. For groups of 12 or more trekking members, there will be a group leader, a porter for every two trekkers, and an assistant guide.
Regular Annapurna Circuit Trek Activity
A typical day on the Annapurna Circuit Trek begins with a nice cup of tea or coffee in the morning. Following breakfast, we leave off on the day's walk between 7 and 8 a.m., depending on the length and character of the hike.
We'll stop for lunch after three to four hours of hiking, have an hour to recover, and then proceed to our goal.
The trek in the afternoon is usually shorter (about two to three hours). We nibble on the additional dietary food once we arrive at our overnight lodge/tea house/tent.
We'll spend our free time before supper exploring the area. Following supper, we engage in lighthearted banter and discuss the events of the day. The excursion leader/guide will give you an overview of the next day's activities. After the briefing, you can play monopoly, play cards, or watch mountaineering films onboard. Before going tonight, most tourists learn common Nepali terms from our crew or read books.
Communication on Annapurna Trek with Tilicho Lake
For an additional fee, you can use internet access in lodges during the Annapurna with Tilicho Lake Trek. We will, however, use a phone to converse at high altitudes. For safety reasons, the office will contact all trek groups at least once through the team leader.
Mobile signals may be available at high altitudes, depending on the network you use, but they may not be strong enough. However, for better connectivity, you may easily purchase a local sim card in Kathmandu.
Trek lodges provide Wi-Fi at an additional fee.
Electricity, and water on the trek
For an additional fee, electricity will be available throughout the Annapurna Journey with Tilicho Lake trek zones for camera or phone recharge.
Similarly, you can buy mineral water in a bottle from small lodges or en-route shops, or fill your water bottle with hot water for an additional fee. We can give you water purification pills.
In hiking areas, you should not drink water from rivers, taps, or wells because the water may not be safe to drink.
Extra personal expenses during the trek
Our clients are responsible for their own meals and lodging in Kathmandu. Kathmandu has a wide variety of hotels/lodges in various pricing levels to suit different budgets.
All of our valued guests will be required to bring personal spending money to cover meals and accommodations in Kathmandu, lunch and dinner in Pokhara, visa fees, travel insurance policy purchase, beverages, trek snacks, hot (tea, coffee), cold drinks, crew gratuities, souvenirs, and other expenses.
We suggest that you carry cash (major currencies) to exchange for Nepalese Rupees. Only Nepali Rupees are accepted in trekking areas.
Travel insurance for Annapurna with Tilicho Lake Trek
The Annapurna with Tilicho Lake Trek is a difficult route with the risk of high altitude sickness as well as other unforeseen catastrophes such as accidents, disease, floods, landslides, or abrupt climate changes.
When booking the Annapurna Circuit Trek with Tilicho Lake, you must have travel insurance. Discovery World Trekking requires a copy of every trekker's comprehensive travel insurance policy certificate. Medical and emergency repatriation, as well as helicopter rescue and evacuation costs at high altitudes, must be covered by your policy.
Based on our clients' experiences, we can recommend insurance firms to assist you, but we do not sell insurance products.
When booking a trek, we ask that all trekkers email us a copy of their full insurance policy. In the event of an emergency, we will use the insurance policy and other documents you supplied us to conduct a rapid and effective rescue operation, transfer for emergency medical assistance, and so on. Please double-check that your insurance covers mountain rescue services as well as medical bills at the greatest hike elevation.
Please do not rely primarily on the information provided on insurance providers' websites. Make sure they cover helicopter rescue at heights up to 6000 meters, as well as all medical costs.
Tourist Visa | Visa on Arrival | Nepal Visa Information
Citizens of most countries can obtain an on-arrival visa at Tribhuvan International Airport or at government offices along the Indian and Tibetan borders.
Visit www.immigration.gov.np for more information on visas.
You will need a passport that is valid for at least six months, one passport-size photo, and a visa fee to apply for a visa. For a 30-day stay, the current visa price is $50 (cash only).
We recommend adding 1-2 days to your journey at the conclusion just in case there is a delay.
A free visa will be given to youngsters under the age of ten.
A visa is not required for Indian citizens. Citizens of China and members of the South Asian Association for Regional Cooperation (SAARC) (Bangladesh, Bhutan, Maldives, Pakistan, and Sri Lanka) are eligible for a free visa.
Citizens of Nigeria, Ghana, Zimbabwe, Swaziland, Cameroon, Somalia, Liberia, Ethiopia, Iraq, Palestine, and Afghanistan may not be eligible for on-arrival visas. If you are a citizen of one of these countries, please contact the Nepalese embassy in your country.
Money exchange
Nepali Rupees (NPR/Rs) are the local currency.
(1 USD = Rs.100-118 NPR).
In Kathmandu and across Thamel, we may exchange most international currencies at local banks and reputable money exchanges. The hotel can also exchange small sums of cash.
The current currency rate is clearly indicated. The Nepalese government has outlawed the import, export, and usage of 500 and 1000 rupee notes. You should not carry these notes with you when you arrive in Nepal, as they will be confiscated and you may be punished.
Despite the security of traveler's cheques, we choose cash conversion to avoid the difficulties of a long process and a hefty commission rate at the banks. You can get cash (only in Nepalese Rupees) at one of the many ATMs in Kathmandu and Thamel. There are a number of ATMs that are open 24 hours a day. If you use your foreign card, the maximum withdrawal amount is 35,000 Rupees with a 500 Rupee processing fee.
If you utilize a bank or financial institution's money exchange service, you will be charged a service fee of around 4% or more, depending on the bank.
Because there are no banks or money exchange services along the trail, you should exchange your money in Kathmandu alone, depending on how much personal expenditure you anticipate, as individuals in the Himalayan region only accept Nepalese currency.
Foreign currency notes that are old, damaged, or faded will not be accepted by the majority of Asia's established banks. Please make sure you have fresh, clean notes.
How much luggage can I bring during Annapurna with Tilicho Lake Trek?
Porters will be allocated to carry your luggage; two passengers will be assigned to one porter, and combined luggage should not exceed 9 kg. Our porters are never overworked. However, you should bring your own rucksack or backpack (with any valuables or important items) with you. Only bring what you absolutely need; any excess baggage can be left at your hotel or at our store for free and will be kept safe.
Before we leave our office, we'll double-check everything (luggage, equipment, etc.) in our briefing.
Responsible for travel in Annapurna with Tilicho Lake Trek
We are convinced that our ecosystem must be safeguarded, as tourism may have severe consequences. We emphasize the benefits of tourism to the environment. Furthermore, we collaborate with the Kathmandu Environmental Education Project (KEEP) to offer environmentally conscious and culturally engaging itineraries that match the expectations of both passengers and communities.
Our Crew
Our local best-trained and well-experienced guides / Sherpas will accompany you on the trip to make your journey even more pleasant and unforgettable. All of our guides are well-trained and licensed, and they have spent years trekking and climbing peaks all over the world.
Your stuff will also be carried by porters. One porter will be assigned to two people. The total weight of your luggage should not exceed 18 kg. Our porters are never overworked. We assign one porter to each of the two members and one assistant guide to each of the eight members.
We can additionally have one porter per passenger if necessary. Our crew members are locals from high Himalayan remote locations, and due to their physical endurance and heredity, they can live peacefully and readily at high elevations. All of our employees are extremely valuable to us; they are highly compensated, and we provide insurance, clothing, food, and accommodation for them throughout the expedition.
When our guides and porters become unwell or injured, they receive medical attention. We make every effort to ensure their happiness since we believe that only happy people can make others happy. The local expert trek leader who will be guiding you is an expert in the following subject. We provide modest lodging for our guides and porters, such as a tent with sleeping gear, as well as meals and warm beverages.
Authorized Trekking Guide Training Certificate
Intensive Wilderness First Aid Training
Fluency in English and another major language
Conservation and Biodiversity Training
Experience with rock climbing
Tipping In Nepal
Tipping is accepted and respected in Nepali society, and it is a form of expressing thanks. Tipping is at the discretion of hikers and is based on service quality. We recommend tipping at the end of the hike and as a group.
100% Secure Booking
We are a government-approved and bonded trek and tour company in Nepal. We are also members of the Nepal Mountaineering Association (NMA) and the Trekking Agency Association of Nepal (TAAN) (NMA). As a result, you may book your trek/expedition with complete trust.
As a deposit, we require 10% of the total trip cost. Within a week of booking, please send your documentation, including a copy of your passport, passport-size pictures, travel insurance policy, and arrival and departure flight information.
You can make a 10% deposit via bank transfer, western union, or online payment on our website, and the full balance when you arrive in Nepal. Cash, bank transfer, and credit cards are all acceptable methods of payment. In addition, you will receive payment choices in your email.
Last-minute booking
We offer last-minute bookings for individuals who are unable to book Annapurna Circuit Trek in advance. You must pay 100% of the trek cost 24 hours before the trip begins to take advantage of this service.
We make every effort to run last-minute treks/trips on your scheduled date. However, there is a slight potential for a journey delay owing to factors beyond our control, such as terrible weather or a lack of housing.
Trip Extensions
If you have extra days after the trip, you can embark on a sightseeing tour in Kathmandu or the surrounding districts. In Chitwan, you can also embark on a jungle safari, paragliding, rafting, canyoning, or other treks.
Feedback
We don't demand anything in return except feedback (both positive and negative) on our services and team's performance. We will make changes as a service provider based on your input on our overall performance. Your feedback assists us in carrying out future goals by identifying and addressing flaws as well as maintaining strengths.
You may also visit Joy of Rafting over the Trisuli River-Cost, Distance, Itinerary, In Nepal – 1 Day
Overview Of Annapurna Circuit Trek with Tilicho Lake
The Annapurna circuit trek with Tilicho Lake takes you through the Himalayan flora and fauna, gorgeous landscapes, holy temples and monasteries, stunning waterfalls, varying climate areas, distinct cultures, high passes, deep gorges, and the Tilicho Lake (one of the world's highest lakes).
We get a taste of Nepal's best with the thrill of the high pass and the tranquility of the Annapurna valley. We get a close look at mountains such as the Annapurna Massif, Thorung Peak, Nilgiri, Chulu West and East, Tukuche Peak, Dhaulagiri, and Lamjung Himal as we go along the trail.
We visit mysterious villages such as Marpha and Kagbeni, as well as the forbidden kingdoms of Mustang and Manang.