Introduction To Colosseum, Rome, Italy Tour
The Colosseum is an oval amphitheater located immediately east of the Roman Forum in the heart of Rome, Italy.
Despite its age, it is the largest ancient amphitheater ever erected and remains the world's largest standing amphitheater today.
Construction began under the reign of Emperor Vespasian and was completed by his successor and heir, Titus, in the year 80 AD. During the reign of Domitian, more changes were enacted.
The Flavian dynasty is called for the three emperors who financed the project, and the amphitheater is known as the Flavian Amphitheatre.
Your journey begins on Oppian Hill, where you'll get a birds-eye perspective of the Colosseum. With your fast-track pass, you'll skip the lines and go straight into the Colosseum when you arrive at the world's wonder.
Your guide will transport you back in time as he narrates tales of gladiator clashes, horrific animal fights, and executions in front of 50,000 people.
If you upgrade your experience, you'll be able to see the arena floor and subterranean tunnels, which are normally inaccessible to the public.
Visit the cells where criminals and wild animals were held, as well as the arena where Roman gladiators fought.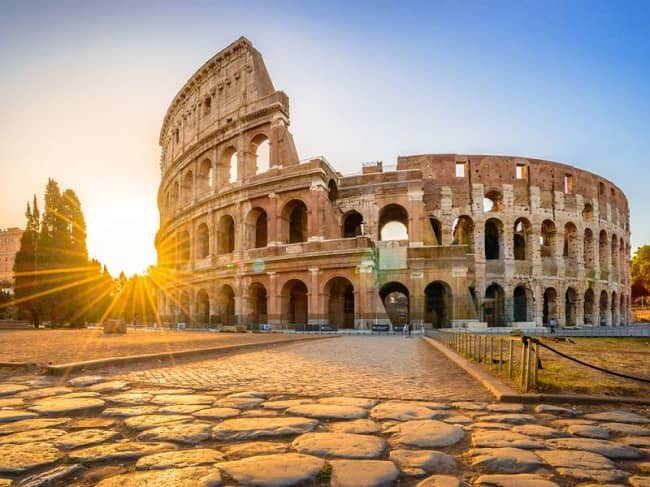 After spending some time at the ancient site, take the Via Sacra to the Roman Forum. Although there is little signage on the enormous site, your guide will take you to the attractions and tell you the inside scoop.
Highlights Of Colosseum, Rome, Italy Tour
To avoid the crowds, enter the Colosseum via the back door, which leads directly to the arena floor.
Feel the magnificence of ancient Rome as you walk in the footsteps of gladiators.
Your guide will tell you amusing and engaging stories and legends about these locations.
You may also visit Annapurna Base Camp Trek-Distance, Cost, Itinerary, In Nepal – 11 Days
Overview Of Colosseum, Rome, Italy
Pass right onto the arena floor through the gate named for Libitina, the goddess of funerals, when you enter the Colosseum through the back door. Traverse the paths where once-dead gladiators and animals were brought away.
As you walk over the steps of those who battled in gladiatorial combat, feel the magnificence of ancient Rome beneath your feet. Take in spectacular 360-degree views of the Colosseum. Look up at the ruins that once housed tens of thousands of people.
Explore the general access area, which includes the ground floor, second tier, and a balcony with spectacular views of the Roman Forum and Constantine's Arch.