Introduction To Kathmandu Chitwan Tour
The Kathmandu Chitwan Tour takes you through the majestic cities of Nepal which include Kathmandu and Chitwan, which are rich in natural and cultural heritage sites.
On Kathmandu Chitwan Tour, we can go to historical monuments such as Kathmandu Durbar Square, Bhaktapur Durbar Square, and Patan Durbar Square, which are the most well-known tourist destinations in the Kathmandu Valley.
The most popular tourist destinations in Nepal are Pashupatinath Temple, Boudhanath Stupa, and Swayambhunath Stupa. During sightseeing in the durbar square locations, visitors can see the grandeur of the building.
Chitwan is located in Nepal's southwestern region. It is Nepal's fourth-largest city, with a total size of 2,238 km2, and is known for its National Park. Chitwan National Park, Nepal's first national park, was established in 1973 and spans 932 square kilometers.
The majority of guests come to participate in jungle activities like elephant riding, jungle trekking, canoeing, elephant bathing, and jeep safari.
Chitwan National Park is a fantastic place to see some of the world's rarest animals, including one-horned rhinos, gharials, leopards, Bengal tigers, Indian rock pythons, and other species.
The park was created primarily to protect endangered species like the One-Horned Rhinoceros, Royal Bengal Tiger, and Gharial Crocodile. In 1984, Chitwan National Park was designated as a UNESCO World Heritage Site.
Highlights Of Kathmandu Valley and Chitwan Tour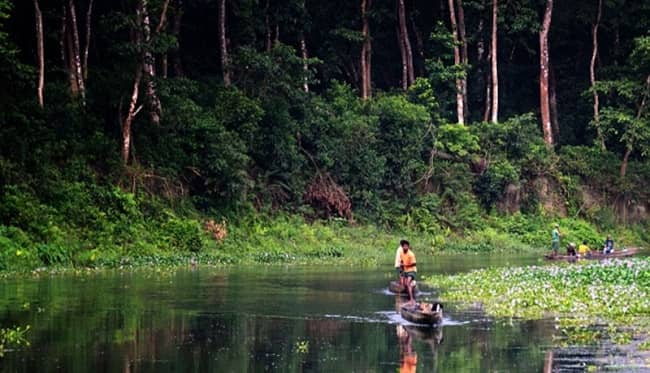 7-day private guided tour of Nepal's most majestic cities.
Excursion to Kathmandu Valley's World Heritage Sites
Explore Asia's most beautiful national park, Chitwan, and learn about Tharu culture.
Nepal offers a fantastic culture, ecology, and wildlife tour.
You may also visit  Kathmandu Hiking Tour-Cost, Distance, Itinerary, In Nepal – 1 Day
Overview Of Kathmandu Chitwan Tour
The Kathmandu Chitwan tour start in the valley, where you'll see a number of UNESCO World Heritage Sites in Kathmandu, Lalitpur (Patan), and Bhaktapur, all of which are cities in the Kathmandu Valley.
During our Kathmandu Chitwan tour, we also stay at Nagarkot, a settlement in Bhaktapur's highlands that offers spectacular Himalayan vistas.
Our excursion concludes at Chitwan, which is known for containing Chitwan National Park, another World Heritage Site. In the sweltering sub-tropical jungles of Chitwan, we enjoy bird-watching and a relaxed elephant-back safari while learning about the region's tribal culture.