Introduction To Manaslu Circuit Trekking In Nepal
The Manaslu Circuit Trekking takes place in Nepal's remote Himalayas on a relatively new and uncrowded track.
You will, however, be able to experience everything Nepal has to offer, including climatic differences that result in diversified flora and fauna, roaring rivers with suspension bridges across them, alpine landscapes, and hospitable people who adapt to changing conditions.
You can see spectacular peaks like Lamjung Himal (6,983m), Annapurna (8,091m), Dhaulagiri (8,167m), Himalchuli (7,893m), and Ganesh Himal range from the Manaslu hike path.
You will be able to witness both Hindu and Buddhist cultures because this location is close to Tibet's border. This journey is equally as challenging as the Annapurna Circuit Trek or the Everest Base Camp Trek.
The first leg of our tour is a bus ride from Kathmandu to Soti Khola. During your bus ride, you'll see rushing rivers, massive mountains, terraced crops, and traditional villages, all of which are unique to Nepal.
The trekking trails begin the next morning as we travel to Khorla Besi. The path takes us to Khorla Besi via stunning waterfalls, rice terraces, and various traditional villages.
On the third day, we will go from Khorla Besi to Philim; the road is tough, but the views of Ganesh Himal and Shringi Himal are spectacular. We travel to Ghab, a Tibetan-style settlement, after stopping in Philim.
The next day, you'll arrive at Lho after passing through lush woodland of fir, rhododendron, and bamboo. You might see Danphe (Nepal's national bird), Langur monkeys, and other wildlife along the journey.
Our trek continues from Lho to Samagaun village, with spectacular views of the Ngadi Chuli, Peak, and Hiunchuli from the trail. We'll also pass via Shyala village.
For acclimatization, we will stay in Samagaun for one day. However, there are other side treks to choose from, including hikes to Manaslu Base Camp, Birendra Lake, and Pungyen Monastery.
We will resume our walk after a day of recuperation in Samaguan and arrive in Samdo, a Tibetan refugee village. You will be rewarded with spectacular vistas of the mountains, particularly Manaslu, during the hike.
Dharamshala is the next stop on the day's itinerary after Samdo. Larkya La Glacier is on our way. We are confident that the majestic Larkya Glacier and views of Manaslu that you will see along the route will stay with you forever.
On our tenth day, we'll cross the Larkya La Pass (5,106m/16,752ft), one of the Himalayas' longest passes. We rise from Dharamshala, using prayer flags as navigational aids.
Between Dharamshala and Bhimtang, Larkya La Pass is the highest trek point on the Manaslu Trek. The Himlung Himal, Kang Guru, Choe Himal, and Annapurna II can all be seen from the Larkya La Pass.
We descend to Bhimtang, where we will spend the night, after taking in the views from the Larkya La Pass.
We will proceed to Dharapani from Bhimtang. We will be able to savor the views of Phungi, Manaslu, Himlung Himal, and Cheo Himal from the trek.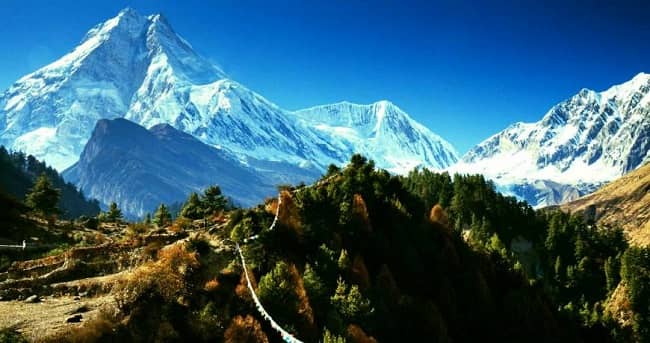 You'll know you've arrived in Dharapani when you reach the long suspension bridge that spans the Marsayangdi.
We will board a bus from Dharapani to Besisahar on the last day of the journey before 3 p.m., as the last bus from Besisahar to Kathmandu departs at 3 p.m. You may need to add a day to the hike if we miss the bus.
The hike around Manaslu is a long one, with several options for side excursions. As a result, our schedule is adaptable to your trek preferences.
We ask that our valued guests arrive in Kathmandu at least two weekdays (office days) prior to the trip departure date since we will need your passport (a photocopy will not suffice) and a Nepal visa in order to obtain the specific trek permit required for the Manaslu Trek. We will host a trip briefing the day before the trip to inform you about the journey and verify you have the necessary equipment (gear/clothing). This package includes public transportation; however, because the road is fairly difficult, you can upgrade to a jeep for an additional fee.
Highlights Of Manaslu Circuit Trekking In Nepal
From Kathmandu to Soti Khola, take a lovely journey.
Views of the world's tallest peaks, including Manaslu (8156m), Lamjung Himal, Mt.Annapurna II, and others.
Trek through the gorge of the Budhi Gandaki River.
Larkya La Pass (5,106m/16,751ft) is the highest point on the route.
Fascinating flora and animals, with the chance to see endangered species such as snow leopards
Pay attention to Hindu and Buddhist cultures.
Manaslu Conservation Area is a great place to hike.
Benefits Of Manaslu Circuit Trekking In Nepal
On arrival, a private vehicle will transport you from Tribhuvan International Airport to your accommodation, and vice versa on departure.
During the trek, we will store any surplus luggage for free in our business store.
Pulse oximeters are used to measure blood oxygen saturation levels at high altitudes in order to spot early indicators of altitude sickness and other health problems.
Medical supplies
If you don't have your own, sleeping bags and down jackets can be rented.
Equipment list for Expedition
We recommend that you bring only the essential clothing and equipment for the walk. Your primary luggage will be carried by porters, but your luggage weight limit is 9kg. A porter will be shared by two hikers, and they will not carry more than 18kg of luggage. We do, however, expect you to bring a backpack with all of your important documents and valuables. You may buy or rent clothing and equipment in Kathmandu, but make sure you get the proper size.
Although we recognize that you have your own tastes, we have compiled a list to assist you in packing.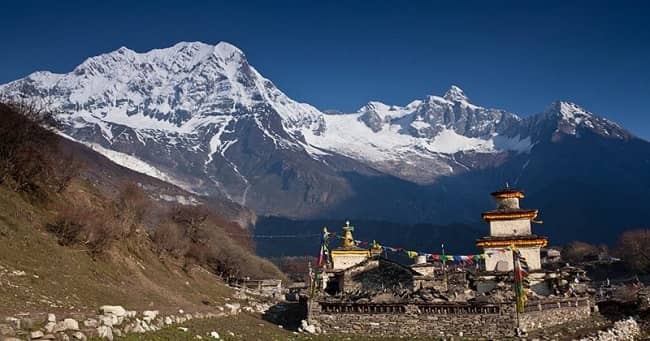 Head
Scarf or hat for the sun
Winter hat, insulating hat, or a hat with a wide brim
Extra batteries for the headlight
Face
Sunscreen
Sunglasses that block UV rays
Wipes for the face and body
Hands
Lightweight gloves

Heavyweight winter gloves
Body
Shirts for hiking
Shirt with a long sleeve made of synthetic fiber.
Rain jacket with hood
Jacket made of fleece
Cotton pants that are light and airy.
T-shirt (bring lightweight wool)
Underwear made of polypropylene
Jacket with down feathers (available for rent in Kathmandu)
Sweater
Jacket and pants that are waterproof
Footwear
Boots for Hiking
Socks made of thick wool (Take an extra pair of thick light socks)
Essential gear
A daypack or a backpack (Size depends on whether you take a porter or not)
Bottle with a heating element
Purification of water
Pole for hiking
Bag for sleeping (-15 degree bag is best for high altitude trekking)
Toiletries
a drying towel of medium size
Toothbrush
Toothpaste
Deodorant/floss/toilet paper
Biodegradable soap in a bar
a pair of nail clippers
Mirror, little
Personal accessories
Money

Watch

Cell phone

Camera
Extra items
Kit for first aid
Extra passport pictures and passport photocopies
Pencil and notebook
Binoculars
Cost, Accommodation, Best Time & Info of the trek
Why should I consider going on this Trek?
The Manaslu trek takes you through a rural Nepal region that is relatively new and undeveloped. Because settlements are few and far between, you'll spend much of your time in nature, away from the everyday grind.
The Manaslu Circuit Journey Start
You'll arrive in Kathmandu at least two weekdays (office days) before the trek's start date. This is necessary since obtaining restricted area permission to Manaslu will take one day, and we will require your passport and visa to apply for this permit. This day will also be used for trek briefing. We'll double-check your bags at the trek briefing to make sure you have everything you need. We'll also use this time to deliver important trek information. We drive from Kathmandu to Sotikhola through Arughat on the trip's departure day, which is where the trek route begins.
The package includes local transportation (KTM to Arughat to Soti Khola, then Dharapani to Besisahar, and back to Kathmandu). For an additional fee, we can arrange a private jeep.
Free airport pick-up/drop service
For valued clients who have booked a package with us, we provide complimentary airport arrival and departure transfers. At the airport, our agent will be holding a leaflet with your name on it. They will greet you and give you a marigold garland or khada as a welcome gesture before driving you to your accommodation in a private vehicle.
We ask that all of our valued clients arrive in Kathmandu by 3 p.m. at least one day prior to the trip departure date. We need time to conduct a trip briefing, during which we offer you information on your journey and inspect your equipment (luggage) to ensure that you are well prepared for the walk.
Accommodation Details During The Trek
The Manaslu Circuit tour includes a fifteen-night stay at the best lodges in the hiking districts. At Sotikhola, Namrung, Lho, Samagaun(2N), Bhimtang, and Gho, we give seven nights' accommodation in rooms with a private connected bathroom. At Machha Khola, Doban, Philim, Deng, Ghap, Samdo, Dharamsala, and Dharapani, you will stay eight nights in a standard room.
Hotel accommodations in Kathmandu for three nights before and after the trek may be required, but they are not included in the package. There are hotels in Kathmandu to suit all budgets and inclinations.
In trekking locations, hot showers and Wi-Fi will be offered at an additional cost.
The Meals During The Manaslu Trek
Because the Manaslu Trek takes you to remote high altitudes in the Himalayas, you'll need enough nutritious meals. In hiking regions, you will find plenty of hygenic and nourishing meals. The menu, on the other hand, gets shorter as you move higher.
During the walk, we will feed you 12 breakfasts, 12 lunches, and 11 evenings.
The following are some of the most popular menu items:
Oatmeal, Corn Flakes, French toast with jam, butter, and cheese, Honey Tibetan bread or Chapati, and local Tsampa porridge are among the twelve breakfast options. Eggs, pancakes, muesli bread, fruits and vegetables, and hot beverages (varieties of teas and coffees, hot chocolates, etc.)
Dhal, Bhat, Tarkari, Tibetan Bread, Soups, Momo (dumplings), Macaroni meals, Tenduk Spaghetti Noodles, Thukpa, Pasta, Vegetable curry, Potatoes, Vegetables, Salad Pizza (Tomato, Mushroom, Mixed), Snacks (Papad, Prawn), Desserts (Rice Pudding, Apple Pie), etc.
Eleven dinners: Dhal, Bhat, Tarkari, Tibetan Bread, Soups, Sherpa Stew, Steaks, Sandwiches, Momo (dumplings), Macaroni, Tenduk Spaghetti, Noodles Thukpa, Pasta, Vegetable Curry, Potato items, Vegetable and Salad Pizza (Tomato, Mushroom, Mixed), Snacks (Papad, Prawn), Korean Raman, Desserts (R
We look for lodges that serve cuisine that is fresh, clean, pleasant, and nutritious. The menu includes native, Asian, and western cuisine, however, the menu gets shorter as you climb higher. Fresh veggies and plenty of liquids (green tea, lemon tea, hot lemon, ginger tea, garlic soup(must), etc.) are recommended.
Though non-vegetarian options will be plentiful in trekking areas, we do not advocate them due to cleanliness concerns. At high heights, we also recommend avoiding dairy products, alcoholic beverages, caffeinated beverages, and hot chocolates.
All personal bills are excluded from the package, including alcoholic beverages, hot (tea, coffee), and cold drinks at tea houses/ lodges/ cafés, with the exception of conventional meals (breakfast, lunch, and dinner with seasonal fruits).
Best time for the Trek
At some times of the year, this is a simple hike. Manasu Circuit Trek is only available from February to June and August to December.
The optimum months to climb Manaslu are March to May and September to November. During the winter months of December to February, heavy snowfall closes the lodges in Dharamsala, making it difficult to cross the Larkya La Pass.
The rainy season, which lasts from June through August, is prone to landslides and slips. As a result, we do not advise anyone to go trekking during the cold or rainy seasons.
Manaslu Trek – March to May (Spring)
The greatest time to walk the Manaslu Circuit is now. The weather is ideal, and you'll have spectacular views of Mt. Manaslu and the surrounding glaciers.
Temperatures begin to rise in mid-March, and with bright skies, the snow mountains are at their most beautiful. Lowlands begin to heat up in April and May. In the high mountains, the temperature is neither chilly nor hot. The temperature drops significantly at night. This is a popular trekking season for many people. The rhododendron flowers in various colors may be seen from the path. Temperatures in the highest mountains (Lho, Samagaun, Samdo, Dharmasala, and Bhimtang) can reach 18°C during the day and -4°C at night.
Manaslu Trek- September to November (Autumn)
This is also one of the best times to go on the Manaslu trek in Nepal, which attracts a large number of trekkers. As the monsoon begins to fade, a great trekking climate emerges. The temperature reaches 20°C during the day and drops to -6°C at night.
As the season progresses, the skies clear up, revealing breathtaking views of the mountains. Many hikers go during this time to enjoy the festive atmosphere. Dashain and Tihar, two of Nepal's most important festivals, fall at this time.
Because of the sunny sky and bright days, November is the busiest month. The daytime temperatures are fairly consistent and stable, allowing you to enjoy the scenery, which includes towering snowcaps. The temperature begins to drop in December, and snow begins to fall, making the walk nearly impossible.
The weather in the mountains is fickle and changes frequently.
Acclimatization
Altitude sickness is prevalent among trekkers in high mountains and can be avoided, but if it is severe, it requires rapid treatment. Symptoms of altitude sickness are most common at levels above 3500 meters. We spend four to five nights in trek zones with altitudes over 3500m after leaving Samagaun (3530m / 11581ft). The highest point of our journey is Dharamsala, at 4480m (14698ft).
To avoid mountain sickness, we created the 16-day Manalsu Circuit Trek. Starting from Sotikhola (730m), we hike for seven days to reach Samagaun, giving our bodies enough of time to acclimate to the high altitude.
We'll also be ascending gently and stopping at Samagaun for a day. In addition, we will drink enough of water every day of our walk to ensure a smooth crossing of the Larkya La Pass.
We value your health and safety above all else, and we pledge that we will not jeopardize it at any cost. We will descend promptly if you are gravely affected. The trip leader has the authority to decide whether the team should descend or continue on the routes, taking into account everyone's best interests.
Manaslu Trek Trip Grade: Fitness level | Medical Advice & Health Requirements
The Manaslu Trek Trip grade is a difficult yet rewarding trek. Because trekking at high elevation is challenging, you will be trekking for 5 to 7 hours in the highlands. To cross the 5,160m Larkya La Pass, you must be physically healthy and able to hike 4 to 6 hours per day.
It would be advantageous if you have prior trekking expertise. This trek is suitable for fit novice trekkers. However, the more fit you are, the more enjoyable this walk will be. At least one month prior to the walk, we recommend that you engage in stamina-building activities such as cycling, swimming, or going to the gym on a regular basis.
We take many rests to admire the mountain views, so trekking at the locations is fairly comfortable.
Long climbs, sharp descents, and forward trails in rocky slopes and woodlands are all part of the journey routes. This walk is not recommended for people with delicate medical problems such as heart or lung disease.
Manaslu Trek in Group | Private Tours in Manaslu Region
A minimum of two trekkers is required for the Manaslu Circuit Trek. The group will be led by our qualified trek leader. We assign an assistant guide to groups of 12 or more. The larger your group, the greater the discount you will receive. You will not receive discounts if we form a group.
The Manaslu Climb takes place in a restricted area, and special permits are only provided to groups of at least two trekkers due to the nature of the trek. We welcome lone trekkers to our group, but we are unable to organize Manaslu Circuit treks for them.
A typical day on the Manaslu trek
Every day takes you to new destinations as you travel through beautiful landscapes and lush vegetation. You'll be snapping pictures, touring local communities, trying new foods, and seeing high-altitude species and lifestyles while taking in the breathtaking Himalayan backdrop.
Our guide/Sherpa will accompany you on the journey, showing you around and providing you with information about the areas you will be seeing. Porters will be assigned to carry your bags.
The day begins with a nice cup of tea or coffee in the morning, followed by a hearty breakfast, before setting out on the trails between 7 and 8 a.m., depending on the length and nature of the journey. You will have lunch after three to four hours of trekking, followed by an hour of recuperation. Then we'll continue on our way; the afternoon walk will be shorter in general. We nibble on extra dietary food after we arrive at our location. You'll have time to explore the area before it gets dark. Dinner will be served at approximately 7 p.m.
We engage in cordial chats and review the events of the day after dinner and before going to bed. The excursion leader/guide will give you an overview of the next day's activities. You can read books, learn Nepali phrases from the crew, watch mountaineering movies, or play games like monopoly or cards after the briefing.
How to Communicate During the Trek?
For a nominal fee, you can use the internet at the lodges, but after you reach high elevations, you'll have to communicate via phone.
Our office will connect with all of our valued clients by Signal, WhatsApp, phone, Messenger, and other means at least once a day to ensure that they are fine, safe, and comfortable.
You might get some signals along the route, depending on the network you're using, but they're not particularly strong at high altitudes. In Kathmandu, though, you may easily obtain a local sim card.
In most cases, you will be able to connect to the internet at all of the lodges/hotels where you will be staying.
Wi-Fi is usually available during the walk-in lodges/lodges for an additional fee.
Extra personal expenses on trekking
In Kathmandu, the clients are responsible for their own meals and lodging. You may book them conveniently online, or we can do it for you if you want.
Similarly, you must pay for visa processing, travel insurance, beverages, trip snacks, hot and cold drinks, souvenirs, and tips to trekking crew members, among other things. Bringing cash (Dollars) and changing it to Rupees is recommended. In the Nepali market, only Rupees are accepted.
Electricity, battery recharge, water on trekking
In all lodges, electricity for camera and phone recharge is available at an additional expense. During the trip, you can either buy pre-packaged mineral water or bring boiled water with you. You will also receive a water-purifying pill.
We advise against drinking water from rivers or taps because the water may be contaminated.
Trek travel insurance
This Trek requires travel insurance. Before beginning the hike, all trekkers must produce a copy of their comprehensive travel insurance policy certificate to us. Medical and emergency repatriation must be covered, as well as helicopter rescue and evacuation costs at high altitudes (up to 6000m).
Based on the experiences of our former clients, we may recommend insurance firms to you. We do not, however, sell insurance coverage. Within a week of booking the trek, we ask that all trek participants provide us with their comprehensive insurance information. In an emergency, we'll prepare a speedy, successful rescue using your insurance policy and other documentation you supplied us.
Before you acquire travel insurance, call your provider and double-check that it covers helicopter rescue and evacuation up to 6000 meters. Do not rely solely on the material of the insurance company's website.
How to get a visa for Nepal?
Except for Indian nationals, all foreigners must have a valid visa to enter Nepal. At Tribhuvan International Airport and Nepal's borders with India and Tibet, you can obtain an on-arrival visa. Visit www.immigration.gov.np. for additional details.
You'll need a passport that's valid for at least six months, a passport-size photo, and visa fees to apply for a visa. A 30-day visa costs $50 at the moment (to be paid in cash).
A free visa will be given to children under the age of ten. It is strongly recommended that you examine the current regulations. Visa regulations are subject to change at any time. Citizens of China and members of the South Asian Association for Regional Cooperation (SAARC) (Bangladesh, Bhutan, India, Maldives, Pakistan, and Sri Lanka) are exempt from visa fees.
Certain countries' citizens may be denied a visa upon arrival. On-arrival visas are not available for citizens of Nigeria, Ghana, Zimbabwe, Swaziland, Cameroon, Somalia, Liberia, Ethiopia, Iraq, Palestine, and Afghanistan. If you are a citizen of one of these countries, please contact the Nepalese Embassy in your country.
Before we embark on our journey, we'll double-check everything (luggage, equipment, etc.) during our briefing.
Currency Exchange in Nepal | USD to NPR
Nepali Rupees (NPR/Rs) are the local currency.
(1 USD = ~ Rs.124 NPR).
You can exchange major foreign currencies through local banks and legitimate money exchanges in Kathmandu and all over Thamel. Legitimate money exchanges display their ongoing exchange rates visibly to the public.
Please note – only 100 INR (Indian Rupees) and 2000 INR notes are legal in Nepal.
Despite having the security advantage of traveler's cheques, we prefer cash exchange. It helps avoid lengthy processes and high bank commissions. 
You can withdraw cash (in Rupees)from ATMs all over Kathmandu and Thamel itself. Many of these ATMs are open around the clock. The maximum withdrawal amount is 35,000 Rupees for a 500 Rupees processing fee for foreign cards.
If you use the money exchange facilities at banks and financial institutions, they impose a service charge fee of about 4% or more.
During the trek, there are no banks and money exchange services so you should exchange your money in Kathmandu, depending on how much personal expense you require. Only Nepali Rupee is accepted in trekking regions.
Most established banks in Asia will only accept foreign currency notes that are not old, torn, or faded. Please ensure that you have new, clean notes.
How much luggage can I take during the Trek?
Your luggage must not exceed 9 kilograms per trekker. One porter will be allocated to each of the two trekkers, and the total weight of their luggage should not exceed 18 kg. Our porters are never overworked.
You may, however, need to bring your own knapsack or backpack (with valuables or anything important). Carry only what you need. Excess baggage can be safely stored at your hotel or at our store for no charge.
Before we begin the journey, we will double-check everything (luggage, equipment, etc.) during our briefing.
Trek Safely
All of our clients' safety, security, and happiness are guaranteed by us. We place the highest priority on your safety. For each trip, we will bring all of the essential gear, equipment, and first-aid kits. Our guides and leaders have completed thorough first-aid training.
If a trekker becomes ill as a result of the altitude, we will analyze the situation and keep everyone safe. In the event of an emergency, the rescue chopper will be on standby to transport you back to the lower elevation. Every team member will be together for safety during the walk, and there will be no danger of being lost in hazardous terrains.
Responsible travel
Our philosophy is to photograph the voyage while leaving only footsteps. We believe in sustainable tourism and exclusively offer eco-friendly excursions.
We collaborate with the Kathmandu Environmental Education Project (KEEP) to plan eco-friendly itineraries that satisfy the needs of both tourists and local populations in the trekking areas.
Our Crew
Our knowledgeable guide/Sherpa will accompany us on the trek to ensure your safety and comfort. Your stuff will be carried by porters.
Our members are locals from high Himalayan remote places, and they have exceptional physical endurance at high altitudes.
We value all of our employees, so we pay them well and take care of their insurance, clothing, food, and lodging throughout the trip. When our guides and porters become unwell or injured, they receive medical attention.
Only happy people can make others happy, thus we always make sure that our team members are happy. Members of our trek/expedition team have the following qualifications:
Authorized Trekking Guide Training Certificate
Intensive Wilderness First Aid Training
Fluency in English and another major language
Conservation and Biodiversity Training
Experience with rock climbing
Tipping during trek
Tipping is optional and should be dependent on the quality of service received. A tip is an accepted and respected technique in Nepali society to express gratitude (Dhanyabad) for good service.
On the last day of the walk, the majority of our guests offer advice. The amount you tip is totally up to you, and it may be more or less based on your impression of service quality, the length of your trip, your budget, and your appreciation for their efforts.
100% Guaranteed Booking
We are a government-approved and bonded trek and tour company in Nepal. We are also members of the Nepal Mountaineering Association (NMA) and the Trekking Agency Association of Nepal (TAAN) (NMA). As a result, you may book your trek/expedition with complete trust.
As a deposit, we require 10% of the total trip cost. Within a week of booking, please send your documentation, including a copy of your passport, passport-size pictures, travel insurance policy, and arrival and departure flight information.
You can make a 10% deposit via bank transfer, western union, or online payment on our website, and the full balance when you arrive in Nepal. Cash, bank transfer, and credit cards are all acceptable methods of payment. In addition, you will receive payment choices in your email.
Last-minute Trek booking in Nepal
Even though it is always a good idea to plan ahead for your excursions. However, for those who are unable to do so, we provide a special last-minute booking option. To take advantage of this benefit, you must pay the entire trip cost 24 hours before the trek's departure.
Even while we do our best to plan treks at any time, there is a small potential of a trek delay due to events beyond our control, such as the inability to obtain air tickets or unfavorable weather.
Can I extend my trip?
If you wish to stay in Nepal for a few days after the trip, we can arrange enjoyable activities for you, such as exploring areas in and around Kathmandu, Chitwan jungle safari, paragliding, rafting, canoeing, and so on.
Feedback
We offer a farewell meal at the end of the trek, and we will also award you with a trek completion certificate after dinner (hard copy). It's also a great opportunity to tell us about your experience and provide us feedback.
You may also visit Nepal Tour-Cost, Distance, Itinerary, In Nepal – 10 Days
Overview Of Manaslu Circuit Trekking
The captivating trip to Manaslu mountain (8,156m/26,758ft), the world's eighth highest peak, brings you through a relatively off-the-beaten-path lonely path through breathtaking vistas, furious white water river falls, and deep woods.
The trial will take you around Mt. Manaslu (8,156 m), the world's eighth highest mountain. The Manaslu Circuit Trek passes through various lovely villages, beautiful valleys, and several waterfalls and rivers. Despite the fact that the trail is challenging, only a small number of tourists visit this location, resulting in
Manaslu Circuit Trek is noted for its unique Tibetan Nepali culture, in addition to its breathtaking scenery. Tamang and Sherpa people live in this area. Several tiny villages will be passed through on your trip, giving you the opportunity to observe the people's daily lives.