Introduction To Bhote Koshi River Rafting In Nepal
The Bhote Koshi is Nepal's toughest river for rafting. Both rafting and kayaking are popular on the Bhote Koshi.
With a 46-kilometer run at the Lamosunga dam, the river carves a sharp and direct plunge at the top that progressively eases to more placid streams and calmer pools. At high flow, the rapids are class I4-5, and at lower levels, they are class 3.
It is eight times as steep as the Sun Kosi, which it feeds further downstream, with a gradient of 15 meters per kilometer. The river is sharp and unbroken, with one rapid following another. It takes roughly 3 hours to drive from Kathmandu to the start site on the Bhote Koshi River in a private vehicle.
It's a thrilling and challenging river, but it makes for the best two days of rafting. Because the Bhote Koshi River is not far from Kathmandu, it is easily accessible by private car or jeep along the highway.
Lamosangu is about a three-hour journey away through the Araniko Highway. The route is full of curves and beautiful scenery that will astonish you every time you glance out the window.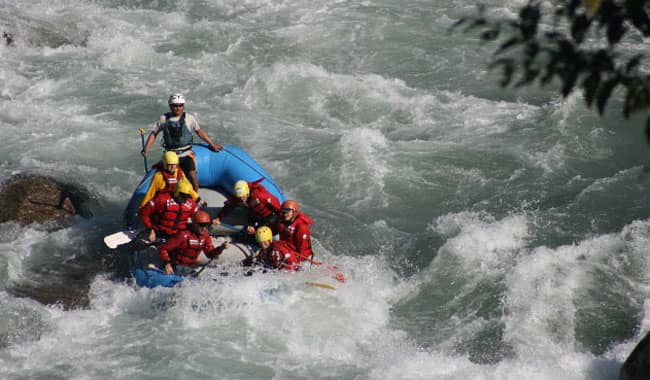 The Bhote Koshi is a difficult river in and of itself, as evidenced by the view from the highway on the way to the rafting entry point. Barabise marks the end of the upper Bhote Koshi, whereas Lamosangu Dam marks the beginning of the lower Bhote Koshi. Rafting put-in – Lamosangu is the starting location.
Because of the large water flow stream in the river, rafting in this river is difficult. Expert rafters can withstand some rapids that stop you from breathing and straighten your hair while you're rafting.
Highlights Of Bhote Koshi River Rafting In Nepal
Natural rafting rapids are a lot of fun.
Examine the country's river environment.
Spend campfire nights along the river's edge to make your journey even more unforgettable.
Observe the Nepalese way of life in the countryside.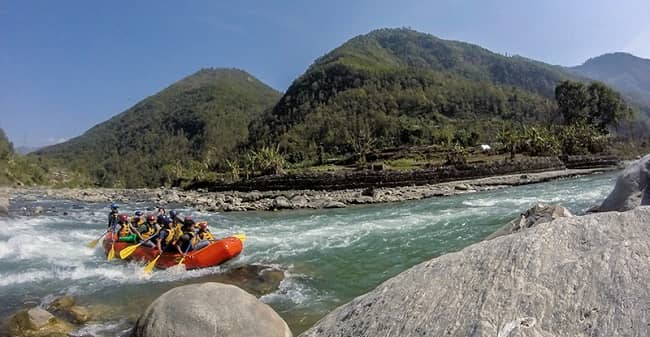 Trip Information
How your Journey will Start Towards Bhote Koshi River Rafting
You will arrive at Tribhuwan International Airport in Kathmandu, Nepal's only international airport. Arrival in Kathmandu necessitates an overnight stay in a hotel. The next day, we'll take the bus or a local vehicle to our location.
Don't Worry Transportation Is Included In Package
For clients who have bought the trek package, we provide free airport arrival and departure transfers on any airline. A leaflet with your name and our firm name will be held by our agent. They will greet you with a khaki or marigold garland before transporting you to your accommodation in a private vehicle.
Money exchange
You can exchange major foreign currencies through local banks and legitimate money exchanges in Kathmandu and all over Thamel. Legitimate money exchanges display their ongoing exchange rates visibly to the public.
Please note – only 100 INR (Indian Rupees) and 2000 INR notes are legal in Nepal.
Despite having the security advantage of traveler's cheques, we prefer cash exchange. It helps avoid lengthy processes and high bank commissions. 
You can withdraw cash (in Rupees)from ATMs all over Kathmandu and Thamel itself. Many of these ATMs are open around the clock. The maximum withdrawal amount is 35,000 Rupees for a 500 Rupees processing fee for foreign cards.
If you use the money exchange facilities at banks and financial institutions, they impose a service charge fee of about 4% or more.
During the trek, there are no banks and money exchange services so you should exchange your money in Kathmandu, depending on how much personal expense you require. Only Nepali Rupee is accepted in trekking regions.
Most established banks in Asia will only accept foreign currency notes that are not old, torn, or faded. Please ensure that you have new, clean notes.
Safety During Rafting
We ensure the safety, security, and contentment of our clients. For us, the most crucial concern is safety. We will be carrying all of the necessary gear, varieties of equipment, and first-aid kits for the rafting in case of a worst-case scenario. Our leaders and guides are well-versed on the subject and have received comprehensive first-aid training.
If a rafter becomes uneasy owing to the river's current, it is up to the leader to decide whether or not to continue, as health is paramount. During the rafting, each group will stay together to ensure that no one gets separated.
Benefits Of Rafting With Us
Experts With Years Of Experience
Hassle-Free Booking
No Booking Fees or Credit Card Fees
Your Happiness is Guaranteed
Best Price Guarantee
You may also visit Joy of Rafting over the Trisuli River-Cost, Distance, Itinerary, In Nepal – 1 Day
Overview Of Bhote kosi River Rafting
The Bhote Koshi River Rafting is a thrilling whitewater excursion on a river that is both a rafting and kayaking challenge. The Sun Koshi River's main branch, which comes from Tibet, is easily accessible from Kathmandu and Pokhara.
The Bhote Koshi River Rafting offers a variety of fascinating gorges between mountain valleys, springs, and hills, among other things. These gorges are breathtakingly beautiful, and the rapids are difficult to navigate due to the river's strong current.
The Bhote Koshi rafting adventure is the closest Grade 5 whitewater rafting experience on a glacier that is rapidly flowing. The Bhote Kosi river, which rises from Tibet's snow-capped hills, offers some of the most spectacular adventure activities, including rafting, kayaking, canoeing, and more.