Introduction To Tilicho Lake Trek In Nepal
The Tilicho Lake Trek, located in the Manang District of Nepal's Annapurna region, is noted as the world's most notable lake visit. Tilicho Lake is located at a height of 4,919 meters.
Tilicho Lake Trek is very known for its religious perspective among the several Annapurna treks. This lake attracts a large number of Hindu pioneers from all over the world.
This short trek to Tilicho will undoubtedly reward you with a magnificent all-encompassing view, an incredible array of culture and decent variety, the best profound valleys and high mountains surrounding the massive Annapurna Himal, and the best profound valleys and high mountains surrounding the enormous Annapurna Himal (Mountain).
The area is diverse in terms of people and territory, ranging from sub-tropical to a high, dry landscape resembling the Tibetan Plateau. The Tilicho Lake Trek trail takes you to a lovely town with a diverse population of people from various ethnic groups.
If you do the Tilicho Lake Trek via Muktinath, you will have the opportunity to see and explore the temple and water gushes in Muktinath. Buddhists and Hindus both regard the location as sacred.
As you approach Manang, you will notice a rapid change in the environment, which will become increasingly dry and frigid.
This is an excellent trekking package for all those hikers who want to experience this underappreciated region by walking slowly.
Also for those seeking pure culture, a new environment and vegetation, bright viewpoints on the Annapurna range, and the magnificence of a tranquil lake (Tilicho Lake), among other things.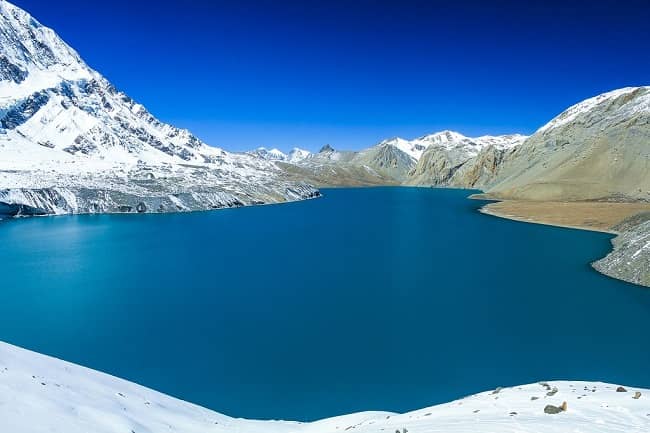 As the trail begins in subtropical temperatures and ends at the snow line, we will experience a variety of sceneries every day. It is a fantastic and authentic opportunity for nature lovers to witness a lake at this height, and it is also well-known from a religious standpoint.
Tilicho Lake Trek with Nepal Trek Adventure and Expedition may be the perfect option for you if you want to see a dream location with a lake, forest, dry landscape, and other natural wonders.
Personal and professional, we give you the best of everything (all you'll need for the Tilicho Lake Trek). You will be able to choose your own trek schedule at the finest and most affordable price.
You are free to change the itinerary as you see fit. You'll also be able to hire guides and porters to help you in the best, medium, and worst-case scenarios. We guarantee that we will add a lot more pride and self-satisfaction to your great walk to Tilicho Lake.
Highlights Of Tilicho Lake Trek In Nepal
A scenic drive will take you to the trek's starting point.
Beautiful Villages to Trek Through
Throughout the trek, you will be treated to breathtaking scenery.
Learn about the locals' rich culture and traditions.
Tilicho Lake, the world's highest lake, is worth visiting (4,919m).
The Mesokanto La Pass is traversed (5,469m).
In the Trata Era, Kak Bhusundi narrated the Ramayana on this historical holy lake.
Panoramic Views of Tilicho Peak, Mt. Gangapurna, Thorong Peak, Annapurna Range, Mt. Fishtail, and Other Mountain Ranges
Accommodations
We give a two-star equivalent hotel in Kathmandu, such as an international guest home with a bed and breakfast. In the lowlands, we provide an adjoining toilet room for walking. In peak season, it is difficult to find attached toilet rooms and single rooms as we ascend higher in height. During peak season, we must share a room. However, if possible, we attempt to provide single rooms.
Foods and drinks
We can acquire all kinds of meals while trekking and choose from a menu to eat as much as we like. We do not recommend eating any meat brought by local porters on a 2-3 day hike through the lowlands. They are not permitted to kill any animals in the trekking area. We advocate eating a variety of vegetarian foods as well as eggs. As soon as you get to Jomsom, Pokhara, or Kathmandu, you can consume beef. On the trekking path, you can obtain a variety of refreshments. Mineral water, boiling water, or purified water are the best options. Our guide will present you with a purifying tablet. In tea rooms, you can have a variety of cold drinks and beers.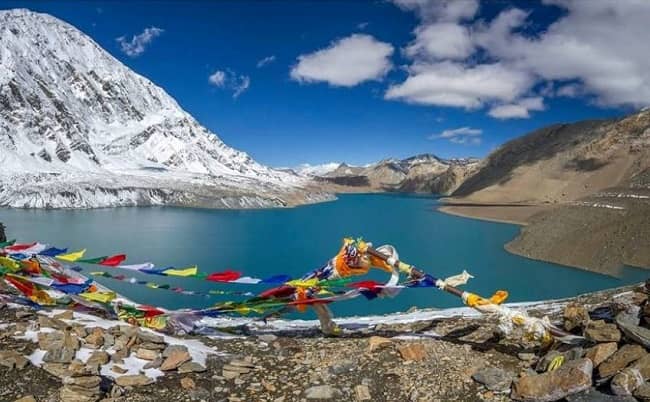 Guide and porter
We provide English-speaking guides, with certain guides also being able to communicate in other languages such as Chinese, German, French, Spanish, Italian, and Russian. This price does not cover the purchase of an additional language guide. We can supply an extra language guide at an additional cost if the guest requests it. Our porters and guides are extremely helpful, friendly, and committed to their jobs. Every day, they send us messages regarding the guest's situation and the weather in Trekking.
How difficult is the hike to Tilicho Lake?
The Tilicho Lake Trek is a strenuous hike due to the greater elevation, but it is rewarded with hundreds of stunning views. It will be easier if you observe a few laws and regulations before beginning your walk to Tilicho Lake. The majority of tourists suffered from high-altitude sickness and exhaustion.
High-altitude illness begins at 3000 meters (9700 feet), and you must travel 5467 meters (17767 feet) to reach Mesokanta la pass. Tourists may easily acclimate and the journey will be easy if they walk slowly and steadily with several stops on the approach to the trek.
On the way to the walk, there are tea shops every 1 to 2 hours, where tourists can have enough liquids and relax to avoid high altitude sickness and exhaustion. Because there aren't many hills that go up and down. The hiking track ascends steadily, with only a few steep sections.
The trail from Shree Kharka to Tilicho Base Camp is very little and narrow. Rolling stones fall from the sky above the trekking trail, and they strike the man like a bullet from a gun. We must be extremely cautious for the whole of the two-hour stroll. The hike from Tilicho base camp to Jomsom is the longest.
If feasible, exercise walking up and down steep hills. Jogging and swimming are also beneficial. Any workout that is convenient for you and aids in your fitness is suggested.
You may also visit Joy of Rafting over the Trisuli River-Cost, Distance, Itinerary, In Nepal – 1 Day
Overview Of Tilicho Lake trek
Tilicho Lake Trekking is an adventurous journey to explore the Tilicho Lake's beauty as well as the tough trekking terrain. Tilicho Lake is the world's highest lake, standing at 4920 meters above sea level.
The avalanche's thunderous boom and the tranquility of Tilicho Lake are quite remarkable. The trail between Shree kharka and Tilicho base camp is both perilous and beautiful. This track is only suitable for those who like a challenging route.
Another highlight of this walk is a herd of blue sheep and Yaks. Before embarking on this trek, tourists should seek clarification from a trekking specialist. The vista from the Tilicho top is quite breathtaking. If some persons wish to walk from Jomsom to Mesokantula Pass, it will take them about 13 hours. Otherwise, return to the same route till you reach Shreekharka, then head to the yak kharka and climb through the Thorongla pass.