Introduction To Bhandar to Everest Base Camp Trekking In Nepal
The Bhandar to Everest Base Camp Trek is a famous Everest hiking route that connects the lower and top regions of the mountain.
This region is home to Mount Everest (8,848m), the world's highest mountain, as well as three of the world's six tallest summits, Lhotse, Cho Oyu, and Makalu, which tower above everything else.
This legendary foothill, which Edmund Hillary and Tenzing Norgay Sherpa traversed during their 1953 expedition to the mighty Everest, provides an unparalleled opportunity to experience the best of outdoor adventure and cultural exploration in the Khumbu region through the grandest hiking in the Himalayan land.
In addition to visiting Sagarmatha National Park, the world's highest-altitude Buddhist monastery, Tengboche Monastery, the pristine blue Gokyo Lake, Gokyo Ri, Ngojumba Glacier, Khumbu Glacier, and icefall, adventurers can leave their mark at Kalapatthar and Everest Base Camp, which is an ultimate goal for all adventurers.
A growing number of people have put Everest at the top of their bucket list of places to visit for a once-in-a-lifetime trip. In comparison to the time when Edmund Hillary and Tenzing Norgay Sherpa used it – when it was simply a dream for passionate trekkers – turning a dream into an accomplishment of Everest Base Camp hiking is today easy enough and doable through well-formed trekking paths.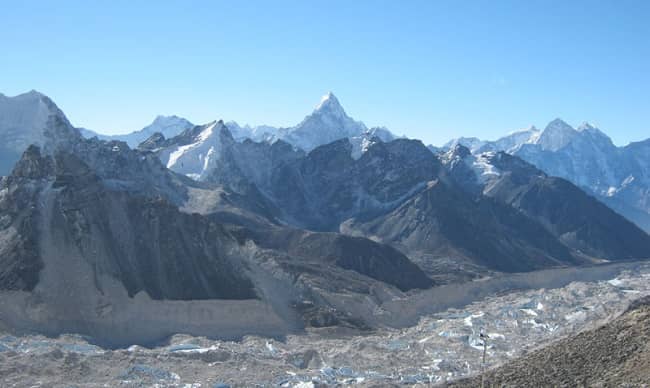 We begin our trek from Jiri with a scenic drive from Kathmandu, exploring the unexplored lower Khumbu valley through remote but beautifully decorated dense Rhododendron flower into off the beaten trail, following Hillary and Tenzing's classic footpath to the most iconic base camp of Everest, the highest mountain on the earth.
We reach the popular Sherpa hamlet of Namche – gateway to Everest Trekking and Expedition – after crossing the Dudh Koshi and Bhote Koshi Rivers via a suspension bridge. Spending an extra day here allows you to acclimatize your body to the high-altitude environment, see Buddhist temples, museums, the world's highest hotel, and the airport, and get a first look at the surrounded beautiful towering peaks of Thamserku, Amadablam, and many more.
Following the yak trail after Namche makes walking more fun; magnificent peaks approach closer as we got higher, as though welcome us with a white snow smile.
Visiting Tengboche monastery, renowned as the largest and most important monastery in the Khumbu region, at the top with the breathtaking Himalayas all around, gives us a strong sense of exhilaration and understanding that the walk is worth continuing.
The trek ascends to Kalapatthar's highest point, where you may stand face to face with Mount Everest (8,848m), the world's highest mountain, and observe other imposing and intimidating summits up close.
We travel to Everest Base Camp to see the legendary glistening Khumbu icefall route used by the Everest expedition and pass the Cho La Pass for a stunning vista of Mount Everest. At Lukla, we finish our Jiri to Everest base camp trek package by spending some nights on the various routes. We arrive in Kathmandu after a 35-minute flight from Lukla.
To summarize, reaching Everest's base camp is more than just a hike across the mountains. The Jiri to Everest Base Camp walk is a 21-day adventure trek designed for trekkers of all ages who want to see the untouched natural beauty of the lower Khumbu valley while avoiding aircraft delays and the risk of altitude sickness to a large extent.
Highlights Of Bhandar to Everest Base Camp Trekking In Nepal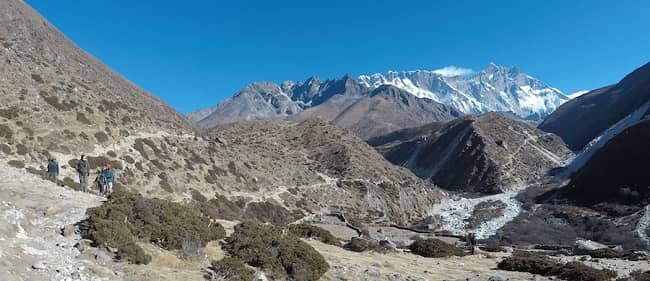 Edmund Hillary and Tenzing Norgay Sherpa took the traditional footstep route.
Yak farm and cheese in the Khumbu region's unexplored lower valley
The best way to improve your Attitude is to practice it. Preventing illness
Suitable for people of all ages
Views of mountains exceeding 8,000 meters, including the world's highest peak, Mount Everest (8,848m)
Benefits Of Bhandar to Everest Base Camp Trekking In Nepal
Private transportation from the airport to the hotel on arrival and departure.
To check blood oxygen saturation levels at high altitudes, bring a pulse oximeter. It's a crucial signal for spotting early indicators of imminent altitude sickness and other health hazards.
Medical Supply Kit
If you don't have your own, make arrangements for sleeping bags and down jackets.
Equipment Checklist
Equipment list for Bhandar to Everest Base Camp Trekking
While packing for the Bhandar to Everest Base Camp Trek, it is recommended that you consider the following list of clothing and supplies. These are simply a reminder that a list of these equipment items should be prepared with the comfort, convenience, and enjoyment of your vacation in mind.
We recognize that you may have your own distinctive style of clothes that is equally appropriate. We never advise our clients to bring equipment that is not required for the hike. Porters who assist with luggage have a weight limit and are not permitted to carry more than 20 kg on the journey. These items can be purchased or rented in Kathmandu as well.
Head
Scarf or hat for the sun
Winter hat, insulating hat, or a hat with a wide brim
Extra batteries for the headlight
Face
Sunscreen
Sunglasses that block UV rays
Wipes for the face and body
Hands
Lightweight gloves

Heavyweight winter gloves
Body
Shirts for hiking
Shirt with a long sleeve made of synthetic fiber.
Rain jacket with hood
Jacket made of fleece
Cotton pants that are light and airy.
T-shirt (bring lightweight wool)
Underwear made of polypropylene
Jacket with down feathers (available for rent in Kathmandu)
Sweater
Jacket and pants that are waterproof
Footwear
Boots for Hiking
Socks made of thick wool (Take an extra pair of thick light socks)
Essential gear
A daypack or a backpack (Size depends on whether you take a porter or not)
Bottle with a heating element
Purification of water
Pole for hiking
Bag for sleeping (-15 degree bag is best for high altitude trekking)
Toiletries
a drying towel of medium size
Toothbrush
Toothpaste
Deodorant/floss/toilet paper
Biodegradable soap in a bar
a pair of nail clippers
Mirror, little
Personal accessories
Money

Watch

Cell phone

Camera
Extra items
Kit for first aid
Extra passport pictures and passport photocopies
Pencil and notebook
Binoculars
Trip Information
Accommodation
During the Jiri to Everest Base Camp Trekking package, you will spend three nights in a selected hotel in Kathmandu (including before and after the walk) and sixteen nights in mountain local lodges known as tea houses (eating and sleeping in the same area).
Kathmandu boasts a wide choice of hotels to suit all budgets. If you want to improve your hotel in Kathmandu, we will make a reservation based on your preferences and budget details. On the journey, tea houses are pretty basic, with a magnificent wide lounge dining room that is generally furnished with colorful traditional rugs and woods.
Some areas, such as restrooms and washing facilities, may have to be shared; however, it will be a welcoming environment with a warm welcome from the locals. The rooms are set up on a nearly twin-sharing basis, with beds, mattresses, blankets, and pillows. The majority of the tea houses offer a hot shower for a fee. We have solid working relationships with local service providers in the Everest region, and the company ensures that accommodations are booked ahead of time.
Separate single accommodation is not possible to utilize during the busy season and in high places where there are a limited number of tea houses. Please be aware that, in comparison to your home nation, Himalaya standard local lodgings may not meet your expectations. Adventure, local people, and an enriching Himalayan tour will be the best memories of the vacation.
Meals
We only provide breakfast (buffet service) at the hotel in Kathmandu because you will have the opportunity to sample a wide variety of great Nepalese and international cuisine during dinner and lunch, depending on your preferences and budget. The purpose for include breakfast in the package is so that you may get good service early in the morning without having to walk outside. The plan includes three meals for the duration of the hike. With the best selective menu accessible in tea houses or lodges, the dishes are given more emphasis on fresh, hygienic, flavorful, and nutritional. Traditional local, Asian, and western cuisines are represented on the menu. The guide will assist you in making the best menu choices. At high altitudes, we strongly recommend liquids such as green tea, lemon tea, hot lemon, ginger tea, and garlic soup (must), among others.
Best season
Each season has its own set of unique attractions and benefits for trekking in the Everest region. The temperature in high mountain regions is highly dependent on height range; the greater the altitude, the lower the temperature. Trek in Jiri to Everest Base Camp during the best trekking season with the best weather conditions.
Trekking is available from September to November (fall season) and March to June (spring season) (spring season). The daytime temperatures are normally acceptable during these seasons, with bright skies, warm climate conditions, and a spectacular view of the mountains providing an interesting and enjoyable holiday experience. The environment is dry, with normal daytime temperatures ranging from 10 to 15 degrees Celsius.
These temperatures may rise, but nighttime temperatures may dip to – 5 degrees Celsius or lower as we climb higher (if the weather becomes cloudy). During these seasons, Nepal's most important festivals, such as Dashain, Tihar, and Manerendu, take place. Another reason to go hiking in the spring is to see the flowering flowers all across the Himalayas. Trekking on Everest is most beneficial from December to January (winter season).
Despite the cooler weather, the sky is frequently clear and mountain views are at their best. The nights will be bitterly cold, with temperatures dropping to minus 10 to minus 15 degrees Celsius, especially during poor weather, and cloudy at the highest altitude, while the days will be nice and sunny.
At this time of year, the trials are also much less crowded. Trekking in Jiri to Everest Base Camp Trekking during the summer or monsoon season (June to August) is hampered by rain on most days. The nights are cooler than the days, with temperatures ranging from 5 to 10 degrees Celsius at night (between 10c to 25c during the day).
The mornings are normally clear, with clouds forming in the afternoon and then dissipating at night. Trekkers contemplating a trek from Jiri to Everest Base Camp should keep in mind that the weather in the high Himalayas is notoriously unpredictable. Before planning a walk, it is recommended that you check the weather prediction.
Acclimatization
Our 20-day Jiri to Everest Base Camp Trekking itinerary includes eleven to twelve nights over 3500 meters above sea level, where altitude sickness, also known as acute mountain sickness, is more prone to occur. Although altitude sickness is preventable, it can be highly serious and even life-threatening if the symptoms, causes, and therapies are neglected.
This trip includes two days of relaxation at Namche, Dingboche, and Gokyo, via several high-altitude routes. Furthermore, our high Himalayan trek plan provides for a gradual yet constant ascent. All Our trekking leaders and guide have significant first aid training and are well-versed in the Himalayas.
We strongly advise you to contact your group leader and guide so that you can effectively monitor your symptoms. We guarantee your health in the most secure and safe manner possible. Your trek leader or guide advises that the best approach to avoid altitude sickness is to take it slowly and drink enough water (at least 4 liters per day).
Unfortunately, if a trekker becomes severely affected by altitude sickness, the only way to recover is to descend as soon as possible. Please keep in mind that your group leader has the last say on whether or not to continue your ascension based on your general health. It's important to remember that some people are more vulnerable than others.
Trip Grade: Fitness level, Medical, and Health
a period of twenty days Trekking from Jiri to Everest Base Camp is a somewhat difficult trip on Everest. The trek routes on Everest are quite basic in terms of elevation, descent, and following extremely good trails, however, this is a high mountain expedition that requires walking across steep mountains in the Himalayas. Trekkers should be able to hike for at least 5 to 6 hours per day with a small day pack to complete the trek.
Even some days necessitate walking for greater periods of time. Previous hiking experience would be beneficial, but no technical knowledge is required for this excursion. Higher altitude trekking is more physically taxing than lower altitude trekking. 20days Jiri to Everest Base Camp Trekking is for trekkers who are in good health and have a normal level of physical fitness, as well as a positive attitude, self-confidence, and tenacity.
Before embarking on the walk, it is critical to ensure that you are in the best possible health. Participants with pre-existing medical concerns including heart, lung, or blood disorders should let us know before signing up for the walk.
Free transfer
For Jiri to Everest Base Camp Trekking Trip, we give free airport arrival and departure transfers on any aircraft. We give you a special welcome because this is our first meeting and greeting in Nepal; regardless of which flight you take to arrive in Nepal, a smiling representative crew will greet you warmly at the airport with a traditional offering of a Khada or marigolds garland (symbolizing purity, goodwill, auspiciousness, and compassion), and then transfer you to your hotel without any hassle. To take advantage of the free airport transfer offer, complete flight details for both arrival and departure must be mailed in advance.
Trekking group/single
On the walk, groups will typically range from two to twelve people. A leader will accompany groups of four or more people, who will be assisted by an assistant guide and porters. If you are a solo trekker and would want to trek alone, we can arrange a private journey for you at the same price as the group trek, and you will be escorted by one of our highly qualified and experienced guides.
A typical day on the trek
The size of the groups on the walk will usually range from two to twelve persons. Groups of four or more persons will be accompanied by a leader, who will be aided by an assistant guide and porters. If you are a single trekker and would like to trek alone, we may organize a private trek for you at the same price as a group trip, with one of our highly qualified and experienced guides escorting you.
A day of trekking will be rewarded with a one-of-a-kind experience that will allow you to enjoy the landscape, snap photos, and explore the local village at your leisure. During the journey, you will be escorted by an expert guide who is experienced, friendly, and qualified, as well as porters who will carry your luggage. On hiking days, you'll need to bring your compact daypack.
The day begins with a cup of tea in the morning. Each morning, after packing our bags and eating a nutritious breakfast, we leave for the day's walk between 7 and 8 a.m., depending on the length and character of the trek. With a trip of 3 to 4 hours, lunch will be provided at midday on the way to the next site, followed by a one-hour break. The afternoon walk is usually a little shorter, around 2 to 3 hours, and some of our staff depart ahead of us.
Once we get to the overnight lodge, extra dietary snacks are already set up on the table of the large dining hall, and we will have free time after dinner to explore local attractions. Dinner is served between 6 and 7 p.m. Before retiring to bed in the evening, your guide makes an effort to learn each group member's day hiking experience. At the same time, the guide will go through the next day's itinerary with the group.
Following the completion of the trip briefing orientation, the remainder of your time will be spent enjoying and entertaining yourself, whether learning the Nepalese language with Discovery World Trekking crews, playing cards, talking to and chatting with crew members, reliving the day's adventure, or reading books before retiring to your bed for a well-deserved rest.
Communication on trek
During the Jiri to Everest Base Camp Trekking, internet access is accessible at lodges most days for a fee; you will be able to link chat up, and talk to family and friends through your cell phone; but, we will be out of contact on certain days due to the high altitude. If trekkers want it, we can offer them with a separate cellphone SIM card while on the trail.
Normally, Wi-Fi is available during the walk-in lodges/lodges for an additional fee.
Electricity and battery recharge, water on trekking
Electricity for camera and mobile battery recharge is offered throughout the lodges during Jiri to Everest Base Camp Trekking for a fee at all lodges. The majority of the lodges have hydroelectricity, while some have solar panels. Water can be purchased in the form of packed mineral water from local lodges and en-route shops, or boiled water can be filled at an additional fee. Drinking water should have a water purification pill.
You should not consume water from a nearby river, tap, or well since it may not be as safe as it appears.
Extra personal expenses on trekking
In Kathmandu, guests are responsible for arranging their own meals and lodging. The package includes all meals, transport, and lodgings needed for the Trek.
However, lunch and dinner in Pokhara are not included in this package. Pokhara, Nepal's tourist capital, offers a diverse range of dining options. We invite you to explore the city and eat whatever you like.
Trekkers, too, require funds for visa fees, travel insurance policy purchases, beverages, snacks, tips, and mementos, among other things. We recommend bringing cash (in the form of dollars) and exchanging it for rupees in Kathmandu. You can also withdraw money from ATMs in Kathmandu using your credit or debit card.
Passport and visa
Except for Indian nationals, all foreigners must have a valid visa to enter Nepal. At Tribhuvan International Airport and Nepal's borders with India and Tibet, you can obtain an on-arrival visa. Visit www.immigration.gov.np. for additional details.
You'll need a passport that's valid for at least six months, a passport-size photo, and visa fees to apply for a visa. A 30-day visa costs $50 at the moment (to be paid in cash).
A free visa will be given to children under the age of ten. It is strongly recommended that you examine the current regulations. Visa regulations are subject to change at any time. Citizens of China and members of the South Asian Association for Regional Cooperation (SAARC) (Bangladesh, Bhutan, India, Maldives, Pakistan, and Sri Lanka) are exempt from visa fees.
Certain countries' citizens may be denied a visa upon arrival. On-arrival visas are not available for citizens of Nigeria, Ghana, Zimbabwe, Swaziland, Cameroon, Somalia, Liberia, Ethiopia, Iraq, Palestine, and Afghanistan. If you are a citizen of one of these countries, please contact the Nepalese Embassy in your country.
Before we embark on our journey, we'll double-check everything (luggage, equipment, etc.) during our briefing.
Travel insurance
Trekking from Jiri to Everest Base Camp necessitates a mix of proactive and reactive planning. The high mountains are not a place to visit on a whim, as major illnesses and other casualties are known to occur. Before you embark on your journey, be sure you're covered in case of an accident.
Travel insurance is also required as part of the booking process for a Nepal adventure trek. A full trip insurance policy covering medical and emergency repatriation, as well as helicopter rescue and evacuation fees for trekkers at high altitudes, is required to participate in Jiri to Everest Base Camp Trekking.
We can make insurance company recommendations if our assistance is required, but we do not participate in the marketing of insurance policies. Trekkers who do not have sufficient insurance or who do not have travel insurance are not allowed to participate in Jiri to Everest Base Camp Trekking.
In the event that our valued client experiences an emergency, the company will forward the trip paperwork processing to the insurance carrier based on your prior information submission data in order to aid in the rescue operation and transfer to the hospital for treatment. After you've booked the trek, you'll be asked to give the details of your insurance.
Check with your insurance carrier to see whether they will cover the cost of a mountain rescue service, even if you are trekking at the greatest elevation.
Before you acquire travel insurance (don't just believe what they say on their website), phone them and double-check that they offer heli-rescue and evacuation up to 6000 meters, depending on your trekking height.
Our Crews
Our knowledgeable guide/Sherpa will accompany us on the trek to ensure your safety and comfort. Your stuff will be carried by porters.
Our members are locals from high Himalayan remote places, and they have exceptional physical endurance at high altitudes.
We value all of our employees, so we pay them well and take care of their insurance, clothing, food, and lodging throughout the trip. When our guides and porters become unwell or injured, they receive medical attention.
Only happy people can make others happy, thus we always make sure that our team members are happy. Members of our trek/expedition team have the following qualifications:
Authorized Trekking Guide Training Certificate
Intensive Wilderness First Aid Training
Fluency in English and another major language
Conservation and Biodiversity Training
Experience with rock climbing
Tipping
Tipping is accepted and respected in Nepali society, and it is a form of expressing thanks. Tipping is at the discretion of hikers and is based on service quality. We recommend tipping at the end of the hike and as a group.
Money exchange
Nepali Rupees (NPR/Rs) are the local currency.
(1 USD = ~ Rs.124 NPR).
You can exchange major foreign currencies through local banks and legitimate money exchanges in Kathmandu and all over Thamel. Legitimate money exchanges display their ongoing exchange rates visibly to the public.
Please note – only 100 INR (Indian Rupees) and 2000 INR notes are legal in Nepal.
Despite having the security advantage of traveler's cheques, we prefer cash exchange. It helps avoid lengthy processes and high bank commissions. 
You can withdraw cash (in Rupees)from ATMs all over Kathmandu and Thamel itself. Many of these ATMs are open around the clock. The maximum withdrawal amount is 35,000 Rupees for a 500 Rupees processing fee for foreign cards.
If you use the money exchange facilities at banks and financial institutions, they impose a service charge fee of about 4% or more.
During the trek, there are no banks and money exchange services so you should exchange your money in Kathmandu, depending on how much personal expense you require. Only Nepali Rupee is accepted in trekking regions.
Most established banks in Asia will only accept foreign currency notes that are not old, torn, or faded. Please ensure that you have new, clean notes.
Luggage
Porters will be assigned to carry your luggage if it exceeds the weight restriction. One porter will be allocated to two persons, and the total weight of their luggage should not exceed 18 kg. Our porters are never overworked. However, you should bring your own rucksack or backpack (with any valuables or important items) with you. Only bring what you need; any excess baggage can be left at your hotel or at our store for free.
Useful Info
Please note: Adding extra days to your trip as a safety net for your return flight home is recommended. Air traffic from Kathmandu to Lukla, and then Lukla to Kathmandu, is frequently delayed, potentially causing more delays. Flights might be delayed for days at a time.
In these cases, we will do everything possible to resolve issues and reschedule flights to and from Lukla as soon as possible. We must, however, warn you about the likelihood of flight delays or even cancellations. To minimize complications with international flights from Nepal, we recommend adding at least two extra days to your itinerary.
If there are any delays, we can arrange for a helicopter at your request for roughly USD 500-1000 per person, depending on demand and capacity. It's also highly likely that there won't be any delays. In any case, we can plan extra activities for you during your extra time in Nepal!
Please note that the Jiri to Everest Base Camp trek has set departure dates from Kathmandu and Pokhara, but it can be customized to fit your needs and timetable. Please evaluate the journey's scheduled departure dates and, if they do not fit your schedule, let us know how we can arrange a trek that is more convenient for you.
The above itinerary is a general guideline; please be aware that it may need to be modified due to external factors beyond our control, such as unstable weather, lodging, and campsite accessibility and availability, unforeseen governmental, trail, and ecological conditions, and other circumstances beyond our control.
Although alterations that materially affect the original schedule are unlikely, we cannot be held liable for the consequences of delays or changes beyond our control. In the event of an itinerary change or the necessity to redirect to other trails or regions, the Lead Guide will make the final decision on the best rerouting after discussing with the group members and keeping the party's best interests in mind. If a change is required, we will do everything possible to minimize the consequences.
We are excited to accompany you on the Jiri to Everest Base Camp Trek, which will take you through some of the most breathtaking scenery on the earth, as well as spectacular Himalayan panoramas.
Booking and payment process
We are a government-approved and bonded trek and tour company in Nepal. We are also members of the Nepal Mountaineering Association (NMA) and the Trekking Agency Association of Nepal (TAAN) (NMA). As a result, you may book your trek/expedition with complete trust.
As a deposit, we require 10% of the total trip cost. Within a week of booking, please send your documentation, including a copy of your passport, passport-size pictures, travel insurance policy, and arrival and departure flight information.
You can make a 10% deposit via bank transfer, western union, or online payment on our website, and the full balance when you arrive in Nepal. Cash, bank transfer, and credit cards are all acceptable methods of payment. In addition, you will receive payment choices in your email.
Last-minute booking
We offer last-minute bookings for individuals who are unable to book Bhandar to Everest Base Camp Trekking in advance. You must pay 100% of the trek cost 24 hours before the trip begins to take advantage of this service.
We make every effort to run last-minute treks/trips on your scheduled date. However, there is a slight potential for a journey delay owing to factors beyond our control, such as terrible weather or a lack of housing.
Trip extension
There are many more amazing trip packages available from us. These travels are largely relaxing, but they are incredibly rewarding and deserving destinations for fantastic cultural and natural experiences. After Jiri, you can join the Everest Base Camp Trekking King.
Feedback
We offer a farewell meal at the end of the trek, and we will also award you with a trek completion certificate after dinner (hard copy). It's also a great opportunity to tell us about your experience and provide us feedback.
You may also visit Joy of Rafting over the Trisuli River-Cost, Distance, Itinerary, In Nepal – 1 Day
Overview Of Bhandar to Everest Base Camp Trekking
The Bhandar to Everest Base Camp Trek combines the lower and upper Everest regions. Sir Edmund Hillary and Tenzing Norgay Sherpa used the same path to Mount Everest in 1953.
Before Lukla airport opened in 1964, this was the Everest Base Camp route.  This famous trail gives trekkers with a unique experience of the less traveled lower Everest region.
The trek starts in Bhandar and travels through Tamang, Jirel, Rai, Brahmin, Chhetri, and Sherpa villages. The terraced farmlands, diversified culture, lush rhododendron, pine woods, rivers, suspension bridges, and amazing views of Everest, Lhotse, Thamserku, Numbur, Ama Dablam, Makalu, etc. make this walk distinctive. Namche Bazar (the gateway to Everest), Tengboche, Khumjung Monastery, Kala Patthar, Everest Base Camp, etc. are some of the prominent sights on this route.