Introduction To Gokyo Ri Trek In Nepal
The Gokyo Ri Trek is a good option for individuals who wish to experience something new in the Sagarmatha National Park. A trek through the Sagarmatha National Park offers a variety of Himalayan sights.
The trek offers spectacular views of four of the world's highest peaks. The Gokyo Lake regions are surrounded by the massive Himalayas and are breathtaking.
Peaceful monasteries, unique cultures and traditions, and rich flora and fauna await hikers on this journey. There's still so much to see. Because this trek climbs swiftly, keeping a slow and steady pace will help you win the race.
Our journey begins with a relaxing 40-minute flight from Kathmandu to Lukla. Flying above the high mountains and hills gives you a unique perspective.
We take a short climb to Phakding once we arrive in Lukla (2,650m). The work you'll be doing today will aid in your acclimatization.
The following day, depart Phakding for Namche Bazaar (3440m), the Everest entrance. The first sights of Mt. Everest can be seen on the journey to Namche, after entering the Sagarmatha National Park.
Namche Bazar is a bustling tourist area with stores, hotels, restaurants, and cafes targeted specifically for visitors. You'll spend a day acclimating in Namche.
You'll proceed to Dole after a day in Namche, with views of Mount Ama Dablam (6,812m) and Khumbila (5,761m). A little head of Phortse Tenga can be found on Dole.
The walk from Dole to Macchermo will be enjoyable because it will take you along a road lined with colorful prayer flags. Yaks grazing on meadows can be seen on your way in the right season.
You will leave Macchermo and arrive in Gokyo village on the sixth day of your walk. You'll pass through Phangan, a memorial to those who have perished in landslides.
Mountains, glaciers, and oligotrophic lakes beautify Gokyo, giving it a spectacular appearance. Because one day will not be enough to savor all of Gokyo's vistas, you will stay an extra day in Gokyo village.
We take a tour of Gokyo Village and take in the natural beauty of the Gokyo Lakes. Six of the world's highest freshwater lakes make up the Gokyo Lakes.
You will observe the breathtaking beauty of the Himalayas with a tough but rewarding climb to Gokyo Ri (5,350m/17,562ft). Mount Everest (8,848m/29,028ft), Cho Oyu (8,201m), Lhotse (8,516m), and Mount Makalu (8,516m) are among the highest peaks you'll see up close to (8,463m).
These lakes have religious importance in addition to their rustic beauty.
You'll descend to Phortse after a day at Gokyo (3,950m). We took two days to get to Gokyo from Dole, but we'll cover the same distance in one day on the way back. Because we'll be descending, this is a possibility.
From Phortse to Namche Bazaar, the fall continues through a lush forest teeming with musk deer and mountain goats.
On your tenth day, you'll travel from Namche Bazaar to Lukla via Phakding. The trails will be closed on this day. You will pass through Toktok, a magnificent town noted for its amazing vistas of the snow-capped Himalayas, just before arriving in Lukla. At Lukla, you will spend your final night in the trek region.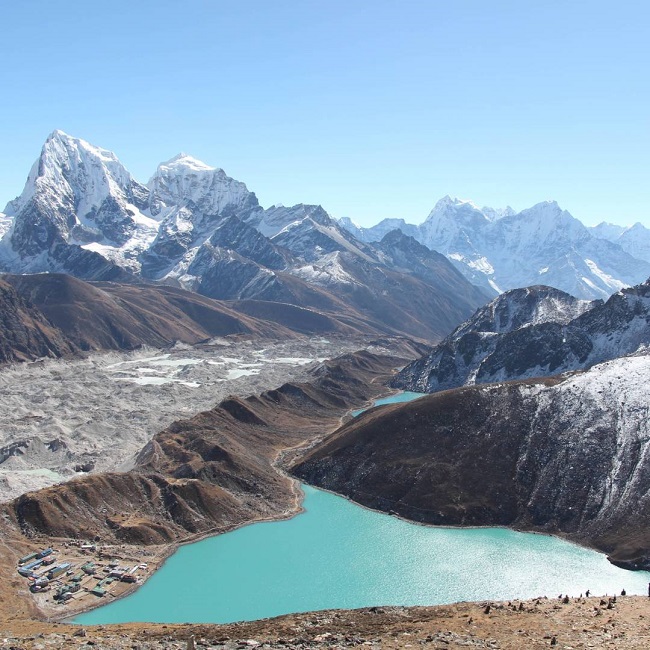 You'll fly from Lukla to Kathmandu the next morning. We hope that your flight will be relaxing and that you will be inundated with memories from your journey.
We propose that our valued guests participating in the Gokyo Ri Trek arrive in Kathmandu by three o'clock in the afternoon at least one day prior to the trek's departure date. In order for you to not miss the trip briefing. This briefing will give you the necessary information for the hike. It will also give us more time to make sure you have everything you need for the hike. We also recommend adding one or two days to the hike to accommodate for the possibility of aircraft delays to and from Lukka due to severe weather. You will not miss your international trip back home as a result of it.
Highlights Of Gokyo Ri Trek In Nepal
Syangboche is one of the world's highest airports (3,780m)
Investigate the Sherpa people's culture and way of life.
Mt. Everest is the highest peak on the planet (8,848m) Mt. Lhotse (8,516m), Cho Oyu (8,201m), and Mt. Makalu (8,516m) are among the highest peaks in the world (8,463m)
Explore the UNESCO World Heritage Site of Sagarmatha National Park.
High suspension bridges, prayer wheels, colorful flags, mani stones
A diverse diversity of plants and fauna can be found here.
Musk deer, multicolored pheasants, snow leopards, and Himalayan tahr are among the wildlife found in the area.
Khumjung Monastery is home to a yeti-scalp, according to legend.
Around Gokyo Valley, there are stone homes and meadows.
Gokyo Ri (5,350m/17,562ft) offers breathtaking panoramic views.
Benefits Of Gokyo Ri Trek In Nepal
On arrival, we provide complimentary airport to hotel transfers, and on departure, we provide complimentary airport to hotel transfers in a private vehicle.
At high elevations, an oximeter is used to monitor blood oxygen saturation levels in order to detect health hazards such as altitude sickness.
Medical supplies
For individuals who do not have their own sleeping bags or down jackets, arrangements can be made.
Free storage of excess luggage at our store for the length of the trek
Porters' duffle bag
You may also visit Gokyo Lakes Trek and Gokyo Ri Trek-Cost, Distance, Itinerary, In Nepal – 14 Days
Overview
The Gokyo Lakes Trek and Gokyo Ri Trek will take you to the peak of Gokyo Ri, which is at the same altitude as Everest Base Camp, to see stunning turquoise lakes and stand in the shadows of Everest.
You will enjoy spectacular views of Everest, the world's tallest mountain, which rises about five and a half miles into the sky. With panoramic vistas of snow-capped mountains and glaciers from every angle.
One of Nepal's hidden beauties is the stunning blue waters of the Gokyo Lakes. These lakes make up the world's highest freshwater lake system.